On December 26th, Christmas wrapping paper is marked down for clearance, and suddenly all that red and green decor festooning the house starts looking a little stale. Christmas is over, right?
Actually, the liturgical season of Christmas begins on December 25th and lasts twelve days. The song about those twelve days – you know, the one with the partridge in a pear tree – references the time span, but is a secular celebration of the sacred Christmas season.
The Jewish festal cycle and the Christian calendar each offer holidays that are meant to serve as an on-ramp into the intersection of time and eternity. These days of yes point us beyond our own everyday agendas and connect us with our place in a bigger, more beautiful story. I've been blogging a 5-minute intro to each major holiday in both the Jewish and Christian calendar. Though Christmas is familiar to most readers of this blog, I'd like to introduce you to some of the other days of the Western Church's liturgical Christmas season. As your December 25th-focused gatherings and celebrations are winding down, these feast days may afford you some space and time to reflect more fully on the gift of Jesus.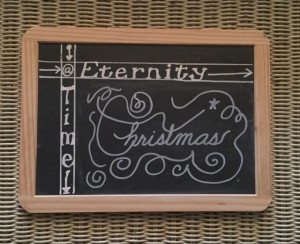 January 6th ends the Christmas season with Epiphany. Watch this space for a post about the meaning of this season in the Church year.
It can be freeing to recognize that Christmas is a season, not a shopping deadline. The twelve days of Christmas invite us to receive afresh the gift of the Son in the same way his mother did: with our own "yes" of surrender to God (Luke 1:38).