I've spent a lot of time pondering the topic of regret. I've written a book about regret. I've written lots of blog posts on the subject. I speak on the topic. My message is always the same: God can redeem and repurpose every one of our regrets.
As a result, here's a question no one has ever asked me: Is there a regret God can't redeem?
Scripture tells us there is one man who allowed sin, then regret to come between him and the love of the best friend he ever had. He's a key player in the story of Holy Week, and his story has something important to say to those of us who suspect that our regrets might be too big, too unspeakably awful for God to forgive, much less to redeem.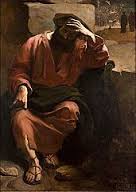 At first glance, Judas' story seems to point toward the fact that maybe some things are indeed too terrible for God's grace to cover them fully. We can only guess at where the seeds of greed, envy and lying first took root in Judas' life. Some have suggested that he was never truly a follower of Jesus. Others believe he was a disciple, but like the shallow-rooted seeds in the parable, his faith withered in the sour soil of his own appetites.
In any case, his issues ignited after they arrived in Jerusalem just prior to Passover. They were at a dinner at a leper's house when a woman came to Jesus and broke open a jar of expensive perfume over his feet.
But one of his disciples, Judas Iscariot, who was later to betray him, objected, "Why wasn't this perfume sold and the money given to the poor? It was worth a year's wages."  He did not say this because he cared about the poor but because he was a thief; as keeper of the money bag, he used to help himself to what was put into it. (John 12:4-6) 
That was it. The rage of his own greed incinerated all that had been good and lovely in his life. Three years with Jesus went up in smoke. Judas was not going to waste one more second of his life pouring it out in service to someone who didn't seem at all interested in making the present-day Roman-upside-down Israel into the Promised Land once again. He determined Jesus had to be stopped. The religious authorities had been trying to get their hands on this renegade rabbi for weeks, but he'd always eluded their grasp – buried in a crowd or tucked away in the home of a sinner. Judas could lead them right to him.
Jesus and his disciples gathered in an upper room of a home in Jerusalem to re-tell the Passover story. Before they got too deep into their meal, Jesus washes his beloved friend Judas' feet along with the others, and then sends his friend from the gathering on on pretext of an errand.  He would let his friend do what he'd given himself to do, in the service of the evil one to whom he'd pledged his soul. Gospel writer John says of Jesus, "Having loved his own who were in the world, he loved them to the end." (13:1)
And this love meant setting his friend free to do what had consumed him. Judas would betray the friend who loved him well, loved him perfectly, and loved him to his very end.
Later that night, Judas reappeared with a mob, and found his friend in the darkness, embracing him.
"Judas, are you betraying the Son of Man with a kiss?" (Luke 22:48)
The adrenaline of silencing the man who'd stolen his life washed over Judas, drowning him…a sort of reverse baptism.
But he came back to life the next day.
Early in the morning, all the chief priests and the elders of the people made their plans how to have Jesus executed. So they bound him, led him away and handed him over to Pilate the governor.

When Judas, who had betrayed him, saw that Jesus was condemned, he was seized with remorse and returned the thirty pieces of silver to the chief priests and the elders. "I have sinned," he said, "for I have betrayed innocent blood."

"What is that to us?" they replied. "That's your responsibility."

So Judas threw the money into the temple and left. Then he went away and hanged himself. (Matthew 27:1-5)
Judas was looking for absolution from the wrong people. His unpardonable sin gave him exactly what he wanted, and he knew it. He also knew Jesus would forgive him if he sought it. But he simply didn't want Jesus' forgiveness.
There are only two kinds of people in the end: those who say to God, "Thy will be done," and those to whom God says, in the end, "Thy will be done." All that are in Hell, choose it. Without that self-choice there could be no Hell. No soul that seriously and constantly desires joy will ever miss it. Those who seek find. Those who knock it is opened. – C.S. Lewis
This week's journey to the cross will end with a stone rolled away: Resurrection. And in light of the self-giving, sacrificial love of the One who loved us to death and then to life again, there is no regret in your life that is bigger than his mercy.