"When you hear hoofbeats, think of horses not zebras." – Attributed to Dr. Theodore Woodward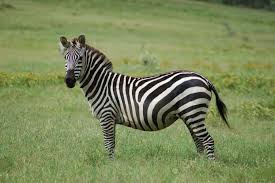 A doctor gave this bit of homespun advice to a a group of medical students as a way of telling them to focus on the most obvious causes for an illness when a patient came in search of help, rather than using all their newfound medical knowledge to hunt for rare diseases they'd just learned about in a textbook. That is wise advice, unless you happen to be a patient who is, in fact, a zebra.
I wondered why it seemed I was always battling one upper respiratory infection after another: sinusitis, bronchitis, pneumonia. Lather, rinse, repeat. I would look with envy at people who got head colds and the colds lasted 7-10 days before disappearing. This was rarely my experience. Most of my colds turned into squatter-type infections that made themselves at home in my body like Cousin Eddie and his brood of young `uns in the National Lampoon movie Christmas Vacation.
Well-meaning friends came at me with all sorts of advice and health food store solutions including supplements, vitamins, homeopathic remedies, essential oils, and eye of newt. Others insisted they had sure-fire diets guaranteed to strengthen my immune system. I dutifully tried a lot of these over the years, to no avail. There were tests at the allergist, asthma drugs, and a bunch of gross tests at an Ear, Nose, and Throat doc. And like a river (of mucus, maybe) running through it all, the constant of one antibiotic prescription after another.
In February, right after we moved, I got a cold that morphed into bronchitis. They doctor put me on some top shelf antibiotics, and I continued to get sicker over the next couple of weeks. That infection turned into a doozy case of pneumonia. The doc put me on the strongest stuff he could, and sent me to a pulmonary specialist. I was a little scared, because I wondered if my body had become resistant to antibiotics.
The specialist took one look at my medical history and began asking me questions I'd never been asked before, like, "Could you have AIDS?" and "Is there a history of Cystic Fibrosis in your family?" (No to both.) He ordered a series of blood tests no hoofbeat-hearing doctor had ever thought to do before, and the results showed I'm missing some essential components of my immune system. The name of this disorder is Common Variable Immune Deficiency (CVID). I've likely had it all my life. I've learned it's not uncommon for a diagnosis to take years to emerge because doctors are not looking for zebras. Plus, they can easily treat upper respiratory infections with magical antibiotics. In my case, lots and lots of magical antibiotics.
There is no cure for CVID, and they tell me the treatment will be ongoing, expensive, and incomplete. I just saw my first specialist today, and she told me one of my immunoglobulin numbers was too low for her to be able to begin treatment. She referred me to another specialist. I'm already not liking this merry-go-round much, even if I am now riding a zebra.
Getting this kind of medical news is certainly sad. I can't help but wonder how the quality of my life and the quality of life for my immediate family, who had to deal with my seemingly-unending stream of illnesses, would have changed had I been properly diagnosed decades ago. At the same time, I am grateful – very, very grateful! – that I am alive, and was born in 1959 instead of 1859. It's likely I would not have lived to see 30 if I was born 150 years ago.
Many are sick. Many are hurting. The brokenness of our bodies echoes the disorder of a world disconnected in deep ways from her Maker. The last three months of illness and this new diagnosis remind me, like a thorn in the flesh, like a cry for wholeness and health, that God's love formed me, and here and now, continues to form me still.
For you created my inmost being; you knit me together in my mother's womb. I praise you because I am fearfully and wonderfully made; your works are wonderful, I know that full well. My frame was not hidden from you when I was made in the secret place, when I was woven together in the depths of the earth. Your eyes saw my unformed body; all the days ordained for me were written in your book before one of them came to be. How precious to me are your thoughts, God! How vast is the sum of them! Were I to count them, they would outnumber the grains of sand—when I awake, I am still with you. (Ps. 139:13-18)