So many people are interested in being more intentional about learning about the Jewish and Christian calendars, but don't quite know where to start. I'm very happy I can commend a resource that offers a thoughtful historical and devotional overview of each calendar, but also know that many people feel as through attempting to participate will be a pile-on of extra stuff to do (and extra guilt to feel if they can't do it).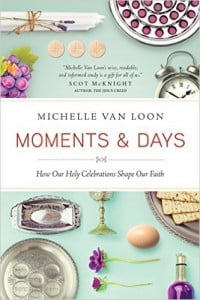 As I noted in the book, we can't all do everything, but it behooves us all to learn a little something about each calendar – and then begin allow the rhythm of one to shape our discipleship journey, one step at a time. My goal in the coming year is to offer one small, do-able step here in this space you, your family, small group, or church can use to move their learning from the page to your experience. I'll offer the info well in advance of the holiday or season so you'll be able to consider how you might incorporate a bit of holy celebration into your moments and days. And, where appropriate, I'll include a fun recipe you may wish to try. There are a few recipes in the back of Moments & Days, but the recipes you'll find on this blog didn't make it into the book.
First on deck: The Jewish festival of Rosh Hashanah, which begins this year at sundown on Sunday, October 2nd. 
Here's a quick five-minute primer to the holy day. 
>> To try: Tashlich (tash-LEEKH)
There is a lovely ceremony in which many observant Jews participate on the afternoon of Rosh Hashanah. This ceremony captures the essence of what it means to respond to the call to return to right relationship with the covenant-making, covenant-keeping God. The ritual is called Tashlich, or "casting off". Micah 7:18-19 forms the foundation of Tashlich:
Who is a God like you, who pardons sin and forgives the transgression of the remnant of his inheritance? You do not stay angry forever but delight to show mercy. You will again have compassion on us; you will tread our sins underfoot and hurl all our iniquities into the depths of the sea.
Individuals or groups arrive at a stream or river with pieces of bread in hand. As Scriptures like the passage from Micah (above), Psalm 33, 118:5-9, and 130 are read and prayers are recited, each person present quietly names his or her specific sin against God and tosses it into the flowing water. Every crumb is carried away. It's a poignant expression of longing for a fresh beginning with the Lord. Tashlich is a memorable way in which we can act our prayers for repentance. Enjoying a sweet treat of apples and honey can underscore the sweetness of responding to the call to return wholeheartedly to God.
>> To eat: Honey cookies
I have a love-hate relationship with the honey-based treats at this time of year. There is nothing most delicious than fresh apples dipped into local honey. But my experience with other honey-based Rosh Hashanah desserts has been less than favorable.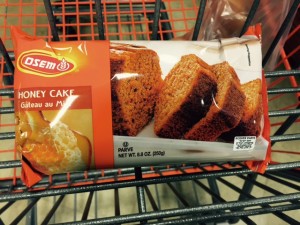 It doesn't matter whether I bake a honey cake or buy one imported from Israel. First, I'm not a big cinnamon fan, and most of the standard honey cake recipes use the same basic combo of fall spices found in the dreaded Pumpkin-Spice Latte. Second, these cakes tend to be Mojave dry. I have gamely baked a few from this recipe or that one, but the end result always tastes like cinnamon-honey flavored packing material to me – or what I'd imagine cinnamon-honey packing material would taste like if there was such a thing, which I hope there never is.
Hark! I found a cinnamon-free Rosh Hashanah honey cookie recipe on Pinterest, and added a couple of tweaks to the recipe to make it my own. These sweet, moist cookies with a sparkly bit of crunch are the perfect accompaniment to a cup of strong coffee or dark-brewed tea. And apples, and more honey.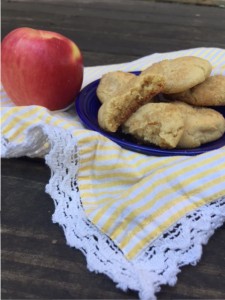 Orange-zest Honey Cookies
Preheat oven to 350 degrees. Cover two baking sheets with baking parchment paper. (To get the rolled-up parchment paper to behave itself on a flat surface, I wipe down the sheet with a wet dishrag, then smooth the parchment paper into place.)
In mixing bowl, beat with mixer until combined:
3/4 C vegetable oil
1 C sugar
1/4 C honey
1 egg
1 tsp vanilla extract
Add to bowl:
Zest of one orange
Small sprinkle of nutmeg
2 C flour
2 tsp baking soda
1/2 tsp salt
Beat until blended. You may have to use your hands to knead the dough in the final stage of mixing.
In small dish, pour approximately:
1/4 C turbinado (raw cane) sugar
Form dough into balls approximately 1″ in diameter. Roll the top of the dough ball into the turbinado sugar, then place the "bare" side of the cookie onto the parchment-covered baking sheet. Bake for approximately 7-10 minutes, until the cookie is lightly browned. Remove to racks to cool. Yield: approximately 24.