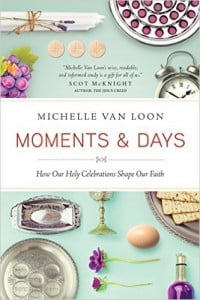 So many people are interested in being more intentional about learning about the Jewish and Christian calendars, but don't quite know where to start. I'm very happy I can commend a resource that offers a thoughtful historical and devotional overview of each calendar, but also know that many people feel as through attempting to participate will be a pile-on of extra stuff to do (and extra guilt to feel if they can't do it).
Well, every once in a while, the lunar-based Jewish calendar and the solar-based Gregorian Christian calendar collide. In 2013, the second night of Chanukah fell on Thanksgiving. A few wits dubbed the mash-up of the two holidays "Thanksgivukkah". Trips off the tongue, doesn't it?
This year, the first night of Chanukah falls on December 24th – Christmas eve. Savvy marketers are hawking Chrismukkah sweaters, which takes the ugly Christmas sweater to a whole new level: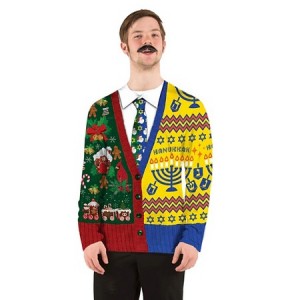 There's plenty of other kitschy stuff out there to commemorate the confluence of the two holidays. It's a boon for interfaith families, who deal with the yearly challenges of how to celebrate two entirely different December holidays.
Here's the thing: The two holidays are entwined in deeply profound ways for those of us who follow Jesus. There wouldn't be Christmas without Chanukah happening first. The events of Chanukah predate Christmas (click here for a 5-minute overview to the holiday). I wrote this short devotional for the Caspari Center for Biblical & Jewish Studies in 2014 about the relationship between the two:
When the time came for the purification rites required by the Law of Moses, Joseph and Mary took him to Jerusalem to present him to the Lord (as it is written in the Law of the Lord, "Every firstborn male is to be consecrated to the Lord", and to offer a sacrifice in keeping with what is said in the Law of the Lord: "a pair of doves or two young pigeons." – Luke 2:22-24
At this time of year, the religious Christian community celebrates the birth of Jesus, the Messiah. My family and I have always participated in these celebrations, though as Jewish believers in Jesus, we've adopted a more restrained level of holiday cultural activity (decorating, shopping, party-attending) than many around us. We've also always observed Chanukah.
Though Chanukah, also known as the Feast of Dedication or Festival of Lights, is a minor feast in the yearly Jewish ritual cycle, our family always lit the candles in our menorah. As we did, we revisited the exciting account of the Maccabeean victory over Antiochus IV Epiphanes in 164 B.C. and thanked God for the story of the sacred oil lamp in the cleansed, rededicated temple that burned for eight miraculous days when it only had enough oil for a single day. In the spiritual darkness of those days, seeing the light burn once again in the holy place after years of darkness and idol worship must have been pure joy for the Maccabees.
As we celebrate the holidays this year, I see the effect of this historical events of Chanukah reflected in the first days of the life of Jesus. When Joseph and Mary brought their newly circumcised newborn son in obedience to the Temple in Jerusalem to consecrate him to the Lord (Exodus 13:2, 12), it is remarkable to consider the Temple was there in those days because of the events that took place a century and a half earlier. The events we celebrate at the Christmas season happened because Chanukah happened first.
Chanukah is a wonderful celebration as it stands, on its own. But during the Christmas season, I am grateful for the role the events it commemorates play in anchoring the incarnation of my Jewish Savior, the Light of the world, in history. On the day Mary and Joseph came to the Temple with the infant Jesus, a faith-filled man named Simeon took the baby into his arms and prayed these unexpected, unscripted words over him: "For my eyes have seen your salvation, which you have prepared in the sight of all nations: a light for revelation to the Gentiles, and the glory of your people Israel." (Luke 2:30-32)
Not even death could extinguish the light of Jesus. His empty tomb is not very far at all from the site of his dedication in the temple reclaimed for the Jews by Judah Maccabee and his band of worshippers. May our worship this season carry a measure of their courage as we shine the light and glory of Jesus to a world living in darkness without him.
To try AND to taste:
In this ongoing series about the holy days and seasons in both the Jewish and Christian calendars, I've included one spiritual practice and a holiday recipe I didn't include in my book. Most of you reading this probably have lots of traditional Christmas recipes you enjoy at this time of year. To keep things simple (because at this time of year, we need all the simple we can get!), I'm condensing the two into one tasty practice – a recipe for latkes (LAHT-kuhs/kees), or potato pancakes.
Foods fried in oil, like latkes and filled donuts (known as sufganiyot in Hebrew) are traditional Chanukah foods to commemorate the miracle of the oil used to rededicate the temple. If you'd like to savor some low fat, low carb Chanukah goodness (well, the "goodness" part is true, anyway), here is a quick, delicious recipe for latkes using preshredded hash brown potatoes.
Adapted from Kveller's recipe:
1 – 30-oz bag of shredded hash brown potatoes, thawed and squeezed dry
1/2 onion, grated (watch your knuckles!)
1 egg
2 Tablespoons matzo meal or flour
salt and pepper to taste
Vegetable oil
Applesauce and/or sour cream to serve with potatoes
Combine potatoes, onion, egg, matzo meal or flour, salt and pepper in large bowl. Mix until combined.
Heat 1/2″ – 3/4″ oil in a heavy cast iron skillet until hot. Test oil to see if it is ready to fry by dropping a few strands of the potatoes into the oil. If they do not brown quickly, wait until oil is a little hotter. Oil too cool will result in soggy potatoes. Oil too hot will burn the potatoes. I BEG YOU: PLEASE BE EXTRA-CAREFUL. SMALL CHILDREN SHOULD NOT BE ANYWHERE NEAR YOUR STOVE WHEN YOU DO THIS. Carefully drop 1/2 cup dollops of the potato mixture into the oil, then flatten with a spatula. Watch the edges of your frying pancakes. When you see them turning rich brown, carefully turn them over and fry on the other side until crispy. Drain the finished pancakes on paper towels. You can keep them warm in a 250 degree oven, but they're most yummy plated right after they've been drained on the paper towels.
Serve with applesauce and/or sour cream. I prefer sour cream, because…Chanukah.