Just a couple of months ago my partner and I decided to go through with something we have wanted to do for a few years now; get married.  We have been together for five years, and it finally felt like the time was right for both of us.  We began planning our ceremony and reception, deciding to keep it small and simple, with immediate family, close friends, and homemade food.  Things couldn't have went better, and I wanted to share my special day with all of you.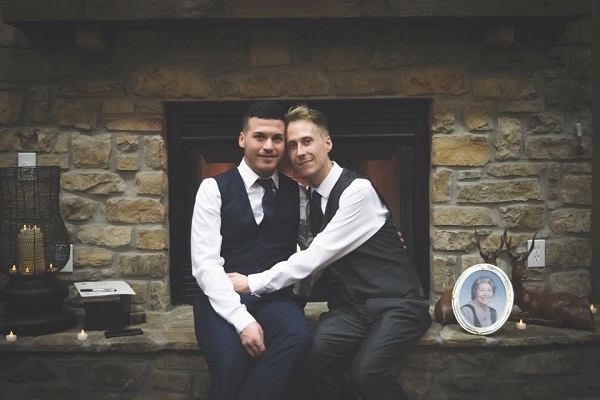 Planning Our Big Day
We decided we wanted to keep the wedding and reception small, neither one of us likes large crowds of people.  We decided to invite just our immediate family, and a few close friends.  Instead of ordering food we had a variety of handmade dishes.  Carey's mother made her Italian sausage and mostacciolli noodles, with an enormous Italian salad.  There was buffalo chicken dip, meatballs, and little sausage links.  My grandmother made her potato salad that I always ask her to make.  I think that having homemade food instead of ordering out was a great decision.  It not only saves money, but allows family members to contribute to the wedding in a direct way, and most of these dishes are nostalgic for many of the people present.  It just reminds me of the old days when people would get married in their homes, and all of the family and friends would come over with food to celebrate.  Of course we had the cake made, but that was also done by a close family friend.  We quickly settled on a matte black fondant with blue velvet cake and butter cream icing.  The cake was decorated with succulents made of sugar.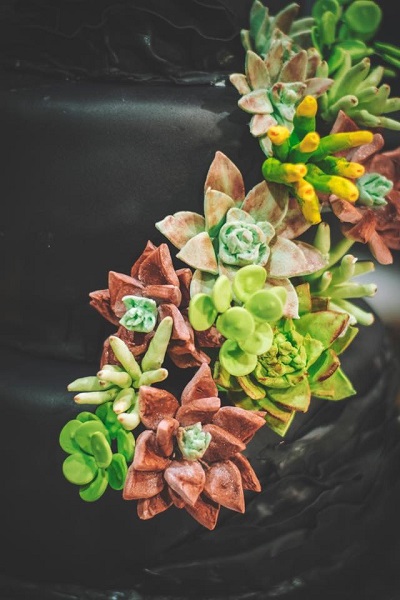 The Family's First Gay-Pagan Wedding
On New Year's Day, we were celebrating my Grandpa's eightieth birthday.  My grandmother and I were talking about my upcoming wedding, and I jokingly asked her if this was her first wedding with two boy's getting married-of course I knew it was.  She laughed and we went on with our conversation.  Carey and I would soon come to the realization that this would likely be the first gay wedding for all in attendance, not mentioning the Handfasting Ceremony, they would all experience.  We do live in Indiana after all.  Luckily, this would be a non-issue since we are both blessed with families that are loving and accepting of us no matter what.
The thought was at the back of my mind when preparing the ceremony.  We wanted something non-traditional that included the handfasting and exchange of rings.  We also wanted to incorporate nature and the elements in some way.  I wanted it to be more organic, without the ceremonial aspects of a circle casting and ceremonial tools.  I was able to find some good material on handfasting.org which I personalized and rearranged a little to come up with the perfect ceremony.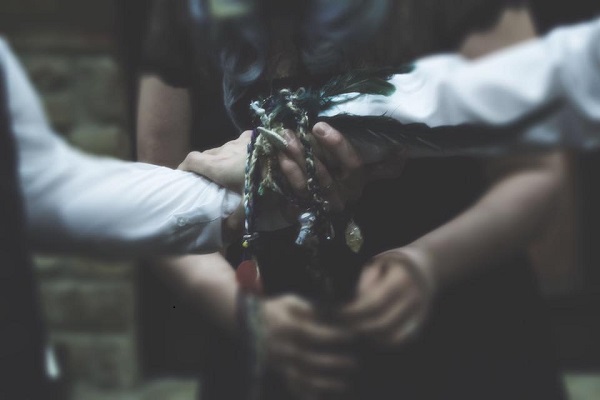 Preparing the Cords
One of the most important parts of preparing for the ceremony was each of us making our own handfasting cords.  We both made three braids each for a total of nine cords, which where also braided together.  Our cords were linked together at the center by our old engagement rings from our one- year anniversary.  By spending time together weaving these cords, we were able to fill them with our energy and intention while reminiscing of all the good memories we have together.  Our love for one another is literally woven into the braids that make up our cords.  We also included many of the various objects that we have accumulated over the years.  The very first rose quartz Carey gave me, and our matching puzzle piece pendants are just two examples of the sentimental charms that adorned our cords.  We also decorated them with feathers, ribbon, wire, and other shells and stones; at one point wondering if we went a little overboard.
Our cords tell a story, they tell the story of the five years of love and happiness that we have experienced together.  In a way, the tying of our handfasting cords symbolized the link between one stage of our lives and another.  Everything thing that has happened in the past five years led up to the tying of that knot.
The Ceremony
I am so happy that we chose a close friend to officiate our ceremony.  She did a wonderful job reading the ceremony that I had written for her.  She made it through my background on handfasting, which I included for the non-Pagans, and beautifully read through the elemental blessing that I had incorporated.  She added some special personal passages about both of us, so that we would have some surprise in the reading.  We performed the ceremony in from of the hearth and a roaring fire, surrounded by decorative antlers and flickering tea lights.  It couldn't have been more perfect.  Everyone in attendance said that the ceremony was beautiful.  We both had two maids of honor, our sisters, dressed in all black.  They wore lace with flowing sleeves and sheer capes, giving them a Stevie Nicks vibe.  Our officiant friend wrote our entire ceremony in a beautiful journal with a celestial design on the cover.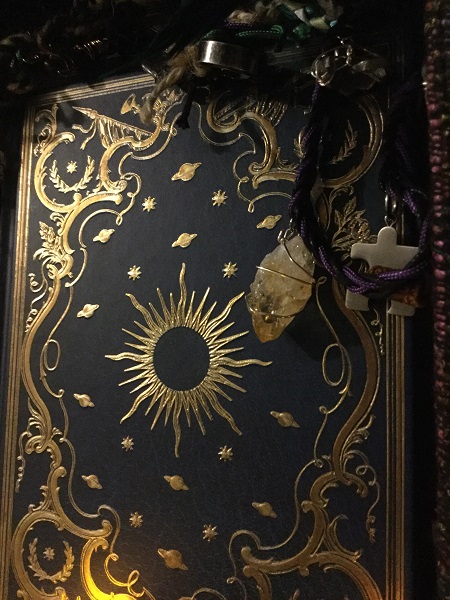 I have never been interested in a traditional wedding.  I didn't ever picture myself getting married in a Church as a child or anything like that.  It wasn't until I met the love of my life that I really even saw myself getting married.  However, since then, it has been important to me to one day ritually symbolize and reinforce our bond with one another.  For me, the handfasting ceremony has always been the central part of my vision of getting married.  Carey and I both share similar beliefs, and it was important to us that those beliefs be honored in our commitment to one another as well.  It is a powerful experience to be ritually bound after taking vows of commitment to one another, and I am very thankful to have been able to share this experience with my husband.  I think that inviting our family members to our handfasting ceremony was also a gentle way of introducing them to alternative practices.  Looking back, I think that the ceremony was a subtle way to also introduce our families to the idea of our Pagan spirituality.