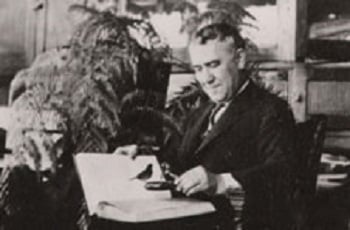 Joseph Ernest Meyer botanicchoice.com
Herbalist, Writer and Purveyor of Medicinal Herbs
Indiana is a land of open fields and farmland framed by dense forests, and beautiful lakes. I live in Fort Wayne, Indiana; known for its three converging rivers. So when I discovered that there was a prominent herbalist, and publisher who lived and operated just a couple of hours away I was excited to learn more about him.
Joseph Ernest Meyer was born in 1878 and died in 1950. During his life he made major contributions to the study of botanical medicines, their cultivation and distribution. He was also interested in herbal folklore, which he incorporated into his writing. As a child he was passionate about nature, and although he briefly worked for a printing company and The Hammond Times, his love of the natural world followed him throughout his life.
After leaving the newspaper behind he combined his passion and knowledge for plants with what he had learned about publishing, and with an old printing press that he acquired he started the Indiana Botanic Gardens in 1910. He ran the business out of a small cottage home in Indiana with the help of his seven sons and one daughter. Spending the days collecting plants from the Indiana countryside and the nights putting together catalogs and almanacs he and his family got the business up and running. Initially it barely covered living expenses much less made a profit. However, they persisted and eventually moved to a larger commercial building, and Meyer became one of the first millionaires in Northwestern Indiana.
The Indiana Botanic Gardens is one of the oldest herbal suppliers in the country, and not only supplied large pharmaceutical firms, but also sold and packaged medicinal, culinary, and magical herbs through mail order catalogs. The majority of plants were grown in Indiana, and was also a major importer of raw botanicals. He traveled across Europe and North America securing connections for his herbal empire.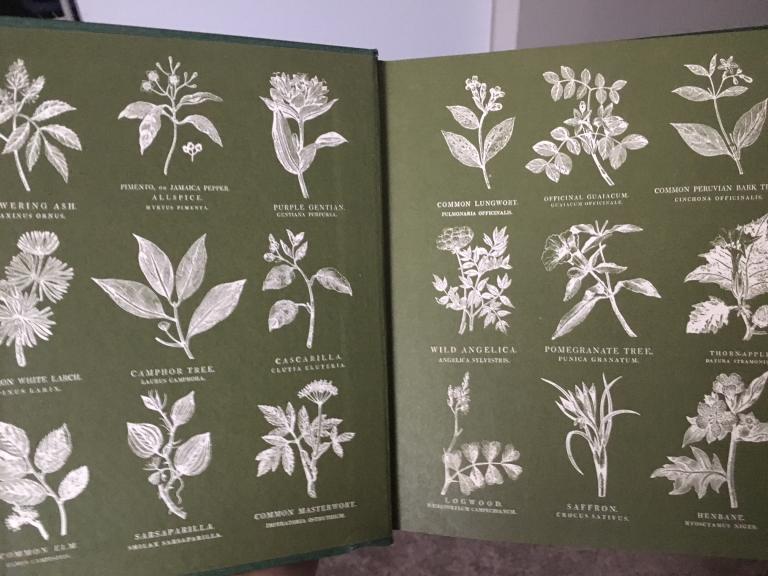 Inside Cover of The Herbalist. Photo by Coby Michael Ward.
Meyer was also a gifted artist and did all of his own illustration for the catalogues and almanacs that the company was known for. The first almanac was published in 1925, called The Herbalist Almanac and included recipes, herbs and roots sold by the company, Indian weather forecasts, and treatments for common ailments. It ran for 54 years until being retired in 1979. Vintage copies can still be found online, and are collected by colleges and universities in rare book collections across the country. They are still utilized in horticultural education classes. His almanacs were such a success that happy customers often sent letters informing him of the benefits that they received from the plants they procured from the catalog. Customers sent handwritten recipes that they used his herbs in, and testimonies of their effectiveness. These letters were collected by his grandson Clarence Meyer and compiled into a work that was known as The Good Herb Doctor ( Meyer Books, 1984).
Meyer later built his private residence which is a rustic Jacobethan style mansion during the years 1927-1931, which became known as Meyer's Castle. It is located in Dyer, Indiana not far from Chicago. It was one of the largest and most lavish homes in the Calumet region at the time. He built his home in a verdant forested area where he could continue his herbal practice. The castle and grounds are known used for weddings and other formal occasions, and are reminiscent of the gardens of the Victorian period.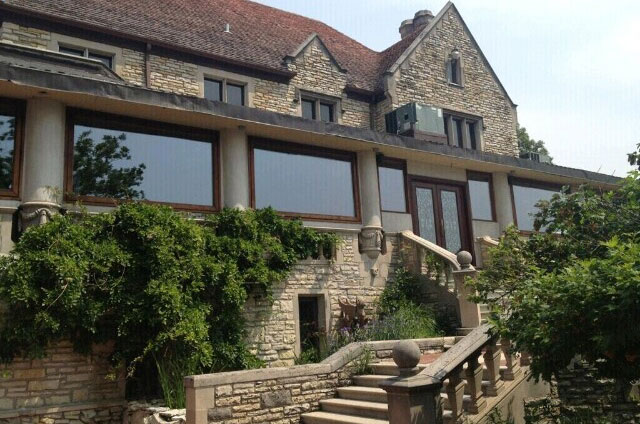 Meyer's Castle. meyerscastle.com/history
The Herbalist and Herb Doctor was his most popular publication and numerous editions have been released since it was published in 1918 by the Indiana Botanic Gardens. He also wrote The Herb Doctor and Medicine Man: A Collection of Valuable Medicinal Formulae and Guide to the Manufacture of Botanical Medicines, 1922. In 1934 he published Nature's Remedies: Early History and Uses of Botanic Drugs as Revealed in Legends and Antidotes. All of his works were self-published and self-illustrated under the Indiana Botanic Gardens and later by his relatives under Meyer Books. The Good Herb Doctor was compiled and published by his grandson after putting together numerous handwritten documents, notes and letters from customers.
The company eventually moved to Hobart, IN; in 1990 and has continued to be owned and operated by the Meyer family. They specialize in vitamins, herbs, essential oils, teas, and natural beauty products. There is no website for the Indiana Botanic Gardens, only a poorly maintained Facebook page. It shows up on Google maps and looks like it is still in operation. Their Botanic Choice line of products can still be ordered through a print catalog or online at http://botanicchoice.com.
Although the company is not the quaint family run business it used to be, it is still an interesting part of Indiana history and Meyer's contribution to the botanical community and study of herbalism is undeniable.