The world of occult publishing is a fascinating one, and one of my favorite publishers is Hadean Press.  They have titles from Jake Stratton-Kent, Nikolaj de Mattos Frisvold and many more; from translated grimoires to Cyprianic magic.  Hadean Press has some truly rare and unique publications, and I wanted to learn more about one of its founders; managing director and editor-in-chief Erzebet Barthold.  I want to thank Erzebet for taking the time to answer these questions, and as always look forward to your forthcoming works!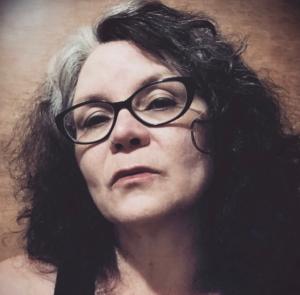 CM: You have been busy in the world of occult publishing, founding Papaveria Press and co-founding Hadean Press LTD with your husband.  Your involvement in independent publication and bookbinding can be traced back to 2001 in Philadelphia.  Was this a purely creative pursuit initially, or did you see a future similar to your current situation? 
EB: Initially it was purely creative and tied into my own writing rather than that of others. I was always drawn to the idea of miniature books and poetry works very well in that format, so my first few bound books were of my own poetry, or poetry and photographs and other artwork. By 2006 I was creating miniature (or very small) books written and illustrated by others, mostly by authors I knew in the fantasy genre. My move to England in late 2006 threw all of that into chaos, and what emerged as the dust settled was Hadean Press, but in the early days of Hadean I had absolutely no idea it would become what it is today. I remember saying to Dis, "okay, so we've created Hadean Press, now what do we publish?" Even then it was still a mostly creative pursuit done wholly for the love, until we realized there was a real and sustainable interest in what we were doing, at which point the business was formed.
CM: Your book art and bindings are displayed in galleries and collections around the world.  Can you tell us a little bit about the creative process involved in bookbinding?  What was it that first attracted you to the art? 
EB: What attracted me primarily to bookbinding was the art of it, so mostly I call myself a book artist rather than a book binder. It will come as no surprise to hear that I love books, but I also love the way they are put together. The phrase 'alchemical process' is possibly overused, but it does describe how I feel about creating a book, from printing to folding to sewing, choosing the paper and the covering materials, until finally the book arrives. Book art takes this a little further into the idea of the book and how that can be interpreted without the limitations of binding. One example of this is the Spirit Book Series by Susan Kapuscinski Gaylord (https://www.susangaylord.com/art.html), which she calls 'portable sanctuaries'. Artists like Susan are a huge part of what keeps me inspired.
CM: What is your favorite fairy tale? 
EB: This has changed throughout my life and with fairy tales it's always difficult to choose a favourite, but the one I keep coming back to now is a contemporary tale called Green Angel by Alice Hoffman. Green Angel is a young adult novella first published in 2003 and while I doubt you'll find it in any list of fairy tale canon, it does meet all of the criteria to be classified as one: it has animal helpers, transformations, a witch, and is thoroughly grounded in how the land can heal a broken soul.
CM: Hadean Press is known for its niche publications like the Guides to the Underworld, Conjure Codex and Clavis Goetica.  The selection ranges from topics from Northern tradition rune lore, goetic evocation and Cyprianic magic with titles by Jake Stratton-Kent, Nikolaij de Mattos Frisvold and Conjureman Ali.  Can you tell us, what was the vision for Hadean Press?  Did you and your husband have a vision for the sort of books you wanted to publish? 
EB: In the beginning the vision was simply to publish works we enjoyed, or thought were important based solely on our own tastes and interests. In some ways that is still mostly true, but these days we are far more open to publishing new voices, or underrepresented voices, whether or not we personally engage in the practices described. The overall vision is based in practicality. Our books are for people who believe in magic and want to learn new skills, develop new relationships, or hone the relationships they have with assorted spirits, or learn about how people in the past used magic and to what end.
CM: I noticed that Hadean Press Ltd also has digital copies of all of the titles which are available on the website.  Is it rare for an independent publisher to offer something like this themselves? 
EB: It was certainly rare when we began to offer digital editions, but I don't think it is so much now. Readers expect to be able to read books on their devices these days, and while not every book suits the digital format, in most cases there is no reason not to offer e-books as well as printed books. However, while digital is important, never let anyone convince you that print is dead.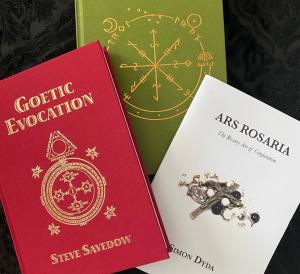 CM: Hadean Press Ltd. Seems to have mastered the art of independent publishing, releasing new publications on a regular basis; order fulfillment is very prompt and efficient (even to the US) What is your secret when the rest of the printing and publication industry is often delayed?
EB: There really isn't a secret. Hadean Press is no longer a hobby press, it is a business and an employer, and so things must keep moving otherwise the people who keep it thriving do not thrive themselves, and that includes not only the people behind the business but our authors, too. We use multiple tools to navigate the industry's landscape and do our best to prepare for potential problems, and in cases where we can't prepare, we storm ahead anyway. I'm very pragmatic and solutions-oriented when it comes to the business, but I also have the fantasist mindset of always asking 'what if' which allows me the freedom to speculate about how we can proceed throughout the years without worrying about practicalities. Granted most of those speculations never come to pass, but the exercise itself keeps the mind nimble. I also have a publish by any means necessary mentality and am incredibly stubborn. But there is another side to all of this as well, and that is the forming and maintaining good relationships with suppliers and other entities with whom I do business, which also keeps the wheels turning as often they will alert me to potential hurdles, giving me the opportunity to come up with a solution before a problem even emerges.
CM: How do the books that Hadean Press publishes reflect your own occult pursuits and interests? 
EB: My personal interests are focused on the grimoires and the early medieval period, so translated texts and other grimoire-derived material is (hopefully) always going to flood the Hadean catalogue. I have a huge interest in ancestral magic which is entirely absent from our list, but St. Cyprian on the other hand is well represented because I have a particular fondness for the saint and his books. I do a great deal of work with spirits, so spirit catalogues and conjurations are some of my favourite things to publish.
CM: The Guides to the Underworld have been very popular, bringing to light many topics that have been left untouched for centuries.  According to the website you are always taking submissions for potential publications, which is a really great thing to offer both authors and readers.  Allowing for the dissemination of information on niche topics, and giving people access to shorter essays that would otherwise be difficult to find.  Are there any specific parameters or topics of interest that you are seeking for forthcoming publications?
EB: We are looking for either practical work with a historical basis, or historical works that offer hints for practice. For books I would love to see more submissions on witchcraft past and present, ancient demonology (think Sumer or Babylonia), early to medieval Christian magic, working with the dead or other spirits in general, and many more translated works. The Guides to the Underworld cover a huge range of topics and I'm happy to read anything anyone might send in, although we tend to avoid topics such as modern Satanism or demonolatry simply because they fall too far outside of our scope. Since I am also the editor-in-chief, I have to know at least something about what we are publishing so that I can effectively edit it, which includes fact-checking when possible and making sure the author is clearly saying what they mean to say.
Learn more about HADEAN PRESS HERE and check out the great titles they have available!
Follow @HADEANPRESS
Stay tuned for The Grimoire Encyclopedia by David Rankine coming 2022!