Festivals are a large part of the Pagan year.  There isn't a time of year that you can't find some Pagan event going on somewhere in the country.  Some parts of the country are known for their large festivals, which are attended by hundreds of people within the diverse Pagan and magical community of North America.  There are thriving Pagan communities within the heartland of America living in places that on the surface are seen as largely Christian and conservative.  These are the places where Paganism thrives in its wild state.  Many practitioners in these areas are solitary practitioners for lack of a large enough community that gathers at regular times since many of us are spread across a wide area.  Pagan Pride Festivals in these areas are often the only time of the year that the Pagan community comes together, unless you want to travel to one of the larger festivals.  For some people who live in small towns far off the beaten path this is a special time of coming together.  If there is a place to gather and an event to attend the Pagan community seems to materialize from the many individual practitioners who come together for such occasions.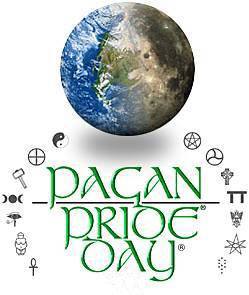 Pagan Pride Logo. From Fort Wayne PPD Facebook Page.
Three Rivers Pagans
Living in a city in the Midwest, the Great Lakes area, puts us at a crossroads between the metropolitan areas of the east and west coast.  We are southwest of Detroit and a couple of hours from Chicago.  Fort Wayne is large as far as small towns go, and it is quickly growing and becoming a place of interest for visitors, investors and creative entrepreneurs of all sorts.  There is a vibrant community of artists and artisans that call Fort Wayne home.  More and more local businesses, outdoor recreational areas and event centers are being worked on every year.
The Pagan Community here is present, but not necessarily centered around any one area.  There are individuals living in towns across southern Michigan, northern Indiana, and western Ohio that are part of our community, although they are separated by the rural countryside.  A kind of occult triangle exists between the cities of Chicago, Detroit and Indianapolis where larger events are held.  Fort Wayne falls somewhat in the middle; its people being drawn to events in these surrounding areas that are all just a couple of hours away.
There are a handful of New Age/Metaphysical stores in town which offer classes and also a small group of dedicated individuals that organize the Fort Wayne Pagan Pride Day.  If it wasn't for the commitment of the Three Rivers Pagans and their year long planning of this event, there would not be any Pagan/Magical gathering for Fort Wayne to speak of.  For being such a large, and diverse city there should be such a gathering.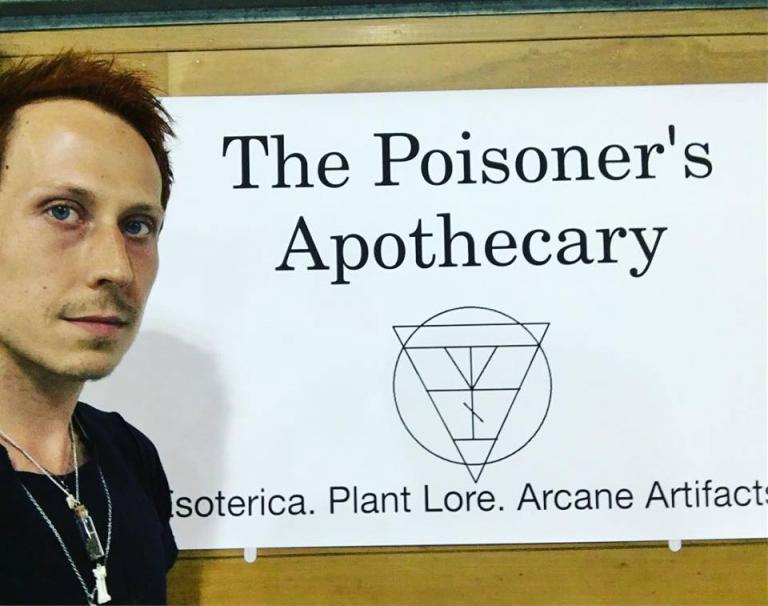 The Poisoner's Apothecary at Fort Wayne Pagan Pride Day. Photo by the author.
The Energy of the Land 
The land here has an interesting energy, having originally been populated by Native American peoples.  The original fort that was established here still stands, and reenactments are held throughout the summer.  The city itself was founded at an important location where three large rivers meet; the St. Joseph, St. Mary's and Maumee rivers.  This was an important location for both Native Americans and early settlers.  The natural crossroads of flowing water and human commerce creates a vortex of energy on the once heavily wooded lands.
It seems as though the spirits that dwell here are just beginning to reawaken.  Spirits come and go using the gateways here, just as the human inhabitants do.  Some of them choose to remain for a long time while others are just passing through.  The great land spirit that has always been here is starting to stir again.  It has been waiting for a revitalization of the land and its people.  People always joke that Fort Wayne has a way of pulling its people back to it, holding on to some more than others.
Hoosiers, as we are called, those born and raised here often have a love-hate relationship with this place it seems.  New residents are often met with questions of what on earth would bring them here, when they themselves feel the pull of something holding them here.  Growing up here, I can attest to the fact that this mid-western town hasn't always been the most exciting place  to live.  Unless you were starting a family or looking for a low cost of living, Fort Wayne wouldn't have much to offer those seeking a more unconventional life.  The once thriving downtown area became a ghost town in the 80s and 90s when many people began moving to the suburbs.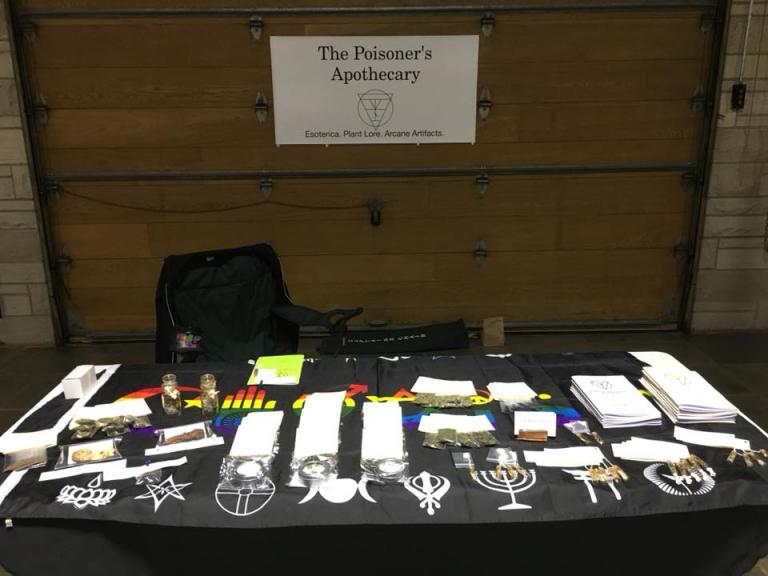 My booth at Fort Wayne Pagan Pride.  Photo provided by the author.
Embracing the Past, Planning the Future
Over the past twenty years more attention is being paid to the revitalization of downtown Fort Wayne.  Many new events, tournaments and conventions are being held at The Grand Wayne Center, The Embassy Theatre, and the Coliseum.  There are several multi-million dollar construction projects going on-adding new residential locations, hotels and businesses to the now flourishing downtown.
The creative community which has long survived underground has grown tremendously and has played a pivotal role in the revitalization of downtown Fort Wayne.  Adopting ideas from places like Portland, Oregon and creating inclusive spaces for artists, makers, and visionary individuals, which are not pretentious like the exclusive art scenes of some larger metro areas has brought new diverse experiences to Fort Wayne.
Artlink, Fort Wayne Museum of Art, Tekventure, Wunderkammer and more; are just a few of the organizations leading the way for the renaissance occurring in my hometown.  They provide the area with workspaces for artists of all kinds, local and national exhibits, and venues for performance art and other forms of creative expression.
The artists, visionaries and creative energy of these individuals are the lifeforce that is reinvigorating the city.  Drawing the attention of those across the nation.  There is a space for everyone here, evidenced by our diverse population, and that includes the Pagan Community.  We are here and we are many.  The work of groups like the Three Rivers Pagans give us opportunities to come together.  AS the city grows and thrives we shall grow and thrive with it.  We need more individuals to lead the way and provide a light for others to gather around.