Hoodoo, root work and conjure practices have a special place in my heart.  I am not from the south, but I have always felt at home there.  It was actually through a study of African American Hoodoo, for a college research paper, that I became enlightened to this abundance of new magical lore.  I began to study it in my free time as well.  I loved how practical it was, providing solutions for both spiritual and material matters.   It was through delving into these practices that I discovered the keys to what would eventually lead me to the craft I practice today.  The emphasis placed on herbal preparations, powerful roots and other natural elements resonated with the type of magic I was practicing already.  I was a kid in a candy store when I discovered the colorful world of spiritual supply companies specializing in these products.  The beautiful colors of the herbs, the bright labels and rich artwork just screamed magic and mystery.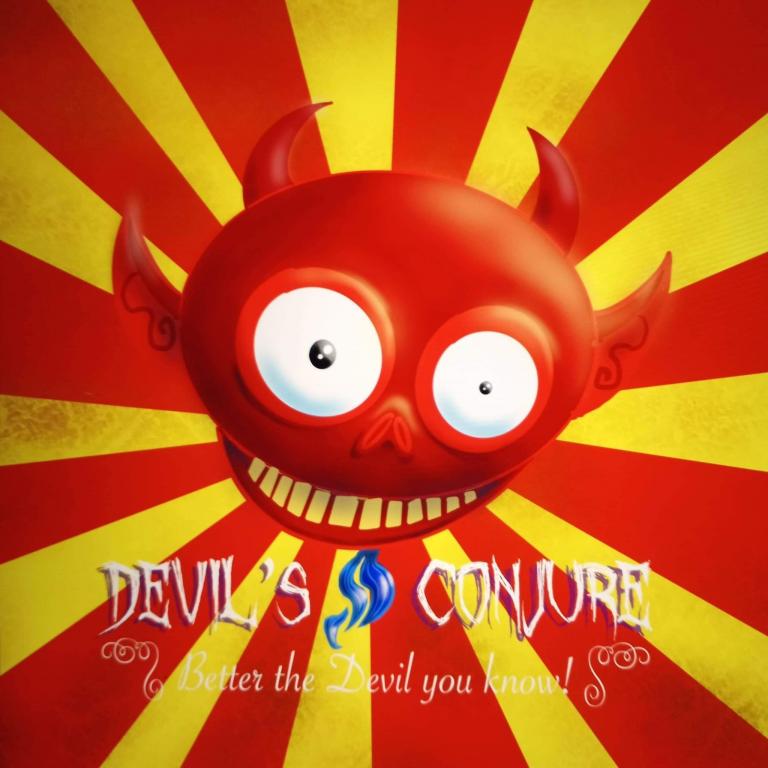 The Devil's Conjure is one such company.  It is  a full service hoodoo, root work and conjure shop offering ritual supplies and spiritual services online;  including readings and rituals.  I had the opportunity to interview Adam Darkly, conjureman and proprietor of the Devil's Conjure.  I find it interesting the Devil is a prominent figure in both the folk magic of the American South as well as the traditional witchcraft practices of Europe and the British Isles.  In our interview we discuss the topic of the Devil, and look at some of Adam's magical offerings.
Devil's Conjure stocks a wide selection of unique rituals oils and incense, including classic hoodoo formulas and Adam's own formula's including The Oil of the Witch and Flying Monkey Oil.  In addition to their ritual oils and Conjure boxes, they also have a number of different rituals to choose from.  The Devil's Conjure offers monthly community rituals that customers can be a part of depending on their goals.  Adam also provides readings and spiritual consultations to determine how to best approach a situation.
The Devil Himself
"I grew up outside of Ramer, Tennessee, in the foothills of the Appalachians, with my southern Baptist mom's side of family, and occasionally spending summers with my dad's side, Methodist and Catholic. Growing up fishing from creeks and bridges, walking barefoot in the woods, many times alone, was an empowering experience for me as a child. I would spend many summer days running in the woods, climbing red clay dunes and trees, watching rattlesnakes and vultures go about their business. One particular story of a great-aunt who is said to have been a poisoner, whom I later found out was a village healer, was a story that stuck with me, particularly the part where the coven she left would come to her when she was asleep, and hit her with thorns. I had alot of different experiences as a child, including the weather, and multiple death experiences that have stayed with me, and as my own work has grown, I see now those were initiations."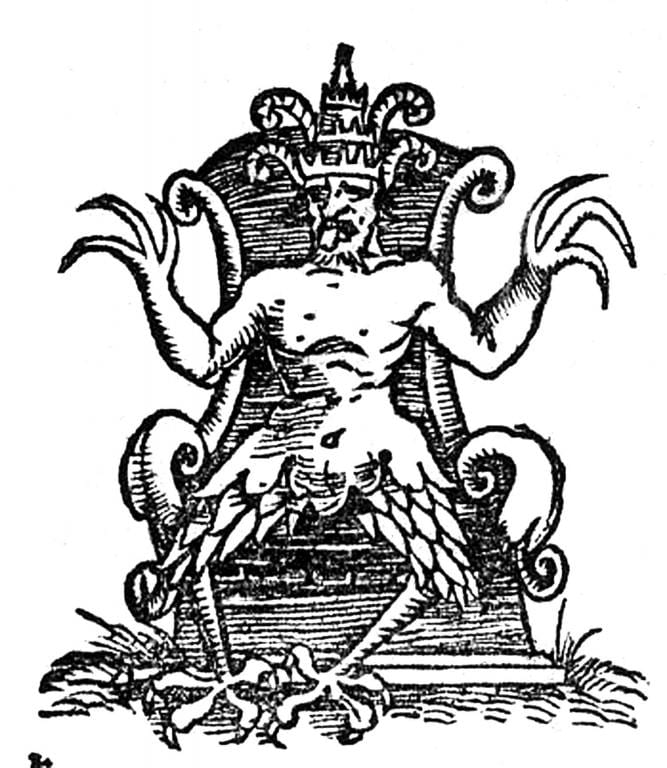 If you could pinpoint the start of your magical practice what would it be?
"I believe it would be in 2010, where I began delving into shamanic work, healing work, herbalism, etc. Each practice jettisoned me further, leading me to my work now as a conjureman and healer."
How did the area you grew up in influence your practice?
"The area I grew up in, big hills and mountains, rivers and creeks, piney woods and caves, truly did inspire me. As a child, My home life was sometimes scary and turbulent, so the woods were the places I felt safe. In the woods, I could be anything or anyone, and I feel this was a sort of awakening, to my practices with Animism, as well."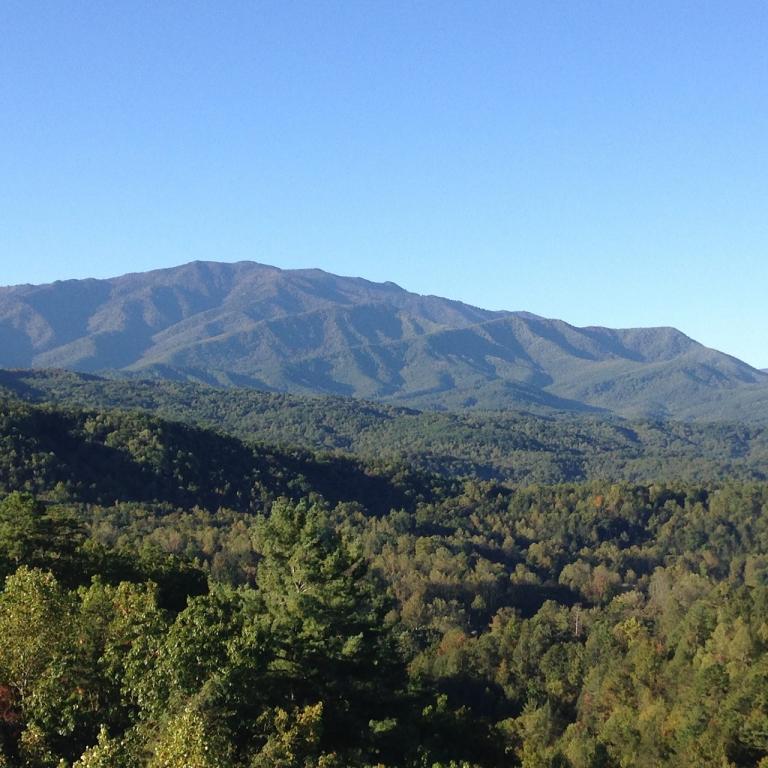 "Growing up, as a child, in numerous churches of various denomination was very confusing for me. I never felt I belonged, but I knew I had to play the part, that I had to clap or sing, or pray. I feel much of my upbringing in a non-denomination Christian family actually ended up with me pushing VERY far from religion in my teens, where I learned about other belief systems from Buddhism to Wicca, which opened up a new world to me. As I stepped into my 20's, Spirits began showing themselves in dreams, Astral projection/ travel that I experienced unwittingly as a child, resurfaced. My sight opened-up more fully, as I began to engage in shamanic healing practice and methodologies, energy healing, Prana, etc. I learned a lot from my husband, as well as various spiritual practitioners of various traditions over the past decade or so, including exorcism, ceremonial magic, herbalism, and alchemy, and more. All these practices have coalesced and infused themselves into my cosmology and the work I provide now."
How was Devil's Conjure born?
"Conjure. Devil's Conjure is the birth child of myself and my husband, a work of love, manifested over a decade. Originally, We were Darkly's Curiosities, an occult and oddities emporium, and spent 7/8 years running that business successfully, honing our craft, flexing our business skills, eventually evolving into Devil's Conjure. The name and everything you see now, came over a year ago, last August to be exact, in a series of visions from Cyprian. At the time, I had just quit my job, and my husband was between jobs. Over the next series of days, Cyprian revealed to me the next steps, even as far as products and beyond. Through my work with Cyprian and the Crossroads Devil, I conjured up our name, because who doesn't love the Devil!?"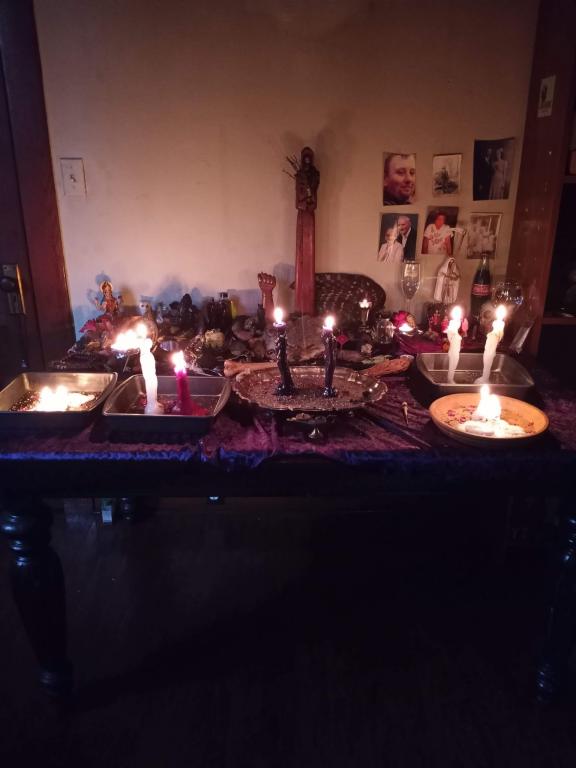 You also go by "the Devil" other than being the proprietor of Devil's Conjure how did this nickname come about?
Speak of the Devil….what role does he play in your practice or how does he figure in your personal cosmology?
"I do go by the Devil. Devils and goblins play a role in my work and path, and I relate and connect with devils on many levels. To me, The Devil is the guy the know, the trickster, the storyteller. As a devil, one can bend the rules, and in my work, as the cosmos seems to play by some rules, I prefer to bend them, to retell the story. I believe devils are our greatest allies, to reveal lies and deceit, to sunder false belief systems, to make real change, to heal, to shapeshift, and more."
What are some of your most popular products? 
"I do believe my most sought after products, include Conjure Boxes, Ritual Oils, and my amulets. I love offering new series of products regularly, and offer my customers a lot of options, including custom products."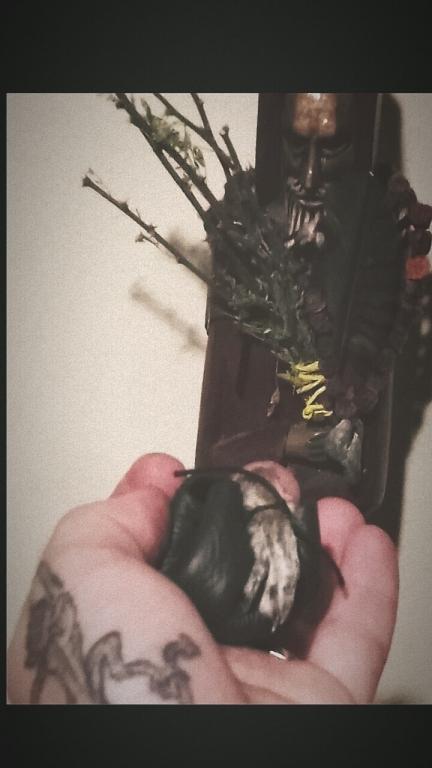 The Amulet of the Witch:  a nefarious mojo hand of concentrated witch power.  Made with a menagerie of mineral, zoological and herbal ingredients associated with witches and their familiar spirits.  A vessel for harnessing the witches power, protecting from the dangers of the spirit world and opening doors to the Unseen.  Adam brings together the powers of the dead, the fae and the magic of liminal places in this strange and otherworldly totem.  To add to the witchiness of this charm; included with it is their Oil of the Flying Monkey.
What can be expected from a ritual service?  
"From beginning to end, I want to provide clear communication with my clients, and you will experience nothing less, from the moment you book a service until we manifest your BEST life. Typically, Clients book a reading or ask for recommendations, according to their situations or desires, and we make a plan of action. Some clients aren't sure what ritual they need, so I also set up phone consults where my clients can communicate with a real human. I offer everything setting of lights to full rituals, and booking with me includes email updates, during and post ritual work, as well as, a summary of your work, how things burned (I always read the wax/ burn /etc.), and more. I aim for you to have the best experience possible! My clients are involved from beginning to end, especially with on-going work."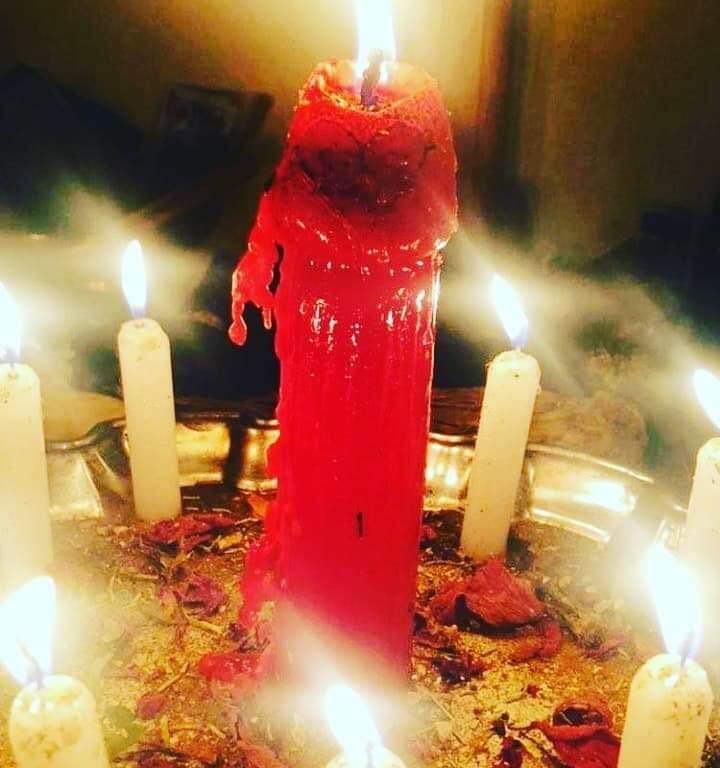 Are clients more involved in individually tailored rituals compared to community rituals? And why would one choose one over the other?
"Clients are typically more involved with my full rituals, than my monthly community rituals.  As far as which I would recommend, I would say that depends on the individual, their situation, etc. Some situations just need a kick in the ass, and a community ritual can remediate things. Other clients have blockages or need various works to set things right. I will leave that up to each of you to choose. I offer my community rituals at a lower cost, so that those in need can be included."
Thank you Adam for the work that you do and for sharing it with us!
I am Adam Darkly. Folk magician, sorcerer, necromancer, shamanic healer. I offer services to my clients, from ritual magic, to divination and life path readings, as well as, legit magical materia and ritual supplies. My ritual services are tailored to each clients needs, and I am happy to speak with you prior your your work.