The Goddess Book:
A Celebration of Witches, Queens, Healers & Crones
Published by Hampton Roads and distributed by Weiser/Red Wheel 2021
Written by: Nancy Blair
Illustrated by: Thalia Took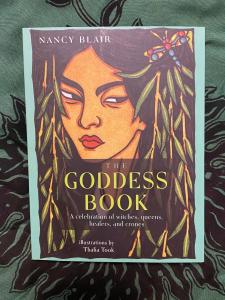 The Goddess can be seen and felt all around us. She is embodied in nature, her voice in the wind her eyes among the stars. The majority of goddesses are connected to some kind of cycle. They are linked to this changing nature because they are always changing. That is one thing that we can all relate to…CHANGE. There are many lessons to be learned from all of the different changes that a person goes through as they mature and discover new parts of themselves. Sometimes we must be swift and logical, other times we need to be sensitive and nurturing, and sometimes we must transform into something else entirely. As we go through our own changes and cycles we have the Goddess to look to for strength. There are many facets to the Goddess archetype and The Goddess Book features 52 of them. Each goddess is completely unique, with their own message and wisdom to offer.
This beautiful book is meant to be one's companion over an entire year. It can be used as a meditational or devotional tool for exploring the diversity of the world's goddesses and tapping in to your own inner divinity. The Goddess Book, celebrates the Wheel of the Year offering one goddess per week for contemplation and empowerment. There is general information about the goddess, and a simple ritual, affirmation or meditation that can be performed to tap in to their energy. There are a few goddesses that will be recognized by most, but the majority of them are rather unique and obscure. The book is cleverly divided into four sections based on the seasons. This is the perfect was to categorize the goddesses based on the season they have the most affinity with. This also gives the reader a sense of the cyclical energy at work here.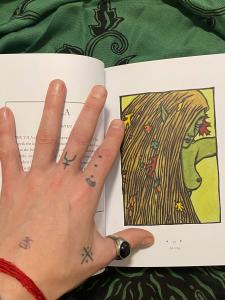 The Goddess Book features an array of powerful female figures that play different roles and have different powers. These individual manifestations show the universality of the goddess. Every culture in the world has some kind of goddess figure. I have included images of my favorite goddesses for each season. We all have an inner goddess and can all benefit from connecting with our feminine side. After meditating on just a couple of goddesses for a week each, I can see how doing this for an entire year would be a beautiful and empowering experience.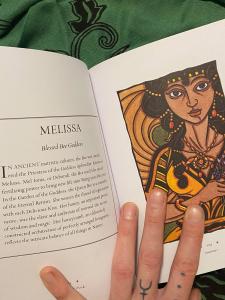 Dedicated to Mother Earth, this book was written by Nancy Blair. Nancy is an author and artist with a MFA and a background in spirituality. Nancy wrote all of the goddess descriptions, and practices. Nancy is an artist and her work can be found here. I'm actually not a huge fan of the written portion of the book so we will move on to the illustrations! Thalia Took, identifies as Pagan and is an artist professionally trained in illustration. Thalia has a passion for depicting goddesses, and it is her mission to depict every single one! Thalia's website is full of gorgeous images of obscure goddesses from every corner of the globe, and even some gods!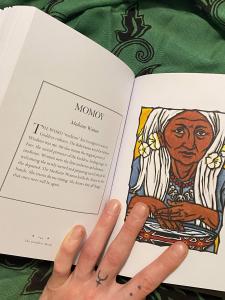 Thalia takes commissions and sells art online. There is also a really awesome Goddess Oracle Series on the website done in a style similar to the illustrations in the book that you have to check out! All of her illustrations are very striking, and full of color and detail! You can find Thalia's work and other information on their website HERE, or HERE for their etsy page. You can also subscribe to Thalia's patreon HERE for more awesome content. To conclude my review, this is a great little book. It is inspirational and visually appealing. Whatever you interest in goddesses, this book will surely leave you with a deeper appreciation for the goddesses around us and within us!