I was recently invited to write a review on two new publications from Weiser Books. This time I am reviewing both a book and an oracle deck. This will be the first non-book review that I have done. The book is called Doctoring the Devil: Notebooks of an Appalachian Conjure Man, and Conjure Cards is the name of the oracle being that they are complimentary by each other. Both publications are the work of Jake Richards, Appalachian Conjure man, and author of Backwoods Witchcraft: Conjure and Folk Magic of Appalachia. I had the pleasure of reviewing this book as well, so I was excited to do the same with Jake's newest works. If you haven't read Backwoods Witchcraft, I highly recommend it! You can read my review of it HERE.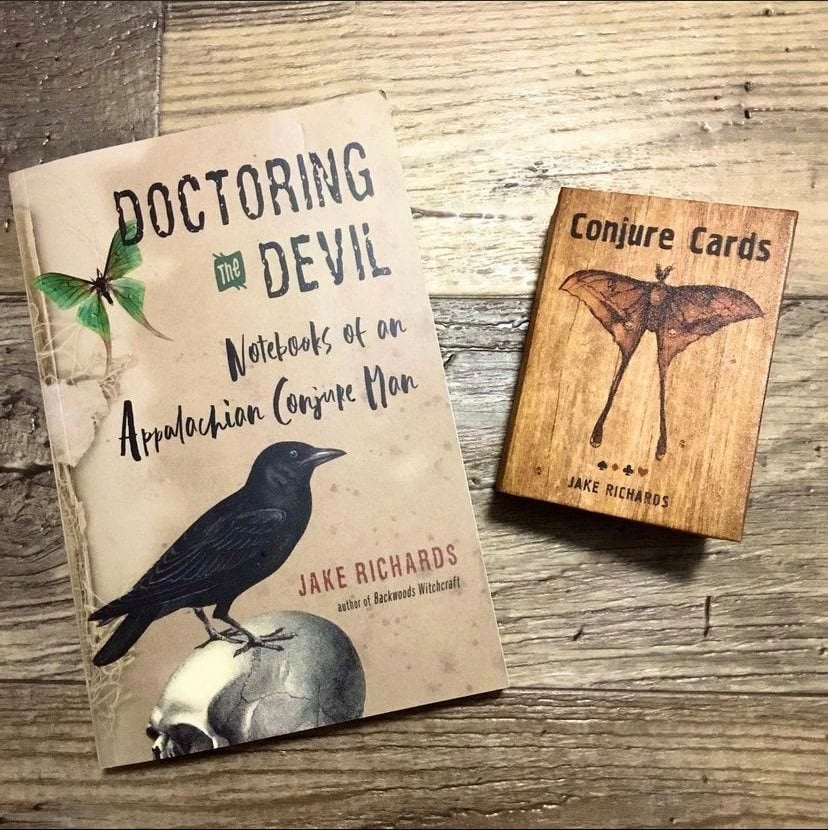 Conjure Cards "Secrets of the Old-Time Mountain Prophets
I've always thought that playing cards were such a romantic and "old timey" method of divination. It is interesting to see some of the differences and similarities between Tarot and playing card divination. Jake adds an additional layer to this oracle by including a hand draw folk art illustration on each card. The illustrations depict an image that has both a divinatory meaning and a symbolic meaning in Appalachian folklore, drawing on some of the superstitions and dream interpretation symbols Jake grew up with. The rustic images are everyday objects, as well as plants and animals, while other images are more symbolic. Two examples are the Trillium flower, symbolizing new beginnings and the Hellbender salamander, symbolizing luck in love. The box they come in is beautifully done, opening and closing like a book. The backs of the card are adorned with a double Luna moth, a symbol of the ancestors and the sacrifices they made for us. The "little white book" that comes along with is much more than just listing meanings for each card. Every symbol can be tied to a belief, practice or piece of folklore associated with the region. Jake tells a story for each card, painting a detailed picture of Appalachia's diverse folklore. So while you are learning to read the cards you are also learning about Appalachia's rich folklore. This is a great deck, and is fun and easy to read with.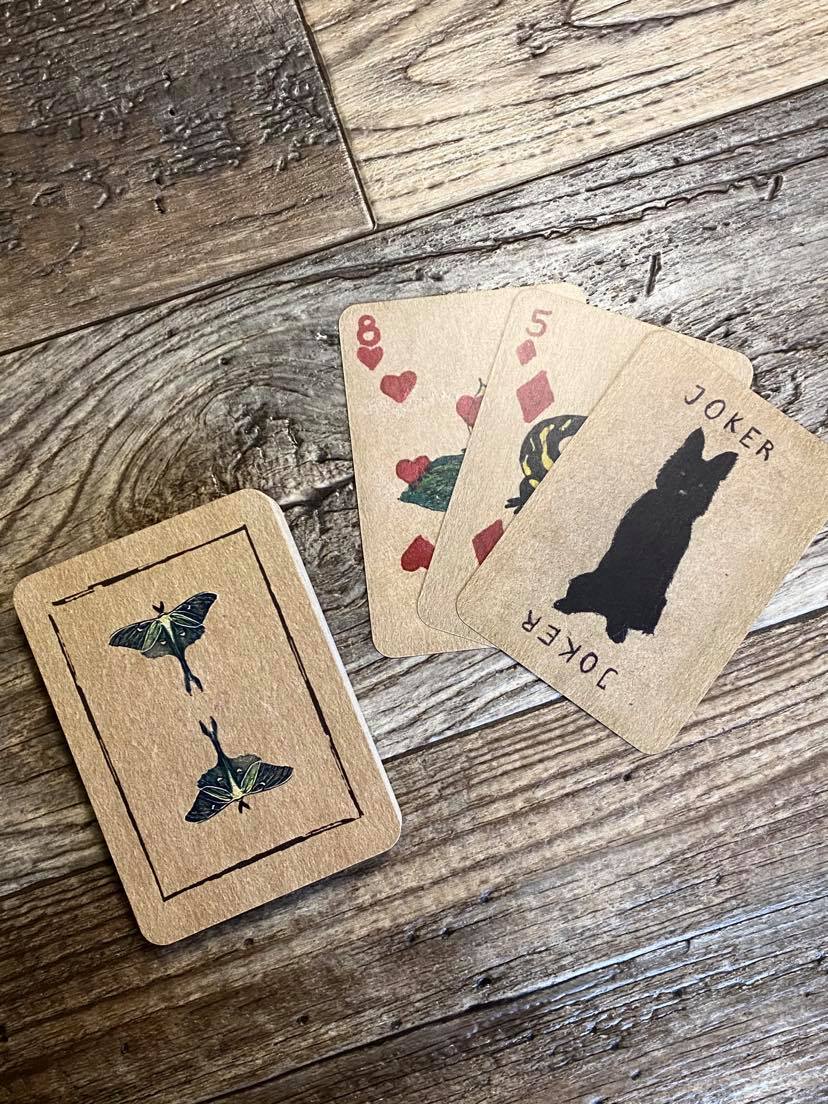 Doctoring the Devil: Notebooks of an Appalachia Conjure Man
This book was dedicated to the memory of Jake's grandmother, and we see another ancestral Luna moth on the cover, recognizing ancestral sacrifice. The entire book is an homage to ancestors, heritage, and Appalachian culture. Jake is a great story teller, and like all folk traditions, they live on through their stories. Within these pages are the stories of faith healers, conjure doctors, witches and prophets-all kinds of Appalachian workers from throughout the region. It is a region of blended cultures and beliefs, and this is shown by the wide scope of practitioners. There are similarities in the way that they practiced or where they derived there power, but there are also some key differences. Jake takes us on a journey giving us a more intimate look into the world of Appalachian magic. One thing that makes Jake's work unique is that so much of his knowledge is inherited or absorbed by living in eastern Tennessee all of his life. So much of his information is accompanied by personal stories, and advice directly from his own ancestors, giving the book a very personal touch. It is through his writing that these living traditions of American folk magic are being transmitted to the modern practitioner. Jake makes this information accessible, teaching through sharing many of his childhood memories.
"Tales of witchcraft and conjuring in Appalachia are a lot of times exaggerated for the storytelling, and overtime the truth can become twisted or changed. However, we can find the meaning behind certain things by comparing them to similar tales. This is what I like to call root culture: a set of similar scenes, problems, solutions and practices seen in the witch and conjure stories of the South. This not only applies to tales from Appalachia but also the Carolina coasts, the Gulf Coast, the Ozarks and the southern Plains. Folk stories take on a life of their own, and they've got cousins and sisters and twins in every part of the world. By examining their underlying themes, we can better come to a parent belief of the times." – Jake Richards, Doctoring the Devil
In addition to the stories told, the great majority of the book is a practical guide to Appalachian conjure and folk magic. It contains charms, spells, prayers and techniques in the repertoire of the Appalachian conjuror. Jake takes the reader through the process of beginning one's own practice, outlining what preparations should be undertaken. Along the way we learn about catching spirits, making poke bags and fire talking. Some of these techniques will appear similar to the magical practitioner, but they are presented through a uniquely Appalachian worldview. Jake provides rituals for love, healing, protection, spiritual cleansing and more. All of the practices in this book are from Jake's own notebook. Having been either passed down through family, learned from local lore, or developed through his own practice, Jake provides the reader with a substantial amount of folk lore that wouldn't be found any where else. The book also includes an extensive reference of herbs and other curios, categorized by the desired effect of the working. They are all steeped in Appalachian lore and imagery. The reader will also learn divinatory techniques such as switching, counting corn and throwing the bones. Doctoring the Devil shows how personal these practices are to those who have been born into them. It shows a sincere reverence for one's heritage, and what is inherited from family and the land itself.
I highly recommend this book if you have an interest in American folk magic. These practices are accessible to everyone, even if you aren't from or don't live in the area. There is such a diverse blend of beliefs and influences from different people and places. It is a fascinating example of how ideas come together and change over time, but the language of magic stays the same.
You can find Doctoring the Devil at Weiser Books, Amazon, or your local bookstore.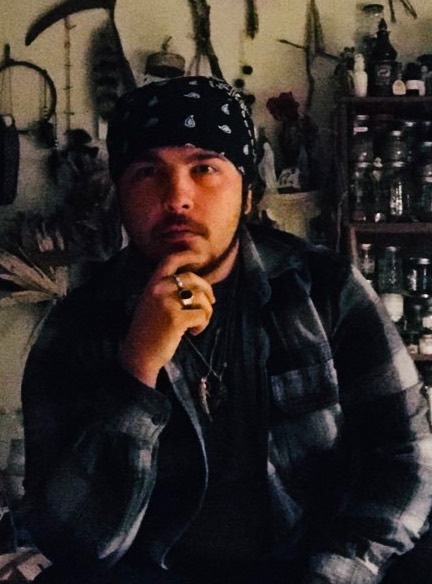 Jake lives in eastern Tennessee in the town of Jonesborough, where generations of his family have lived, farmed and mined. Jake has been a practitioner of Appalachian folk magic for over a decade, and grew up immersed in its lore. He is descended from individuals who fall in one of the many categories of Appalachian practitioner. Jake's practice is very near and dear to his heart, and this comes through in his writing.