The Big Book of Magical Incense
by Sara L. Mastros 
Weiser Books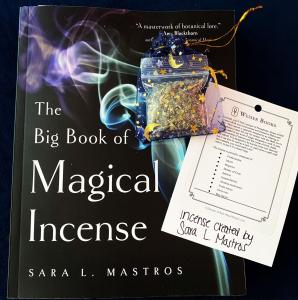 Incense is one of the most commonly used ritual items in the world. It is used in multiple cultures and faiths, and it takes many forms. All of us have burned incense at one time or another to "set the mood," and people have been doing this for millennia. Ritual fumigation, the burning of fragrant and in some cases psychoactive plants goes back to Zoroastrianism, and probably even further.
Since it is such a widely dispersed practice, with so many cultural and traditional elements tied in there is no right or wrong way to use incense. However, the simple act of burning incense can become convoluted as to the how and why, with so many voices in the background.
It is always beneficial to revisit the basics, and get back to the foundation of our practice. Having a learned and experienced guide to revisit these topics provides invaluable insight and understanding. Mastros is one such expert, providing a historical and scientific explanation of the art and science of using ritual incense. The book presents this global practice from many points of view, providing detailed backstory for each section and an in-depth practical understanding but also the esoteric framework within which each topic lies.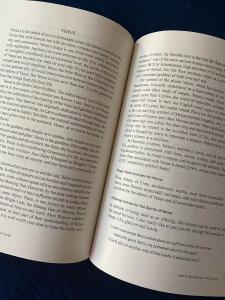 Sara Mastros holds a master's degree in theoretical mathematics, and it comes through in the meticulousness of her research, and practicality of information provided. Mastros does a seamless job making the esoteric practical. She is the co-owner of Mastros & Zealot, offering incense formulas, classes and divination services.
Amy Blackthorn, author of Blackthorne's Botanical Brews calls it "a master-work of botanical lore," and nothing could be more appropriate for this 288-page resource. Let's be honest, some incense making books are very dull, or they follow the same structure. They give the basic information about the history of incense, how to make it, and then give you a list of ingredients and their corresponding uses. This book is NOT that!
Mastros writes about this foundational topic from the perspective of an expert, giving invaluable insight throughout the book in her own commentary. The tips and fascinating facts that Mastros gives abundantly along the way are something that is lacking in most books on ritual incense making. This book is a great foundation for beginners, arming them with a broad scope of the various traditional formulas that have influenced modern magical incense making. Mastros, a teacher by vocation explains concisely while providing new information for further study.
The book comes out on December 1st 2021, and is being published by Weiser Books.
Mastros begins by giving us the fundamentals, a brief history of incense in the West. The first section goes over the science of scent, fragrant botanicals and aromatic woods, as well as non-botanical ingredients. Mastros discusses the science and psychology of using incense to create an atmosphere.
This is not an A-Z of herbs, nor is it a list of recipes with ingredients that have no explanation. We continue laying the foundation for what is coming next, learning about "offertory incense." Mastros discusses the menagerie of spirits and other worlds that are often the recipients of offertory incense. Each of the incense blends tells a story, and Mastros is right there telling us what to do, how to do it and WHY! The books is just as dense with magical lore and mythology as it is recipes, because the two are weaved together, one enriching the other. You don't just get a recipe and a list of correspondences from Mastros. She gives detailed instructions on ritual use and the role that the incense plays in the specific ritual.
There are a wide variety of spells and rituals, some of them classic and others ingenious inventions of Mastros' creative mind. Many of the recipes includes are those developed for her coven. There is a lot of information pertaining to the PGM, and ancient incense formulas. Also included is the requisite planetary lore, however mastros presents it in a way that makes more of interest to magical practice.
You could honestly write a small book on everything that is covered here! There are formulas related to King Solomon and Jezebel, recipes from the Book of Raziel, and herbs used by medieval plague doctors. There is a wide variety of spells for which incense figures as the central component. Mastros gives notes on the ingredients, and the qualities of each one and how they are being utilized. This is my favorite part about the book. Every recipe is loaded with information about the individual ingredients, and the role they play. Understanding the WHY of ingredients anchors the magic in our psyche, making it stronger.