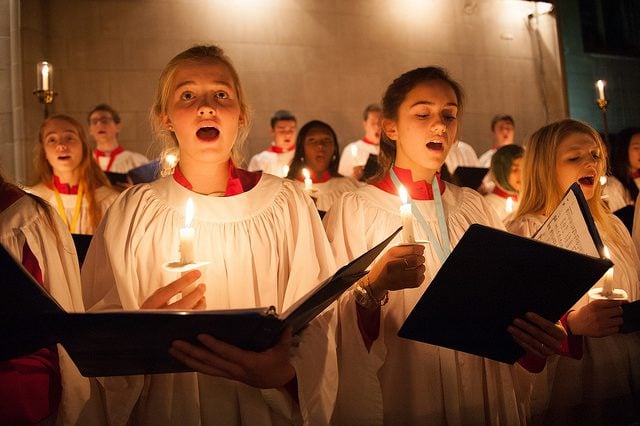 I've managed to keep the popular tunes of the season mostly out of my ears and mind this December, although I confess I whistled Mele Kalikimaka for about four hours at my desk yesterday. Could be worse.
But instead of talking about the horrible ethical and moral implications of the obligatory holiday muzak, I put together a list of five carols that pull us out of the sentimental fog we find ourselves in this time of year and show us the radical nature of these events. These are a few songs that, as followers of this Christ Child, make up the theme music to our existence. And then for good measure, I've suggested a few carols we should ignore, lest they drop us right back into the feel-good December fog. These are both , of course, highly subjective lists, so feel free to leave your own list or suggestions in the comment section.
5 Carols We Should Know By Heart
5. O Little Town of Bethlehem
A text that is pregnant with a theme of "our God is with us." I can never sing stanza three without being struck by the weightiness of it. My guess is that Bethlehem was not silent on this particular night. The promised King showing up in swaddling clothes and lying in a manger was probably not the Rose Israel had in mind. But there he was, with the weight of the world on his puny little shoulders, bringing the blessings of heaven to stony human hearts.
And as a church in need of the renewal such a birth can bring, our prayer remains, "Be born in us today, Lord Jesus."
4. What Child Is This
This carol reminds me of the hymn "Ask Ye What Great Thing I Know." It asks all-important questions, but the answers have been edited out of many hymnals in favor of keeping "This, this is Christ the King" the common refrain. Here is the sometimes-omitted second half of stanza two:
Nails, spear shall pierce Him through,
The cross be borne for me, for you.
Hail, hail the Word made flesh,
The Babe, the Son of Mary.
Without these lines, we might as well not even sing it. It's more than a little disturbing to foretell this sort of fate happening to a newborn baby, but the stark contrast between the birth and death is a weighty reality that the church must confront.
3. Angels from the Realms of Glory
I love how the middle stanzas call unsuspecting parties out of their present condition into the light of new creation.  Jesus' birth calls us as the church to do an about-face and follow him, our living Head. Oh, and by the way, that's a big part of the function of corporate worship to begin with. We come together as God's covenant people, realign ourselves with Christ's cause through Word and Sacrament, and are sent out to be the church of Christ for the sake of the world.
2. Joy to the World
The whole thing is good, but this carol makes it to number two on my list solely on the merits of stanza three.  Christ has come to redeem and restore the cosmos "as far as the curse is found." Jesus changes everything. The old is gone, the new has come.
1. Hark! the Herald Angels Sing
If only George Whitfield had never put his grubby little paws on this hymn…
Anyway, save the mangled opening line and refrain, Wesley's masterful theological treatise remains intact.
Christ, by highest heaven adored;
Christ, the everlasting Lord;
late in time behold him come,
offspring of a virgin's womb.
Veiled in flesh the Godhead see;
hail th'incarnate Deity,
pleased as man with men to dwell,
"Jesus, our Emmanuel."
That's the story, friends.
Bonus: O Come, All Ye Faithful (stanza 2)
Most of us don't sing it, but here's a little Nicene Christology for you.
True God of true God,
Light from Light Eternal,
lo, he shuns not the Virgin's womb;
Son of the Father,
begotten, not created.
A Few We Should Forget
Away in a Manger
Dear Everyone,
Baby Jesus was fully human. He had gas, he spit up, he crapped himself, and yes, he cried.
Your Friend,
Jonathan
The First Noel
I feel like this hymn should come with subtitles. Seriously, did Yoda write this thing? However, I do like the last stanza as a doxology.
Then let us all with one accord
Sing praises to our heavenly Lord;
That hath made Heaven and earth of naught,
And with His blood mankind hath bought.
Silent Night, Holy Night
This one would be fine if it weren't for the obligatory a cappella stanza, with a beginning tempo of Quarter Note = 7 and the ending tempo of Quarter Note = Christmas.
What do you think? What is your top five? Which ones would you rather forget about?
Photo: Flickr, St. George's School, creative commons 2.0