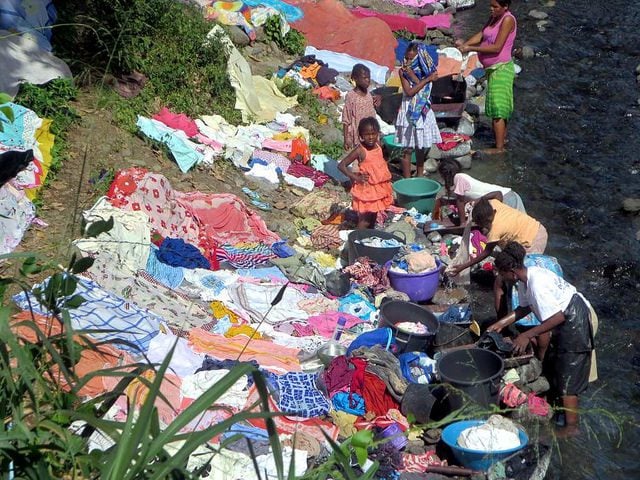 I suspect most rich Christians, filled as we are with the anxiety about our wealth, try to do something for the poor before we have listened to their story. Of course, listening, being with and working with the poor are not mutually exclusive activities, but I fear we often want to help the poor without getting to know who the poor may be. I suspect we do so, not from some ideology against the poor, but rather I suspect we prefer to do for the poor rather than be with the poor because the poor scare the hell out of us. – Stanley Hauerwas
"There's no need to be the richest man in the cemetery. You can't do any business from there." — Colonel Sanders
Greeting
If any want to become my followers,
let them deny themselves and take up their cross and follow me.
For those who want to save their life will lose it,
and those who lose their life
for my sake and for the sake of the gospel, will save it.
(MARK 8:34 b–35)
Hymn No. 427: Where Cross the Crowded Ways of Life
Where cross the crowded ways of life,
where sound the cries of race and clan,
above the noise of selfish strife,
we hear your voice, O son of man.
In haunts of wretchedness and need,
on shadowed thresholds dark with fears,
from paths where hide the lures of greed,
we catch the vision of your tears.
From tender childhood's helplessness,
from woman's grief, man's burdened toil,
from famished souls, from sorrow's stress,
your heart has never known recoil.
The cup of water given for you
still holds the freshness of your grace;
yet long these multitudes to view
the sweet compassion of your face.
O Master, from the mountainside
make haste to heal these hearts of pain;
among these restless throngs abide;
O treat the city's streets again,
Till all the world shall learn your love
and follow where your feet have trod,
till, glorious from your heaven above,
shall come the city of our God!
– Frank Mason North, 1903
Tune: GERMANY
(Hymn begins at 1:31:01)
Prayer
Almighty God,
Your name is glorified
even in the anguish of your Son's death.
Grant us the courage
to receive your anointed servant
who embodies a wisdom and love
that is foolishness to the world.
Empower us in witness
so that all the world may recognize
in the scandal of the cross the mystery of reconciliation. Amen.
Isaiah 42:1-9
42:1 Here is my servant, whom I uphold, my chosen, in whom my soul delights; I have put my spirit upon him; he will bring forth justice to the nations.
42:2 He will not cry or lift up his voice, or make it heard in the street;
42:3 a bruised reed he will not break, and a dimly burning wick he will not quench; he will faithfully bring forth justice.
42:4 He will not grow faint or be crushed until he has established justice in the earth; and the coastlands wait for his teaching.
42:5 Thus says God, the LORD, who created the heavens and stretched them out, who spread out the earth and what comes from it, who gives breath to the people upon it and spirit to those who walk in it:
42:6 I am the LORD, I have called you in righteousness, I have taken you by the hand and kept you; I have given you as a covenant to the people, a light to the nations,
42:7 to open the eyes that are blind, to bring out the prisoners from the dungeon, from the prison those who sit in darkness.
42:8 I am the LORD, that is my name; my glory I give to no other, nor my praise to idols.
42:9 See, the former things have come to pass, and new things I now declare; before they spring forth, I tell you of them.
Psalm 36:5-11
36:5 Your steadfast love, O LORD, extends to the heavens, your faithfulness to the clouds.
36:6 Your righteousness is like the mighty mountains, your judgments are like the great deep; you save humans and animals alike, O LORD.
36:7 How precious is your steadfast love, O God! All people may take refuge in the shadow of your wings.
36:8 They feast on the abundance of your house, and you give them drink from the river of your delights.
36:9 For with you is the fountain of life; in your light we see light.
36:10 O continue your steadfast love to those who know you, and your salvation to the upright of heart
36:11 Do not let the foot of the arrogant tread on me, or the hand of the wicked drive me away.
Hymn No. 111 – How Can We Name a Love
How can we name a Love
that wakens heart and mind,
indwelling all we know or think
or do or seek or find?
Within our daily world,
in every human face,
Love's echoes sound and God is found,
his in the commonplace.
If we awoke to life
built on a rock of care
that asked no great reward but firm,
assured, was simply there,
we can, with parents' names,
describe, and thus adore,
Love unconfined, a father kind,
a mother strong and sure.
When people share a task,
and strength and skills unite
in projects old or new, to make
of do with shared delight,
our Friend and Partner's will
is better understood,
that all should share, create, and care,
and know that life is good.
So in a hundred names,
each day we all can meet
a presence, sensed and shown at work,
at home, or in the street.
Yet every name we see,
shines in a brighter sun:
In Christ alone is Love full grown
and life and hope begun.
-Brian Wren, 1973
Tune: TERRA BEATA
Hebrews 9:11-15
9:11 But when Christ came as a high priest of the good things that have come, then through the greater and perfect tent (not made with hands, that is, not of this creation),
9:12 he entered once for all into the Holy Place, not with the blood of goats and calves, but with his own blood, thus obtaining eternal redemption.
9:13 For if the blood of goats and bulls, with the sprinkling of the ashes of a heifer, sanctifies those who have been defiled so that their flesh is purified,
9:14 how much more will the blood of Christ, who through the eternal Spirit offered himself without blemish to God, purify our conscience from dead works to worship the living God!
9:15 For this reason he is the mediator of a new covenant, so that those who are called may receive the promised eternal inheritance, because a death has occurred that redeems them from the transgressions under the first covenant.
Anthem: If ye love me – Thomas Tallis (c. 1505-85)
John 12:1-11
12:1 Six days before the Passover Jesus came to Bethany, the home of Lazarus, whom he had raised from the dead.
12:2 There they gave a dinner for him. Martha served, and Lazarus was one of those at the table with him.
12:3 Mary took a pound of costly perfume made of pure nard, anointed Jesus' feet, and wiped them with her hair. The house was filled with the fragrance of the perfume.
12:4 But Judas Iscariot, one of his disciples (the one who was about to betray him), said,
12:5 "Why was this perfume not sold for three hundred denarii and the money given to the poor?"
12:6 (He said this not because he cared about the poor, but because he was a thief; he kept the common purse and used to steal what was put into it.)
12:7 Jesus said, "Leave her alone. She bought it so that she might keep it for the day of my burial.
12:8 You always have the poor with you, but you do not always have me."
12:9 When the great crowd of the Jews learned that he was there, they came not only because of Jesus but also to see Lazarus, whom he had raised from the dead.
12:10 So the chief priests planned to put Lazarus to death as well,
12:11 since it was on account of him that many of the Jews were deserting and were believing in Jesus.
Hymn No. 592: When the Church of Jesus
When the church of Jesus
shuts its outer door,
lest the roar of traffic
drown the voice of prayer,
may our prayers, Lord, make us
ten times more aware
that the world we banish
is our Christian care.
If our hearts are lifted
where devotion soars
high above this hungry,
suffering world of ours,
lest our hymns should drug us
to forget its needs,
forge our Christian worship
into Christian deeds.
Lest the gifts we offer,
money, talents, time,
serve to salve our conscience,
to our secret shame,
Lord, reprove, inspire us
by the way you give;
teach us, dying Savior,
how true Christians life.
– Fred Pratt Green, 1968
Tune: KING'S WESTON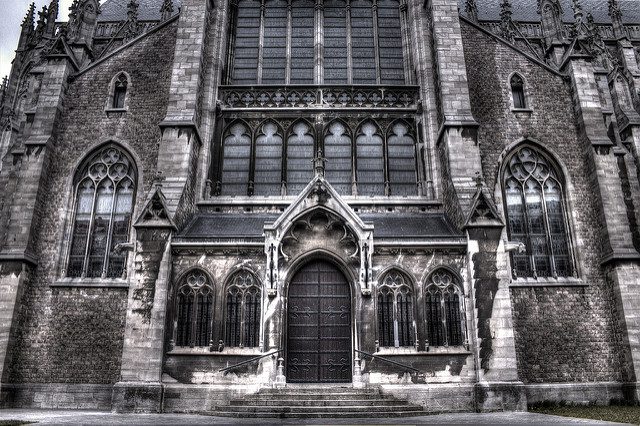 Hymn numbers are from The United Methodist Hymnal.
Flickr, David Stanley, creative commons 2.0
Flickr, Martijn Loth, creative commons 2.0