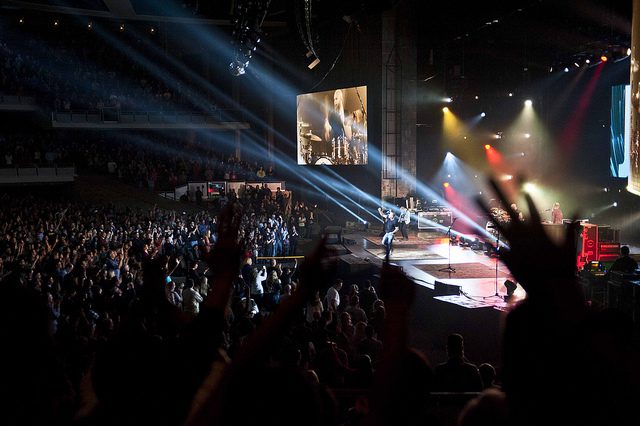 Better update those resumes! Willow Creek Community Church is now hiring for the position of Weekend Stage Manager.
From the Work at Willow website:
The Weekend Stage Manager works on a team of technical artists to execute Weekend and Midweek services. The Stage Manager leads the volunteer team to assist artists and speakers, coordinate and execute all theatrical stage moves, and assist the Technical Director with any other production needs during services. This role also executes live video projection, including projector setup and integration.
Job Responsibilities
Weekend and Midweek service stage management, including stage preparation; band load-in and soundcheck; and theatrical needs, including scenic moves, speaker props, special effects, theatrical rigging, etc.
Recruit, train, schedule, and lead the Weekend and Midweek volunteer stage team.
Assist other team members with audio, lighting, video, and scenic setup.
Create and update weekly stage documents.
Manage inventory of message props, flip charts, furniture, audio equipment, band equipment, and special effects.
Partner with the Weekend Lighting Engineer for live video projection needs including calculation, setup, and integration.
Responsible for live production effects equipment, including low-lying fog, confetti and streamers, snow machines, etc.
Job Requirements
Ability to read a situation, use good judgment, and quickly make a decision
Extremely comfortable and cool under intense pressure
Basic knowledge of all areas of live production
Ability to build, train, and maintain a team of dedicated and skilled volunteers
Excellent interpersonal skills, with high emotional and relational intelligence, are required, including a focus on customer service
Strong organization skills
Detail-oriented and action-oriented
Willing to engage equally with both simple, repetitive tasks and technically complex needs
Background in theater and theatrical rigging a plus
Comfortable learning and using software to create stage documents, including Microsoft Visio and OmniGraffle
Basic live video knowledge a plus
Unless I've missed it, there is a word that is conspicuously absent from this posting.
Performance.
My guess is that's by design. I think those responsible know full well that they shouldn't call worship a performance, and my guess is that some of them, deep down, probably feel the tension between this knowledge and the technical aspects of their services.
But they don't really need to use the word. They use plenty of other words and phrases that give themselves away.
Production.
Stage.
Scenic moves.
Props.
Flip charts.
Special effects.
Live production effects equipment (including low-lying fog, confetti and streamers, snow machines, etc.)
Band equipment.
A focus on customer service.
Background in theater and theatrical rigging.
Think for yourself for a moment. What is corporate worship supposed to be? The central, visible act of God's covenant people? The place where God bestows grace upon us through Word and Sacrament? The gathering where we are renewed and reformed by corporate prayer into God's prayer for the world?
Or is the purpose to get people into the building by whatever means necessary? To introduce them to a great Entertainer who can excite them temporarily? To put on a jesusy show that will rival the best secular theatrics around, so that people feel some good things and get excited by the promise of a god that is, at best, the Great Customer Service Manager, our holy Appeaser and Satisfier?
From this list of responsibilities, I'd say the message is clear.
And the problem with the whole thing is that it masks the real drama: the scandalous acts of God in Christ that have and continue to reconcile the world to God, the body broken and blood poured out for us, and the coming resurrection, which will be convincing evidence of what a mockery a jesusy spectacle of low-lying fog, confetti and streamers, and snow machines makes of a true response of worship.
As I've said before, to those who come seeking theatrical entertainment, worship should be exceedingly boring. Boring like a good book to a teen addicted to video games. Boring like an art museum to a graffiti "artist." Boring like Bach to the numbed ears of a passive music consumer. Marva Dawn puts it this way:
The increasing speed of TV is a great contributor to the loss of imagination since the mind has no time to recover from the constant bombardment. How does this affect our ability to meditate on God in the necessary silences of worship? Are we able to deal with the ambiguities of God that force our minds to go beyond what is readily apparent?
The loss of imagination is also related to some of the twaddle that characterizes some churches' worship these days. As William Fore explains, "Trivialization is inevitable in the world of the technological era, with its emphasis upon utilitarian means rather than truthful ends." If we simply want a God that "sells" to the masses, we will invariably reduce the truth of our multi-splendored God.