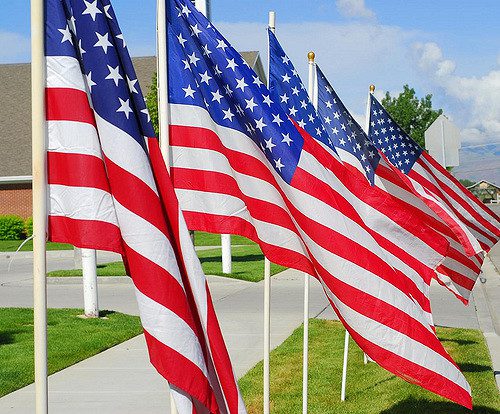 It was with sadness that I read about a church in Houston that has chosen a celebration of war over the 7th Sunday of Easter. It's apparently going to be quite the spectacle. From the website:
At Sagemont Church, we honor those who have bestowed the greatest love gift one can give…his life. For those brave men and women who have paid the ultimate sacrifice for freedom and liberty, we will be transforming our grounds into a memorial garden of 38,000 flags. The flags will be planted in memory of every fallen Texas service member from the creation of the Republic of Texas in 1836 to the present. This memorial garden will be a beacon to the entire Houston area; especially for those who have lost a loved one to battle and wish to reflect and remember. There will also be several displays setup around the church campus to honor our fallen heroes, including an opportunity to personalize the experience with the name of your fallen loved one.

By the way, this is the church where I grew up. The surrounding community has, to say the least, grown accustomed to their jesusy histrionics. They drew mixed reactions a few years ago by erecting a 160-ft cross that lights up southeast Houston like a gambling casino.
This Memorial Day display strikes me as a more egregious affront to the gospel message. Many Christians and their churches refuse to acknowledge the great chasm between the way of Jesus and war's destruction. Churches like Sagemont go a step further, boldly proclaiming their solidarity with state over church, and the disastrous pseudo-liturgy of violence that they embrace as noble, upright, and, irenic in nature.
I realize many of you will intensely disagree with me. Your perspective was once mine, and because of that, I invite you to ponder the following list of questions instead of shutting out the dissenting perspective completely.
How does violence beget peace, especially lasting peace? When has that ever been the case in human history?
Why have we so closely associated love of country with love for God?
How can we claim that our country is always fighting for the right, when it has wrought so much destruction?
What do patriotic celebrations teach non-Americans about our view of the gospel?
How does a remembrance of violence fit into a Sunday telling of the gospel story?
Are the lives we've lost somehow more valuable than those we've taken?
Can an innocent human life taken in military conquest ever be considered "collateral damage?"
How can the church extend love and care to those affected by the ravages of war without baptizing our military action as an honorable service to God?
Is our commitment to calling fallen soldiers "heroes" in the "fight for freedom" preventing us from acknowledging the true horror of war?
Can one "lay down his life for his friends" in a mission to take the lives of other people's friends?
Is it even possible to pray for the military success of the United States without our silent prayer taking on a more sinister, duplicitous tone, brilliantly put into words by Mark Twain:
"Lord our Father, our young patriots, idols of our hearts, go forth into battle — be Thou near them! With them — in spirit — we also go forth from the sweet peace of our beloved firesides to smite the foe. O Lord our God, help us tear their soldiers to bloody shreds with our shells; help us to cover their smiling fields with the pale forms of their patriot dead; help us to drown the thunder of the guns with the shrieks of their wounded, writhing in pain; help us to lay waste their humble homes with a hurricane of fire; help us to wring the hearts of their unoffending widows with unavailing grief; help us to turn them out roofless with their little children to wander unfriended in the wastes of their desolated land in rags and hunger and thirst, sports of the sun flames in summer and the icy winds of winter, broken in spirit, worn with travail, imploring thee for the refuge of the grave and denied it —
For our sakes who adore Thee, Lord, blast their hopes, blight their lives, protract their bitter pilgrimmage, make heavy their steps, water their way with their tears, stain the white snow with the blood of their wounded feet!
We ask it, in the spirit of love, of Him Who is the Source of Love, and Who is the ever-faithful refuge and friend of all that are sore beset and seek His aid with humble and contrite hearts. Amen."
God, may we never pray this prayer, or even worse, believe it to be your prayer for the world. Amen.
Flickr
,
creative commons 2.0