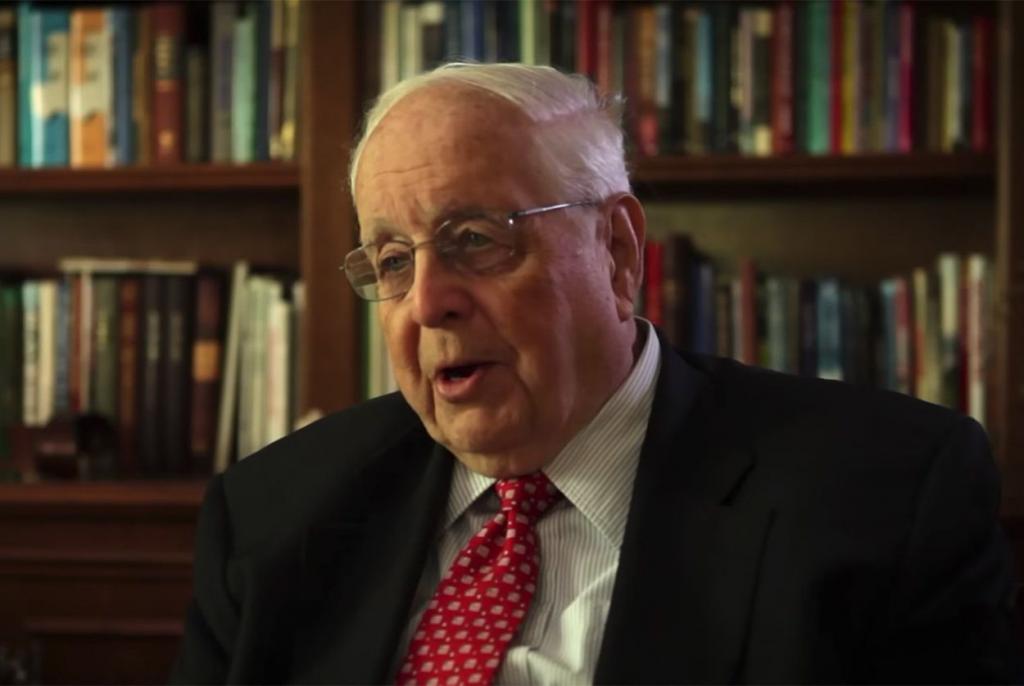 The firestorm of sexual abuse and harassment stories has officially reached evangelical Christianity.
You might not know the name Judge Paul Pressler, but you should. Without him, the largest (though currently shrinking) Christian denomination would look quite different.
Pressler is now 87 and retired. He surfaces now and then to endorse GOP political candidates or throw temper tantrums on the convention floor, but he is no longer a vocal leader. That's why it has been jarring for some to hear the recent allegations that he groomed and raped an assistant of his for years, beginning when the man was 14 and continuing for decades.
Pressler has "generally and categorically" denied that any such encounters ever took place between himself and the plaintiff, Gareld Duane Rollins Jr.
I wasn't there in his master bedroom study. I don't know what happened. But I am pretty sure that we are going to be hearing more about this story.
And there is a lot we already know about Paul Pressler.
We know he was the primary architect of an underhanded grand scheme to get rid of "liberalism" in the Southern Baptist Convention. Using a countless number of pawns, Pressler and the less-cunning-but-prettier Paige Patterson replaced SBC presidents and committee members with people of their own choosing. In doing so, they hijacked the entire convention – including its highly-prized publishing arm and seminaries. Instead of being a denomination that welcomed diversity of thought, it became an echo-chamber for their Good Ol' Boy's club. Pressler's plan married the SBC to the Religious Right, turned evangelism into a weird, dominionist space race, and booted out any dissenting viewpoint (What's Russell Dilday up to these days?). He is no hero, as some want to believe. He has proven himself to be a scheming, conniving, rule-bending, power-seeking individual.
We know he was tapped by George H.W. Bush to head the national Office of Government Ethics in 1989, but was dropped from consideration. Pressler has attempted to give them impression he withdrew himself from consideration. In reality, he was eliminated from consideration following an FBI background check.
We know he taught Bible study classes for many years.
We know he settled a civil suit out of court with Rollins in 2004. Specific details have never been made public, but are reported to included a battery charge stemming from an incident in a Dallas hotel room.
We know he severed ties with First Baptist Church, Houston shortly after the earlier suit was settled. He then returned to his previous church, Second Baptist Church, Houston. Interestingly enough, First Baptist was named in the more recent lawsuit.
We know he has responded to these new allegations with statements that blatantly smack of victim shaming.
We know his name has long been surrounded with whispers of impropriety. Such stories are now finding their way onto inconspicuous corners of the internet. According to one such individual, Pressler would lure young people with his hot tub, inviting them to get naked and pray. Another brought up encounters in the showers of the prestigious Houston Country Club.
We know that false allegations of sexual assault and harassment do happen, but they are exceedingly rare. Male-on-male sexual abuse is also notoriously underreported.
What does all this mean? I don't have an answer for that.
But I'm pretty sure this story is just beginning to be told.
The day of reckoning for the Southern Baptist Good Ol' Boys club is nearing.
It's about time.
Photo:
youtube screenshot