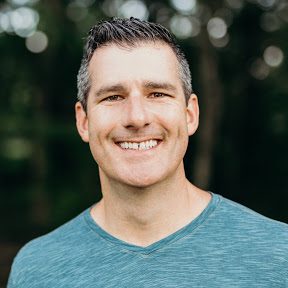 One of the tragic things about contemporary megachurch worship is that it often worships the personality that built it. Pastors are given license to say and preach about practically anything they wish. Often, instead of the gospel, they cross over into a purely self-help gospel, cloaked with light biblical content to make it jesusy enough for church.
As their popularity grows, these false experts are given an extended platform for influence from those seeking to capitalize on their popularity. Christian publishing is one of the chief culprits, publishing the pop-psychologizing of these celebrity pastors in written form.
The contemporary megachurch and the culture it has created is not about the gospel, it is about a marketable product.
That is how it attracts masses: through modern jesusy entertainment, a rigorous customer service model, and an attractive, engaging speaker.
Such is the case with Andy Savage, teaching pastor of multi-campus Highpoint Church in Memphis.
Andy's personal and professional motto, according to the Highpoint website, is "Making God make sense, starting at home then everywhere else."
This is especially interesting, considering the new revelation that he sexually assaulted a 17-year-old high school senior while youth pastor of StoneBridge Church in The Woodlands, Texas. Despite his victim coming forward to Pastor Steve Bradley and Associate Pastor Larry Cotton, the incident was not reported to authorities, and Andy Savage was allowed to quietly leave his position, admitting only to making a mistake.
To read his victim's deeply disturbing story, visit the blogs of victim advocates Amy Smith and Dee Parsons.
Andy is a speaker, the author of multiple books, and the host of his own podcast.
He's apparently been busy making Andy make sense, enough to build himself quite a following.
Andy's latest book, The Ridiculously Good Marriage: 5 Essentials to Start Right and Stay Strong, is forthcoming from Bethany House Publishers, a division of Baker Publishing Group.
Not only does Andy Savage have dubious credentials for Christian ministry, but he has absolutely no training in counseling psychology. If that's not enough, this latest revelation that Andy sexually assaulted a minor nearly 20 years ago should disqualify him from Christian ministry and from publishing any marriage material.
If Highpoint Church really cares about making God make sense, they will relieve Andy Savage of his responsibilities immediately. If Baker Publishing is truly concerned about offering "high quality writings that represent historic Christianity," they will cancel this project and cease all affiliation with Andy Savage. If StoneBridge Church's goal is "to lead people into a real, healthy and growing relationship with Jesus Christ," they will immediately report this incident to the proper authorities and hold Steve Bradley accountable for not doing so two decades ago.
And such will be the case anytime a Christian celebrity assaults or harasses anyone, especially a child.
This November 29 tweet from Savage's account is especially shocking and poignant.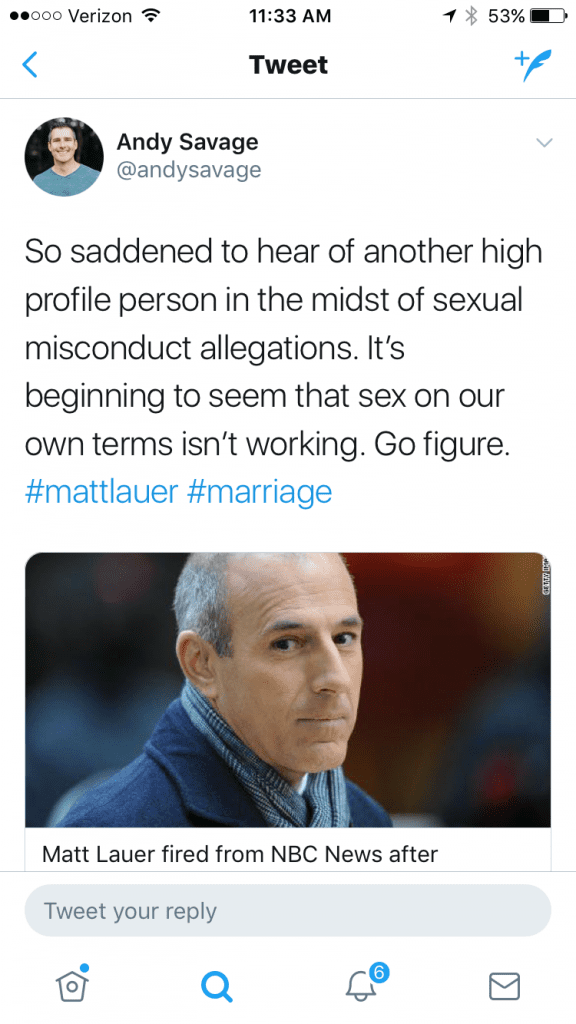 We are seeing a day of reckoning for celebrities who have been abusing people for years. Christian culture and the local church should be leading the way, holding leaders accountable for abusive and often criminal behavior. Unfortunately, this has often not been the case, with abusers such as Andy being covered, protected, and enabled by those in authority.
It's time for the church, and all of Christian culture to get a clue, and to take swift action in these tragic circumstances.
You say you're all about the gospel.
Well, the gospel depends on it.
Photo:
Youtube