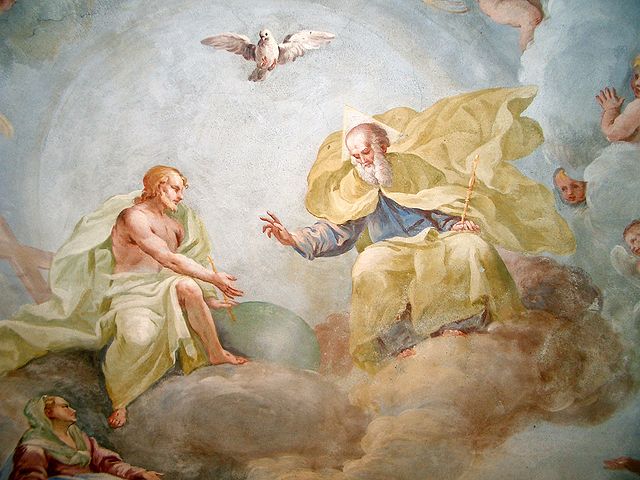 Holy, Holy, Holy! Lord God Almighty!
I'm feeling this one right now. I feel it a lot, actually, even when Trinity Sunday is still months away.
These couple of lines in particular:
Holy, Holy, Holy! though the darkness hide Thee,
though the eye of sinful man Thy glory may not see…
There is a lot of darkness out there. Read the news. Scroll your Facebook feed.
There is a lot of darkness in here, too. Deep down. The curse affects us all in a myriad of ways. Evil, sin, sickness, illnesses of mind and body all hamper us, and further obscure the glory that mortal eyes cannot see at our very best.
So yes, I can't quite get it out of my mind.
If you've read much of what I've written, you know I don't like to rely on emotion as proof of the Spirit's work. Actually, I think it's one of the most dangerous temptations in Christian worship, especially today. God isn't who God is because of what we feel about God. In that way, our emotions are meaningless to our worship. They aren't bad or wrong, only inconsequential. Emotions only begin to matter when we really begin to feel the crushing, fatal effects of sin, our utter helplessness before an infinitely holy God, the elation of God's mighty, final, freeing acts in Jesus the Christ, and the urgency with which we must live in response.
Contemporary Christian worship has an emotional answer key for this great mystery of faith. So the modern church sings its silly songs, feels its happy feels, and grows more insignificant by the hour. Self-help is its Word, and music is its quasi-holy Sacrament.
So, I'm feeling this one right now, but that doesn't really matter. Reginald Huber's text, brilliantly erected within the three-tiered NICAEA, gets the whole thing right. We are not snowflakes. The betterment of our lives and lifting of our emotions is not the function of the church's worship. We are a blip, barely a speck on a vast human timeline. Our only job in worship is to jump into a story that began long ago and will live on when our failing mortal husks rot and decay.
This is our great privilege.
We do not initiate ourselves into worship. We come, but not at our own bidding. Our good God did this when creation was spoken into existence.
We merely join in the unending hymn, the great heavenly liturgy, the one eternal song.
Holy, Holy, Holy! All the saints adore Thee,
casting down their golden crowns around the glassy sea;
cherubim and seraphim falling down before Thee,
which wert and art and evermore shalt be.
Photo:
Wikipedia