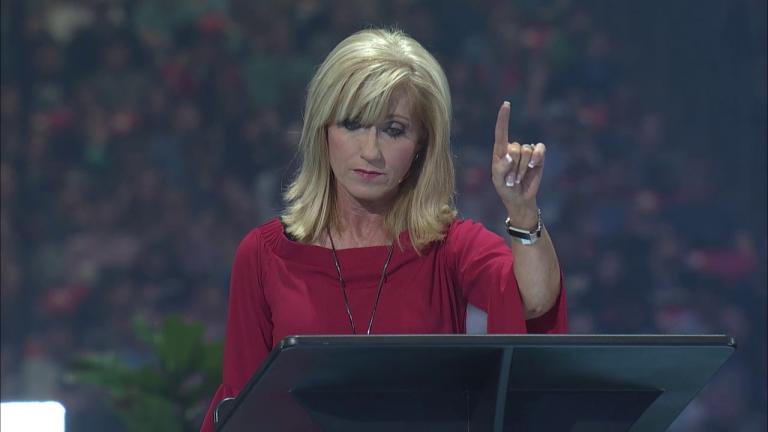 As part of the firestorm that forced Paige Patterson into his long-overdue retirement, some Baptist women have finally begun speaking out and standing up to the good ol' boy. In the middle of it, most notably, was Beth Moore. Her courage and boldness in sharing her own experiences of misogyny and discrimination are admirable. I'm glad she's stepped up and called these guys out. She's right, of course, especially about Patterson. His words and actions toward and about women and girls are horrendous. He needs to be rebuked and banished to whatever ranch he owns in Middle-of-Nowhere, Texas, where he can no longer have a public voice.
She's right about the prevailing attitude among many male leaders in the SBC, too. Too many of these men refuse to listen to what a woman, any woman, has to say. Many remain dismissive to truth spoken by any female voice. That is wrong. It is unchristian, ungodly, and fundamentally un-Baptist.
I'm glad to see this baby step, but I must stop short of any real support of Beth Moore. She's really not a pro-woman voice, crying in the desolate Southern Baptist wilderness. She's only less anti-woman than good ol' boys like Paige "with an 'I'" Patterson.
Unless Beth Moore turns from a theology and anthropology that calls women to "graciously submit" to their husbands, she is supporting a "broken system."
As long as she continues to assert that she is only qualified to teach women, she is supporting a "broken system."
Until she supports women's ordination, she is supporting a "broken system."
Getting rid of the good ol' boys in the SBC is a good first step. But let's not pretend that it's the only thing wrong with the denomination. Much more repentance is needed. I'm calling on Beth Moore, Paige Patterson, and all the men and women in the SBC to repent for the real problems, deeply embedded in Baptist theology and ontology:
It's time to repent for establishing and perpetuating a culture of gender discrimination in Baptist life.
It's time to repent for silencing the Spirit in generations of women and girls.
It's time to repent for raising generations of men and boys who cannot accept influence, teaching, or collaboration from women.
It's time to repent for shunning qualified, gifted women from pulpits and classrooms.
It's time to repent for claiming to believe in the priesthood of all believers while disqualifying more than half from leadership.
It's time to repent for fostering an atmosphere of hostility toward women in our local churches.
It's time to repent for baptizing women, but not ordaining them.
It's time to repent for misusing a few morsels of Holy Scripture to justify wholly unbiblical limits on women.
It's time to repent for thinking that biblical submission is a one-way street.
It's time to repent for not realizing the damage caused by telling women, "Look at all the things your can do! You just can't teach or preach!"
It's time to repent for a damaging theology that has often fostered male violence against women.
It's a good thing that she and so many others called out such a lousy excuse for a pastor and scholar as Paige Patterson. He's a nuisance, a conniving menace, a theological and academic lightweight, and a power-hungry bully. We knew this 40 years ago, when he and his partner in crime, Paul "Hot Tub" Pressler inflicted their game of dirty pool on many faithful Baptists.
Yes, it's good that he's gone. But it's not good enough to simply stop there, and glorifying Beth Moore as a fresh, new voice in Baptist life is a grave mistake for a beleaguered denomination and crowds of hopeful supporters of women's equality.
If Beth Moore still abides by this statement of the Southern Baptist Convention…
Women participate equally with men in the priesthood of all believers. Their role is crucial, their wisdom, grace and commitment exemplary. Women are an integral part of our Southern Baptist boards, faculties, mission teams, writer pools, and professional staffs. We affirm and celebrate their Great Commission impact.
While Scripture teaches that a woman's role is not identical to that of men in every respect, and that pastoral leadership is assigned to men, it also teaches that women are equal in value to men.
…then I cannot get behind any movement with her at the helm.
But dream with me for a minute. Can you imagine what might happen if someone as charismatic, articulate, and gifted as Moore were to fully repent of patriarchy in the SBC?
I for one pray we see that happen soon. And when it does, I'll be her biggest supporter.
Photo:
wikipedia