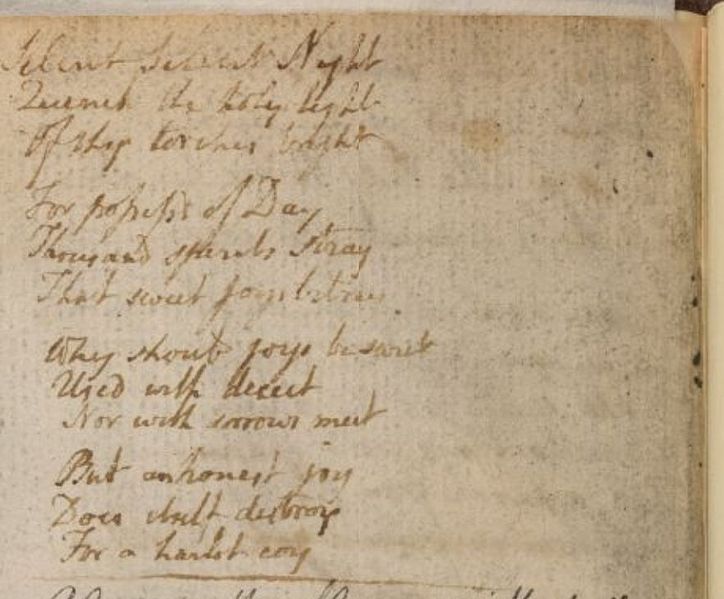 Many of you may have heard that today is the 200th birthday of Silent Night.
Actually, Austrian priest Josephus Franciscus Mohr supposedly wrote the poem in 1816, but whatever, it was first sung 200 years ago tonight. You probably know the story. The church organ flooded. Mohr gave his poem to Franz Xaver Gruber, who wrote the tune and accompanied it on guitar for the Christmas Eve mass that year.
Again, supposedly. I know of no evidence to contradict the whole Silent Night story, but knowing modern Christian culture's preference for heartwarming narrative over verifiable facts, I feel the need to maintain a decent amount of skepticism.
The part of the story you might not know is that after that midnight mass on Christmas Eve was over, Father Mohn said this to Gruber:
"Hey broseph, that didn't go over so well. Let's not do it again, man."
[I am NOT making this up.]
They learned two lessons that day that we would be wise to heed these centuries later.
Silent Night: Lesson Number One
Guitars don't work to accompany congregational singing.
Did you hear that, Chris Tomlin?
Silent Night: Lesson Number Two
The congregation will automatically slow Silent Night down to whatever tempo they wish. There is nothing anyone can do about this. Even if you start it at a speed of dotted quarter note = 4,613 BPM, by the time you get to "love's pure light" it will have slowed down to dotted quarter note = .0087 BPM. This is simply scientific fact. In fact, legend also holds that the first congregational singing of Silent Night 200 years ago wasn't actually over until the 3rd Sunday in Lent. One lady died and they held her funeral mass between stanzas 3 and 4.
This was so awkward for everyone that they closed down the church for good.
[Again, I am NOT making this up.]
Thus, Silent Night is a bit of a drudgery for traditional church musicians. It's one of those compulsory things we have to do throughout the church year, like prepare a requiem, gain ten pounds, and be evaluated by the barefoot guy with the 6 string Ovation who somehow became your boss.
I feel their pain. I really do, but I find Silent Night to be one of the most exciting times of the Christmas Eve service. Anytime you're in church and there's a good possibility that someone's well-lacquered mane might catch fire, my little heart just fills with nondenominational Christmas spirit.
So, come on, fellow music directors, organists, and choirmasters. It's Christmas Eve. You can do Silent Night once per year, and it won't kill you. Maybe make it fun, and insert the German text into the powerpoint without anyone knowing. It's definitely more fun auf Deutsch.
As is everything else, right? As is everything else…
But whatever you do, don't go a cappella for the final stanza if you want to get out of there in time for New Year's Day.
Merry Christmas, everyone.
And Happy Birthday, Silent Night, you ol' son of a gun.