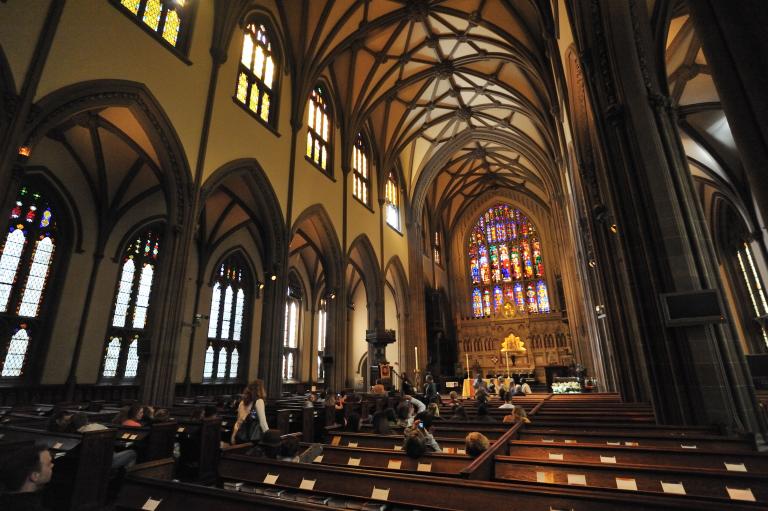 This morning, I read about a miracle.
No, nobody turned water into wine.
Nobody calmed the raging sea.
Nobody rose from the dead.
Nobody fed 5,000 from a Dairy Queen lunch basket.
No, I read about a church that gave up their alternative worship service and began worshiping together once again.
That's right. Just a few weeks ago, they were two congregations divided by worship, divided by theology, divided by mission. They were arbitrarily labeled "contemporary" and "traditional" though those nomenclatures are really meaningless.  Now, they are just worshipers, their hearts and voices joined together as one.
Once upon a time, they had come to the conclusion that different worship options would get butts in the seats and dollars in the plate. They temporarily bought into the lie that everyone deserved to be serenaded with their favorite jesusy music. But they began to see the drawbacks. They had become a church of silos. They had become deeply divided during what should have been the most unified hour of their week.
So they did away with the pop worship option. Really, they did.
Nobody does it. Adding a contemporary service is like opening Pandora's box, but they slammed it shut.
Miraculous.
The reality of the matter is that we are violently dividing itself with preferential worship options that end up making the whole exercise a farce, a waste of time.
When we tell our people that we're here to connect them with God through their own preferences, we are telling our people that worship is about their story.
When we try to offer multiple worship options to fit everyone just right, we are telling our people that worship is about their story.
Forget about it.
Stop spreading yourself thin.
Stop trying to capture a larger market share with an embarrassing cover band and special effects. Forget about the silly pop worship trends of the day. Those performance churches are a dime a dozen. It seems like those conglomerations have a satellite campus in every neighborhood. Don't buy into their lie in order to try and get more butts in your seats.
Choose to be different. Choose to give your people a prayer to pray, a script to follow. Choose to sing the songs of the saint, not the ditties of the day. Choose to follow the liturgy of your tradition.
Choose to stop deluding yourselves into thinking worship is a time for casual conversations and an all-request music hour.
Stop treating the church like a group of coveted consumers, and start modeling the role of liturgy in the church's mission.
Basically, choose to be the church, not an entertainment venue.
What better time could there be than Easter Sunday to meet together again? Why not resurrect your church's corporate worship by going back to disciplined liturgy and eschewing jesusy fun?
Oh, it may make a few people mad. Some of them might leave.
That's okay. Let them go.
You heard me right. Let them go with your blessing.
They weren't there for sacred storytelling. They were won over by entertainment, not the gospel story, and they will eventually find better entertainment somewhere else. Church isn't supposed to be a fun time for the whole family. It's something much more important, much more vital, and it requires much more work.
But if your people will commit to the work, if they don't fear discipline, if they will own the ethical vision of corporate worship, it will be more fulfilling, more satisfying than the greatest entertainment that money can buy.
Jesus didn't rise from the dead so that we could worship comfortably. No, the resurrection means that we must worship earnestly, truthfully, so that through our disciplined corporate prayer we might become God's prayer for the world.
So start making preparations now!
Unplug the amps. Warm up the vocal chords. Get ready to worship together once again. Be reconciled to each other in worship as Christ has himself reconciled us to God.
And what God has joined together, let no pop worship put asunder.