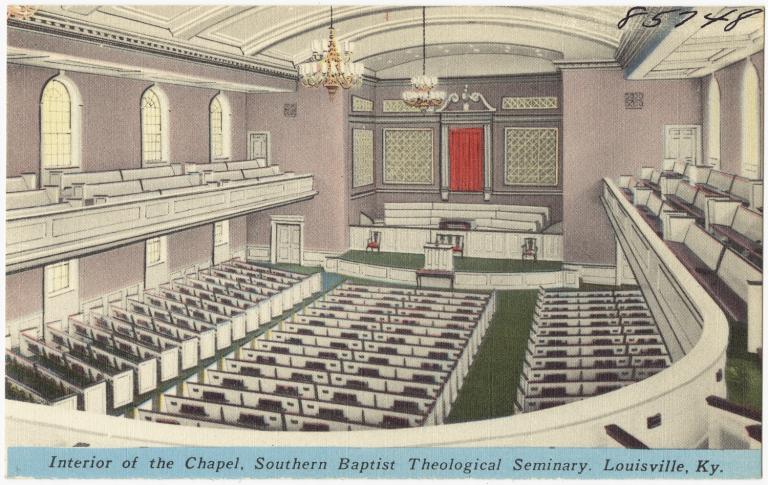 The School of Music at the Southern Baptist Theological Seminary was once a leading training program for church musicians, but it was shuttered in 2009, citing low enrollment and a change in trends. Education in church music has supposedly continued under the "School of Church Ministries," but a glance at their degree plan indicates otherwise.
Let's take a look at it.
The 67-credit hour degree plan includes a whopping 33 hours of study in biblical, theological, and ministry studies. Two semesters each of Old and New Testament seems extreme, as does the class in biblical hermeneutics for someone who isn't, you know, preaching, or even studying biblical languages.
Three semesters of systematic theology is more than I was required to take for an actual degree in theology at a leading mainstream evangelical graduate school. Then again, the new Baptists are known to be a dogmatic bunch, so I guess it fits.
I'm not sure why a master's level church music program might require a course in "personal evangelism," but whatever.
A two hour course in something called "discipleship and family ministry" sounds a bit peripheral to the degree (it also sounds like a personal hell for introverted musicians like, well, most of us church music types).
Oh. And then there's a class in Southern Baptist heritage in mission. I wonder how they're going to spin that…
So, after this tour de force in being the kind of Baptist they want you to be, let's settle into some rigorous church music studies, right?
Um…
First, we have something called "the worshiping church." I haven't seen the syllabus, but I imagine this is where they fit in biblical theology of worship, history of worship in the church, liturgy, and all that stuff. If you're keeping track, here's the score:
Systematic Theology – 9
Actual Church Music Theology and History – 3
Next up is a class called "Psalms, Hymns, and Spiritual Songs." It's a name that at least sounds biblical, but since nobody really knows what the early Christians considered to be hymns and spiritual songs, it probably isn't. We used to call this "hymnody" or "hymnology," but I guess we have to include the Gettys, so this is what we have to call it.
Then we have two classes in "discipling music ministry." I would hope a music director or minister of music would be a part of this, but then again, it's really the job of the whole church.
"Worship leadership and design" sounds more like Pop Worship Set List 101. Again, I haven't seen the syllabus.
At this point, you might be thinking about something having to do with organ or choirs, but we get "vocal ensemble leadership." Maybe choirs are a part of this, but it sounds more like how to lead a "praise team" of amplified soloists.
Next is "worship band techniques." This is not actual church music. This is pure pop worship. And if this is really what interests you, you can learn how to do this by playing at a local watering hole with some aging barefoot boomers.
Since Baptist churches no longer believe in good acoustics or hymnals, we now need a course called "technology for worship and music ministry." Again, here's a helpful hint: you don't need to pay thousands to learn how to do this.
"Songwriting for worship leaders." Oh my word…
Now, you're expected to achieve some competency in an instrument. That's pretty normal. So, voice or organ, right? Nope. SBTS wants you to take some kind of "worship band lab" course. Your choices are guitar, keys (not piano or organ, but "keyboard"), bass guitar, or drum set.
So, a master's level church music degree course of study only requires you to study instruments with no actual real history in the church. This is beyond tragic.
A "worship choir" is a choir of people that doesn't really sing choral music. They just scream along en masse with whatever the "worship leader" and the important people with microphones are already singing. They're completely unnecessary, but dang it, it looks so nice to see all those people worshiping singing shouting behind the actual pop musicians. So we need "worship choir lab."
"Worship leadership field education: leadership." This is likely where you learn from other churches and their cover bands.
"Worship leadership field education: current trends." Oh good, because up till now we've been ignoring current trends in church music and only studying the rich history of sacred music.
"Integrative seminar in church music and worship." I'm not sure what that is, but it's only one credit hour, so it can't be anything of any real substance.
"Instrumental transcription and arranging." Okay, sure.
"Graduate conducting." This is where you learn how to conduct, but since you don't have a choir, an organist, and you've got a mic in one hand, I'm not sure how much conducting you're ever going to be able to do.
On top of these courses, you also need four ensemble credits, which is to be expected. Then, you need 2 credits in your "major applied area" and a graduate recital. This can be in voice, strings, percussion, or piano. Again, no organ, because organs have no real history in the church's worship.
So what is missing?
Mostly, the whole church music part is missing.
There is, again, no organ study, which is simply astonishing, no choral lit for the church, no rigor in any historic field of sacred musical study. There is apparently no real in-depth interaction with the history of sacred music, either.
This program is not a degree in church music, whatever it's called. It is nothing more than lessons in how to lead a Sunday morning house cover band, along with blatant indoctrination into post-1990s Southern Baptist dogma and politics.
Maybe it's just a sign of the times. Perhaps it seemed like the fiscally responsible decision.
This much is clear. Real church music is dead in the Southern Baptist Convention, and apparently even their flagship seminary doesn't even care.
Photo:
Flickr, creative commons 2.0