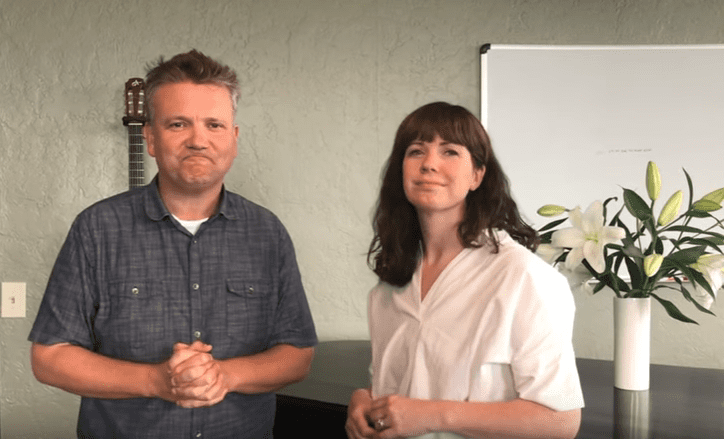 "Isn't he part of the problem?" – Chris W.

"Jonathan, am I right in thinking that somewhere on your blog you've indicated some reservations towards the Gettys' hymns? If so, what are they?" – Terry
"[The Christian Post article] was a lame interview article, quite a bit of self promotion as well… so the Commercial problem remains, even as we try to turn the ship around to use and seek out, better worship songs and hymns. The Gettys and their crew don't have the only way forward with texts and tunes– we still need a fuller, deeper Worship Reformation!" – James B.
In my post yesterday I was trying to sidestep a deeper issue with the whole Keith Getty extravaganza, which some readers rightly questioned. I meant to imply that Getty's assessment of the so-called modern worship movement, though correct, was a complete no-brainer, and that it didn't take a whole ton of insight to see that. Regardless, I'm glad he said it, because most people of a similar opinion are simply too scared of the backlash to speak up.
But yeah, he is ultimately part of the problem, which is clearly seen in the fluff piece from The Christian Post, in which he is blatantly promoting his own brand of commercial "worship" music.
Ever since I began writing this blog in 2014, I've been regularly asked to weigh in with my opinion on Keith and Kristyn Getty. Time and time again, I've passed. Our relationship status is complicated, shall we say…
Perhaps I shouldn't assume, but I imagine most of you will be familiar with the Getty name, or at least their most well-known song, "In Christ Alone" (The four-stanza one that goes "my hope is found," not the older four line chorus, "I place my trust" by either Phillips, Craig, or Dean. I forget which one.)
Anyway, if you're not familiar with them, let me introduce them briefly. They Gettys are a husband and wife songwriting/recording artist team from the UK, and lead the wave of self-proclaimed modern hymnwriters intent on bursting forth…er…busting out of the traditional-contemporary dichotomy.
Most of their popular work has been in collaboration with their Roebucked partner, Stuart Townend. Just know he's there, so he doesn't get his feelings hurt.
During grad school at "The Iowa State of the Evangelical World," Wheaton College, I went through my compulsory neo-Calvinist phase. I didn't want to, but I had no choice. As a former Southern Baptist millennial, and it's the law. During this time, I really loved the Getty music. Here was something new that was distinctly different than the typical CCM garbage. and it didn't require the ubiquitous cover band setup found in most evangelical churches. Most of what we sang was accompanied by pipe organ. But as I moved away from that theological perspective and became acquainted with their broader appeal as recording artists and performers, they lost most of their unique appeal. Today, for several reasons, I pass on them and their stuff, and for several reasons.
The neo-Calvinists love them.
The Gettys are the poets laureate of that movement, especially after the Sovereign Grace scandal. This is not a broad brush condemnation of all reformed theology, but new Calvinism is an exclusionary, increasingly hostile, quasi-Puritan movement led by the likes of John Piper, Al Mohler, the disgraced C.J. Mahaney, and my unrepentant, abusive, self-aggrandizing Patheos neighbor, Mark "the Cussing Pastor" Driscoll.
The whole "wrath of God" fiasco.
The neo-Calvinists loooove the doctrine of substitutionary atonement, especially penal substitution, and will shame and harass anyone who dares to point out that substitutionary atonement is merely one of many theories purported by theologians over the centuries. Some of these theories I find more helpful than others, but in the end none of them are worthy of creedal status. So the fact that they stubbornly wouldn't allow the word "wrath" to be changed to "love" in their hymn "In Christ Alone" is annoying in a neo-Calvinist sort of way.
Their poetry is thoroughly, patronizingly, jarringly didactic.
Didactic is fine to a extent. In fact, the didactic function of congregational singing has been firmly established in Christian worship. But much of their stuff reads less like beautiful poetry and more like someone reading a theology textbook. It may be better than Hillsong, but it can be awkward and uninspiring to sing.
They are thoroughly commercial.
This is the most important reason. They are, at their very core, Christian rock stars. With a couple exceptions, their songs are popularized by commercial recordings instead of singing congregations. They tour the globe and perform "concerts," in which Kristyn (the vocalist) "leads" the audience in "worship," though she sings with rather weak, high-larynx vocals and spread vowels in a commercial pop style.
Since I have pledged to boycott the worship industry, I usually avoid them, even if their texts and melodies are on the whole better than the typical sewage spewing from the mouths and pens of Thris Comlin, Hillsong, Bethel et al. I kinda appreciate them for being better, but not that much. As James says in the quote above, we need a much deeper and broader liturgical reformation than what Getty suggests. Better pop worship is still bad worship.
Yeah, it's complicated. This is just where I happen to come down on the issue. If you feel that some of their music is useful, follow your own conscience.
But regardless of your opinion of their music, I think it's safe to say they are part of the problem. We can do better. And if we want a singing church for the coming generations, we must.
Photo:
youtube screenshot