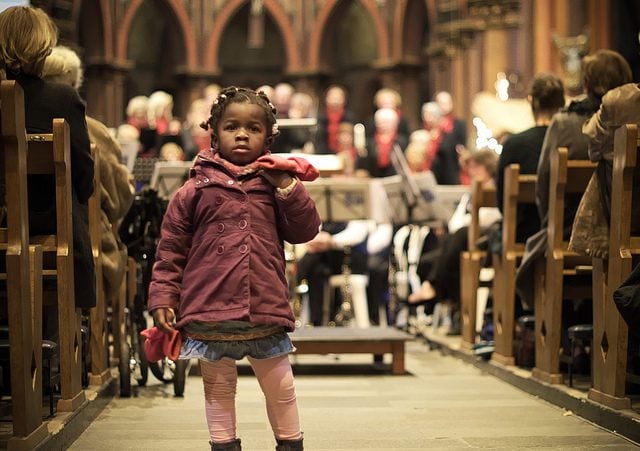 Apparently as Dan Smith began his sermon this past Sunday, there was a child who made a noise, described by witnesses as little more than a peep. Below is a video of Pastor Dan's response:
"Hey ushers, can you please show them where the nursery is? I don't want to struggle with a child the whole time, so please help me out.
"Okay, let me stop. Just because I just did that, everybody's freakin' out because I just said that, listen. We love children. And you…sweetie, look at me…we love kids, but if a child is gonna affect the whole service because the child's cranky or whatever, we do have TVs that are right there in the back, so that's cool.
If people get offended over that, that's OK. I'm not gonna affect 250, 300 people in a room because the kid is crying. Listen, I love children. But see, everyone's focus is right there right now. And sweetheart, as long as she's fine you stand there and do your thing. But I need you to understand, somebody else got up and walked out. That's OK. I'm not gonna affect 300 people because of a crying child. That's why we have TVs in the outside, that's why we have a nursery. If you get offended over that, I'm sorry, I really am sorry, but we're not gonna do that. And I know I sound like a jerk right now, but we're not gonna affect 300 people because of that. Let me try to get back in the mode of where I 
Here is a better example of welcoming children into liturgy, set by St. John Lutheran in Wheaton, IL. The following is published in their bulletin weekly:
A Special Welcome to Those with Young Children
We are very happy that you are here today! At St. John we want you to feel at home.
First, please relax and enjoy your time here. Jesus knows that children tend to wiggle and squawk a bit, so please don't feel embarrassed by it. Your children are welcome at St. John.
To make it a bit easier on your family, please dare to sit toward the front where your children can easily see the procession, note the colors, hear the bells, smell the fire, watch the pastors, wonder about those heads on the lectern and embrace the action at the altar. What Jesus does here promises to engage them.
As we go, softly explain the Liturgy to your children, encouraging them to chime in on their parts: Amen! Lord have mercy! And with your spirit! I believe! Our Father! All of that belongs to them too. Be sure to sing and say and pray your parts too as you stand and kneel and sit. Your children learn by following your lead.
If you and your child must leave, please hurry back. We want your children here so much that we didn't build a nursery in our new space. Like Jesus, we want your children in the Liturgy, not out.
If you need a little help, just ask. There are lots of folks here who will lend you a hand.
Please know that while you are caring for your children, the rest of us will be rejoicing in Jesus' words, "Let the little children come to me and do not hinder them, for the kingdom of God belongs to such as these" (Luke 18:16).
We know that your children are a gift to the Church, so we will do our best to welcome, smile, encourage, help and bless you all. Welcome to St. John.
Pastor Dan, that little child was a gift to the Church, yet you sent the child and its mother away, while throwing a bigger fit than the child.