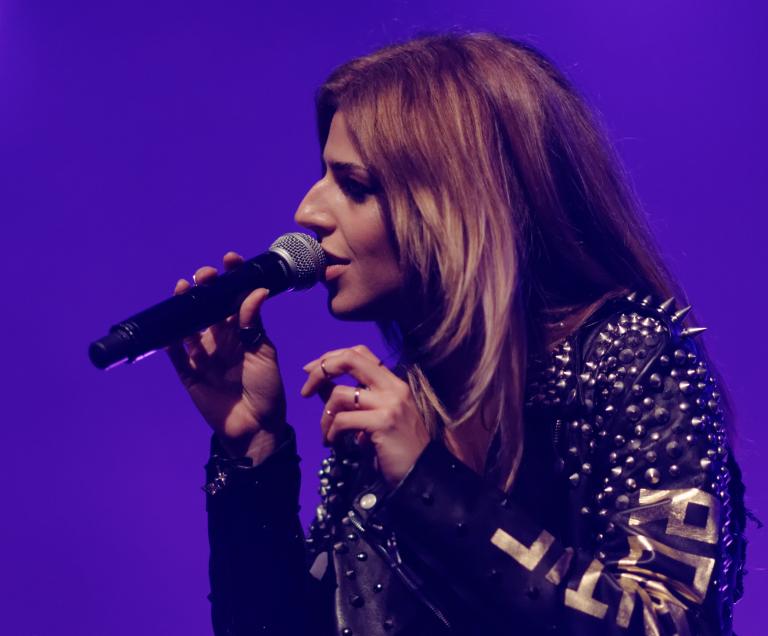 Hillsong Worship is embarking on a US tour this Spring, and it all begins in my hometown of Houston, Texas.
Well, they're actually coming to Sugar Land, which at rush hour is about as close to Houston as Nazareth is to Bethlehem, but whatever.
They've just released their first album in some 15 years (remember, Hillsong Worship is different from Hillsong United, Hillsong Young & Free, Hillsong the Purple Dinosaur and Friends, and whatever other offerings the Hillsong Corp. has come up with) entitled Awake, so they're hitting the road to get richer off of it.
Remember, this is all under the guise of it being some sort of "worship experience."
A friend sent me this snapshot of their promo poster the other day.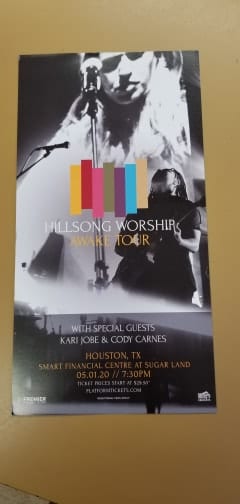 There it is, with special guests, the spousal unit of Kari Jobe and Cody Carnes. Now Kari is normally a decent worship draw herself, so for her to be the opening act must mean it's a pretty big worship event.
Except it's not worship, friends.
It's not worship.
Not in the sense of a worship gathering, and not in a more overarching sense of what modern evangelicals like to call a "worship lifestyle."
True worship doesn't capitalize on entertainment pop culture.
According to ticketmaster.com, pricing for a general admission seat begins at $29 and goes up all the way to $61.50. Hillsong doesn't come cheap!
If you want to shell out a mere $206 per ticket, you can achieve true worship bliss with the Awake package, which includes:
Meet and Greet
Photo Opportunity with Hillsong Worship
Refreshments (I'm assuming no beer and wine.)
Devotional with Hillsong Worship
Reserved Floor Seating
Dedicated 'Awake' Entrance
Pre-show Merch Shopping Opportunity (Additional fees apply, of course.)
Custom Lanyard
VIP Host Exclusive Gift Bag, including sticker, lyric book, Awake hat, pen, digital download
It's not worship. That's blatant false advertising.
That's why I shout, "Wake up! It's a huge deal!"
These sorts of acts, promoted by the so-called "worship industry," have hijacked the authentic worship gathering, the beautiful liturgy of the Christian church, the source and summit of the Christian life, and using the same strategies as secular entertainment, they've turned it into a commodity. That is a grievous thing.
They might as well be calling it the "Awake and Give Us All Your Money" tour.
People of God, if you support this sort of thing, you are being royally screwed over.

Music isn't worship.
If this event were not called "worship," if they were honest and called it a "concert," I wouldn't be so concerned.
This is music. Just music. Only music. Strums on a guitar. Slaps on a drum. Chords chopped onto an electrified piano. Glib, high-larynx wails into a hot mic. I'd advise against it, of course, but you can certainly choose to like it if you want. You are free to immerse yourself in the electronically-boosted experience.
Just don't call it worship.
It's just music.
I've said before that there's a reason the contemporary pop-worship church holds such a low view of Holy Communion. It just doesn't understand the point. Music is their substitute sacrament. Through commercial music, they allow themselves to be carried away on an emotional level into a perceived sensory connection with the divine. When you interpret worship through the lens of emotional stimulation, the bread and wine don't make sense. It doesn't compute. No overwhelming feeling equals no worship. But for the historic church, there was no worship without the Eucharist. It was the natural culmination of the liturgy. We take in the bread and wine, and we are poured out into a dry, thirsty creation as participants in the gospel story.
This saccharine substitution contains the ultimate compromise. God is willing to give us the real presence, but instead we've settled for something else. In fact, we're so sold on it that we're willing to throw away wads of cash for a pseudo-divine, over-romanticized, emotional experience.
Music is not worship. Worship is a function of the church where the Word is preached and the sacraments are administered. It is a disciplined, structured reenactment of God's story that we as God's people participate in as if our lives depended on it. The church enters as God's covenant people, shaped by redemption's story. We participate in the proclamation of God's Word. We give thanks at Table.
And then we go, strengthened, changed, renewed, refocused by the grace God offers to us.
Worship Is Costly, But Admission Is Free
You've probably all heard the analogy that we're all equal at the foot of the cross.
(Try telling that to the poor schmuck who shelled out 200 for the Awake package!)
There's room on that level ground, of course. Admission is free. But it demands much of us, certainly more than a few bucks and a constipated expression. When I hear people claim that they've gone to events like this, found momentary euphoria, and have worshiped as never before, I don't just feel skeptical, I feel a sense of dread. The words of Bonhoeffer frequently echo in my mind.
"The word of cheap grace has been the ruin of more Christians than any commandment of works."
This kind of worship goes part and parcel with cheap grace. They claim to bestow the gifts of God on whoever buys a ticket and shows up. After you've paid your admission, it requires absolutely nothing of you. The historic liturgy of the church has a different offer. "Come and participate in the life of the church, but be prepared to give of yourself."
Worship is not a product. It cannot be bought and sold. That's the grace of it all. The grace available to God's people in worship is not something that can be bought, but once it's bestowed, it is all-consuming.
The Worship Industry Is Against You, Not For You
Friends, the worship industry is not there to edify the church. It is there to sell you a product; derivative, mass-produced schlock that is designed to make you feel something. The industry calls that vague experience "worship" to deepen its appeal to their audience. And the church has bought in. Literally. Millions upon millions of dollars are poured out in an attempt to capture these fleeting moments of orgasmic euphoria.
But this isn't worship.
The industry has turned worship into a musical experience. Buying into this lie with eager hearts and wallets has compromised the integrity of the church's worship, and likewise, weakened the church's ability to fulfill its God-appointed mission in the world.
This isn't worship, it's a scam.
I don't think that Hillsong, Kari Jobe, or most of the other big names in the worship industry even realize what they're doing. But the unwitting nature of the scam makes these folks even more dangerous. They are running this con with an earnest passion that is contagious. That's why so much of the church has been overtaken by it, both on Sunday mornings, and every time they go to a concert or turn this schlock on their radio.
Don't be fooled.
God's grace can't be sold for the price of admission.
In the kingdom of God there is no Awake package. Remember how Jesus responded to the mother's request in Matthew 20.
"You will indeed drink from my cup."
That cup is costly, but it can't be bought.