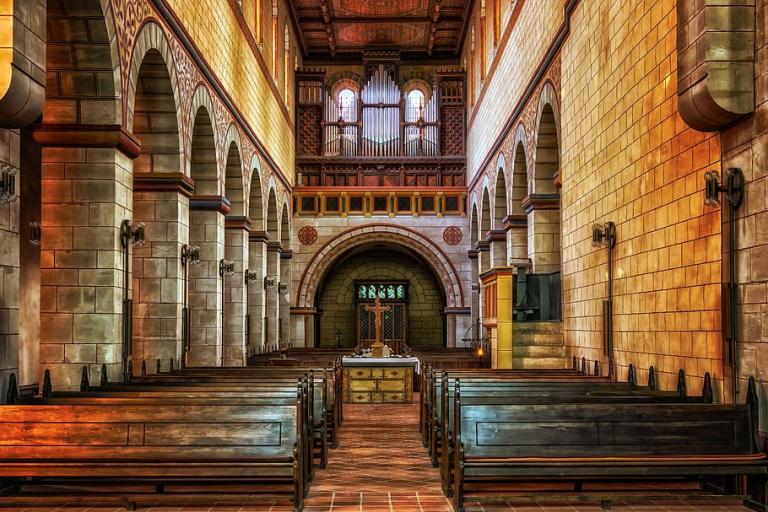 During this time of fear and uncertainty in the COVID-19 wilderness, I've decided to do something a little different. I'm going to be daily using my blog to share texts and videos of hymns that pass along hope and comfort until the restrictions are lifted, and we can worship in our buildings once again. I hope you find them to be encouraging and edifying during this time.

Take care, everyone. Wash your hands. And keep the faith.
Today's hymn is a gem from the pen of Ray Palmer, American clergyman and hymnwriter. It is played and sung by the musicians, clergy, and congregation of the First United Methodist Church in my hometown of Houston, Texas. Unfortunately, it seems that they've recently installed projectors in their beautiful old sanctuary, and are shooting the hymn texts up on the walls. Nonetheless, the music is still well done. The huge Aeolian-Skinner organ with John Gearhart at the console is a highlight. Lowell Mason's OLIVET is the stately tune.
My faith looks up to thee,
thou Lamb of Calvary,
Savior divine:
now hear me while I pray,
take all my guilt away,
O let me from this day
be wholly thine.
May thy rich grace impart
strength to my fainting heart,
my zeal inspire;
as thou hast died for me,
O may my love to thee
pure, warm, and changeless be,
a living fire.
While life's dark maze I tread,
and griefs around me spread,
be thou my guide;
bid darkness turn to day,
wipe sorrow's tears away,
nor let me ever stray
from thee aside.
When ends life's transient dream,
when death's cold, sullen stream
shall o'er me roll,
blest Savior, then, in love,
fear and distrust remove;
O bear me safe above,
a ransomed soul.
Ray Palmer, 1830
Photo:
pixabay, creative commons 2.0