(Note: In the past, I have too quickly jumped on a social justice warpath when these sorts of allegations were made public. I now believe that I was wrong to do so, and have no desire to do that anymore. Just be informed. Of course, since my blog is, in part, about avoiding bad worship and church music, I will talk about my opinion of his music briefly at the end of this post with candor. For that, no apologies.)
Yesterday, the Survivors' Network of those Abused by Priests (SNAP) revealed that Catholic composer and music director David Haas has been the subject of many credible accounts of "sexually predatory and abusive behavior."
According to SNAP, the Into Account network, which provides support to victims of abuse in Christian contexts, issued an open letter detailing some of the accusations against Haas. You can read more details about this here.
One of Haas' longtime publishers, GIA, says they have severed ties with him, though his bio and music still appear in the GIA website as of today, Sunday, June 14.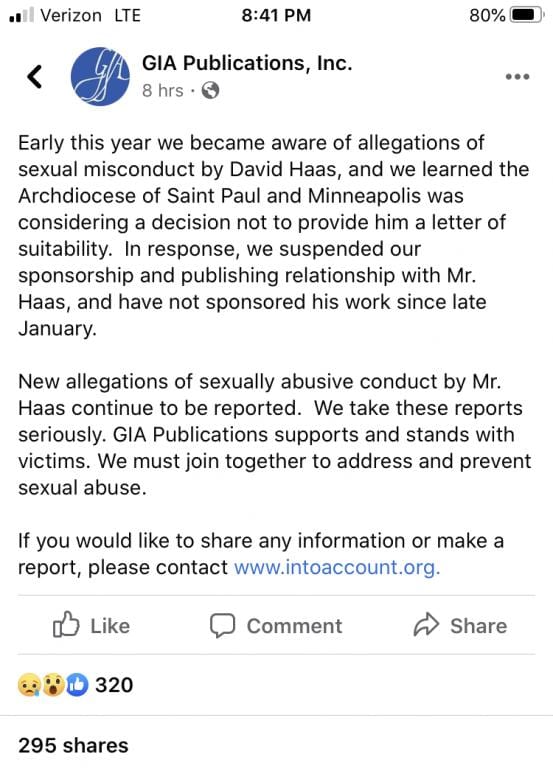 For decades, Haas has been a leader in the contemporary Catholic liturgical movement that arose in the wake of Vatican II, along with Ray Repp, the St. Louis Jesuits, Marty Haugen, Michael Joncas, and Dan Schutte. His music has long been derided by proponents of traditional church music because of their poor poetry, sappy content, and theological weakness. Additionally, they have supplanted the Roman Church's beautiful treasury of chant and hymns.
Nevertheless, many of his most popular songs have invaded mainline Protestant hymnals, as well. For instance, the hymnal that I use professionally includes four of his songs. The especially saccharine and sappy "You are Mine (I Will Come to You)" has become a favorite among mainline Protestants, and "We Are Called (Come! Live in the Light)" has become something of an anthem for progressive social justice causes.
Photo:
youtube screenshot