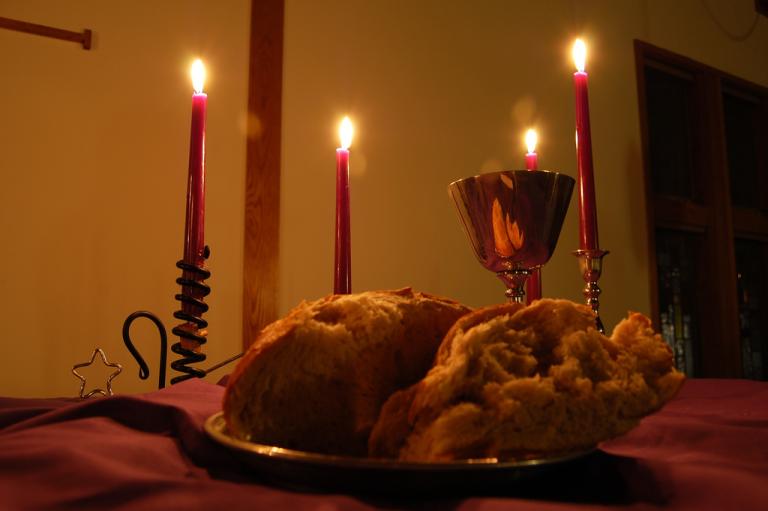 Christians who have grown up in evangelical churches, like I did, often have a great misunderstanding of the proper direction of liturgy. I was taught that the point was for the congregation to express its worship toward God. In this idea, congregants are the performers, and God is the "audience."
"We are singing today for an audience of one," many a charismatic, snappily-dressed worship leader told us, eliciting a multitude of amens.
This is not a Christian view of worship. Not biblically-speaking, and not historically-speaking. In fact, it is an inversion of the proper understanding. Worship is not found in the good thoughts and feelings and affections we express to God. In Christian liturgy, God is the speaker, the mover, the subject that serves us in Word and Sacrament, molding and making us into the Christians and the Church he would have us be. We then respond anew to the Gospel message, taking it with us into the cold and weary world.
Worship that is designed to be an expression from me to God is me-worship. It is based on a high anthropology that believes we could ever approach a holy God and worthily praise him on our own merits. God in Christ Jesus is what makes us fit to do so, and the historic liturgy proclaims this to our hearts. It keeps us in our proper place, and reminds us that God has done for us what we could not do for ourselves.
As one hymnwriter has said, "Nothing in my hands I bring / Simply to Thy cross I cling." That includes our approach to worship. We can add nothing to God's glory. It's patently foolish to assume otherwise.
I wonder if this inversion isn't one of the reasons worship attendance has declined among professing. In the midst of demanding lives, in a culture where church attendance is no longer compulsory, the fact worship is mainly presented as a place for self-expression makes it less of a priority. And the excuses begin to flow freely.
"God knows my heart. He will understand if I miss."
"I can worship God anywhere. I don't really express my worship through singing, anyway."
"We need more family time!"
"The kids are so busy with sports, but we always watch a sermon on TV."
But if we worship according to the historic liturgical pattern, if we stop grabbing the spotlight for ourselves and instead approach it empty-handed, ready to receive what Jesus offers us, it becomes more than just a dreaded obligation or a societal compulsion. It becomes a necessity. Something we can't live without. Something that cannot be gained by going for a run or hitting the links.
Or, for that matter, by passively tuning into a Facebook livestream.
What is done in liturgy through Word and Sacrament is not for an audience of one. It was done 2000 years ago for whosoever will.