Writer/director Jake Mahaffy's Free in Deed is a fever pitch of prayer, praise, torment, and attempted healings. It's not an easy film to watch on a number of levels, but it's one that reaches a shocking climax for those that can endure it. The end credits rolled to an audibly stunned audience.
Based on true events, it tells the story of Melva (Edwina Findley), a poor black woman struggling to raise two children, one of whom, Bennie (newcomer RaJay Chandler), is mentally handicapped. He frequently does bodily harm to himself and falls victim to moaning or screaming spells. Abe (David Harewood) is new to the community and begins attending three churches, almost as if atrending is a new addiction. The film vaguely refers to his troubled past, but it never says what. Abe ingratiates himself into these congregations and soon shows an ability to heal their troubled members. So when Melva shows up with her two children, Abe conducts nightly healing services, which are increasingly violent and ultimately ineffective.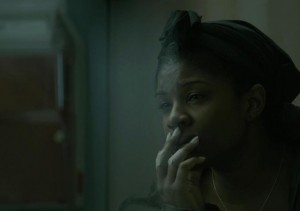 Fans of Homeland will be delighted to see Harewood take the lead with such a strong performance, but relative unknowns Findley and Chandler really take over the film. The film benefits from Mahaffy's feel for place and tone. He worked in real congregations with their actual preachers and congregants. He recalled the beginning of a shoot in one of the churches, where the pastor climbed into the pulpit to shoot a scene and said, "They think they're making a film, but we're about to have church in here."
Free in Deed is an indictment (albeit understated) of the brokenness of our social services that hurt poor black women the most. Melva is fired from her job because she constantly leaves work to care for her son. She is met with a lack of compassion and imagination at the hospital, where doctors simply prescribe sedatives for her son and dismiss them. Where else can she go but to the church, to a place that promises healing and deliverance? But they're unable to give her what she needs even though they are passionate about their beliefs in God's ability to cure her son. In the end, the film reveals, much like Jesus Camp, that this type of religion might ultimately do more harm than good.