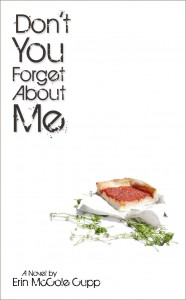 Erin McCole Cupp has a delightful fun summer read, the mystery, Don't You Forget About Me, from Full Quiver Publishing. (And free on Kindle, now through Thursday 6/12!)
Here is a brief synopsis:
Mary Catherine Whelihan made it out of Walkerville alive once before. Can she pull it off this time? Bullies, sexual harassment, finding a corpse in the local creek…. Cate's childhood in 1980s Walkerville was murder! So what could possibly tempt her to return? A cryptic email from Eugene Marcasian, MD, her grade school crush, might do the trick. Can Cate and Gene find the cause of the mysterious illness afflicting nearly all of the girls in their graduating class, including Cate herself? Or will corporate bullies continue to take down anyone who gets in their way? More importantly, can Cate stay alive long enough to get one more slice of tomato pie?
-Reviews of Don't You Forget About Me-
"DYFAM is a quirky, fun, mystery-romance that will tickle your funny bone while making your hair stand on end." –Annmarie Creedon, best-selling author of Angela's Song
"Don't You Forget About Me is a rollicking fun and exciting cozy murder mystery. I found it genuine and fascinating in every way: the characters, the setting, the plot, and the twists." –Therese Heckenkamp, award-winning author, Frozen Footprints
"This captivating murder mystery made me laugh, cry, and crave Italian food; '80s pop tunes are still stuck in my head. If you like mysteries that offer a good mix of suspense and science, don't miss this book."
–Barb S. of
FranciscanMom.com
"I could not put the book down! What a fast-paced, intriguing, captivating story line – full of surprises! The characters are so very real." –Mr. Mike Seagriff, OP of Harvesting the Fruits of Contemplation
Erin McCole Cupp is a wife, mother, and lay Dominican who lives with her family of vertebrates somewhere out in the middle of Nowhere, Pennsylvania. Her short writing has appeared in Canticle Magazine, The Catholic Standard and Times, Parents, The Philadelphia City Paper, The White Shoe Irregular, Outer Darkness Magazine, and the newsletter of her children's playgroup. She has been a guest blogger for the Catholic Writers Guild, and she blogs about year-round meatless Fridays at Mrs. Mackerelsnapper, OP. Her other professional experiences include acting, costuming, youth ministry, international scholar advising, and waiting tables. She has been voted "Best Speaker" for her chastity talks at Kutztown University of Pennsylvania's NewmanCenter. When Erin is not writing, cooking or parenting, she can be found reading, singing a bit too loudly, sewing for people she loves, or gardening in spite of herself.
She has two books, both available on Amazon.