Muslim History Detective's log, 08/13/14: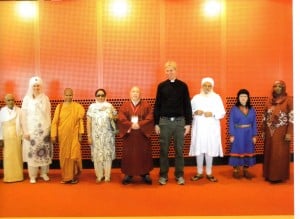 In researching my family history, I recently learned that one set of great-great grandparents, on my mother's side, owned land in South Carolina that has been in our family for over a century. Though I did not know it until recently, I among the heirs of this land.
There is a family cemetery on this land.
Those are my people, my own flesh and blood.
There is a family church on this land, and people once came from miles around to attend this church.
Those are my people, my own flesh and blood.
And I am proud of this history.
Yes, I am a third generation Muslim on my mother's side, and second generation on my father's side.
But I am also of Christian heritage, too.
This diverse religious heritage contributes to my ease of movement amongst people of all faiths.
You don't have to think hard, then, to figure out what I think of ISIS, and their persecution of Christians. (And yes, they are persecuting Muslims, too! Let us stand in solidarity with all who are facing injustice.)
I see ISIS as madmen, committing crimes against humanity.
There can be no justification for their behavior.
Beyond my earlier mention of South Carolina, almost my entire extended family, and I LOVE them dearly, are Christians. Some of them I grew up with, in places like Alabama and Massachusetts.
Surely, I don't support the persecution of Christians or any people of faith, nor of people who choose not to have any faith tradition at all.
I am honored and humbled to have been an interfaith chaplain at a major U.S. hospital, coming to the aid of people of diverse faiths (almost always non-Muslims) in crisis during some of the worst times of their lives; to have played a significant role in planning the 2009 Parliament of the World's Religions, held in Melbourne, Australia; to have been, during my first year at Harvard, a year-long delegate with Seminarians Interacting (founded by what was then known as National Conference of Christians and Jews); to have served on the Committee for Jewish-Muslim Relations in Boston, which included rabbis and other respected Jewish leaders, male and female; and so much more when it comes to interfaith engagement.
I love all people, and will never stop putting real actions behind these words, even if you don't see me writing articles about it.
This may be my last Patheos post due to other projects I have under development.
What better note to end on than an expression of love for all of humanity?
It is, after all, love for all of humanity that allowed Islam to flourish, far and wide.
It should never be forgotten that the Prophet Muhammad (SAWS) sent Muslims, including one of his beloved daughters, to the Christian King of Abyssinia to seek refuge from religious persecution in Mecca.
What would have happened to the nascent Muslim community if the king had not protected them?
From my heart to your heart, I LOVE you all,
Precious Rasheeda Muhammad
PS, I dedicate this piece to Dilshad, who, like my father, always pushes me to write, even when I am struggling for traces of cool air, a breath that I often cannot breathe as a woman, as an African American, as a Muslim.