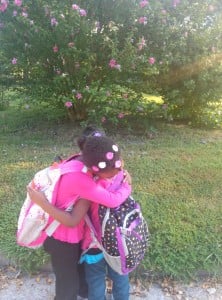 Where are the grief counselors for the things we carry
When the whole world is portrayed as falling apart in our religion's name
And all some people can do is politicize and police the depth of our sorrow
While we struggle to stay sane?
Where are the safe spaces to share the things we carry
Who are the helpers who can help us heal
Who can lift the burden of the horrors we see too clearly
While the rest of the world appears to see us only through their own dimly-lit veil?
And these are the thing we carry
And these are the things that break our heart
And why can't you see that we weep for
all
of humanity?
And why can't you hear that we want the killing of
all
innocents to stop?
We will not choose one human being's life over another
We will not stand down on our beliefs
We will not stop fighting for the rights of all human beings to have life and liberty
We will not be ashamed of our gut-wrenching grief
And these are (some of) the things we carry
Your sisters and brothers
Your fellow woman and man
Won't you please stop talking past us?

Won't you please take our community-building hand?
–The Things We Carry in a Time of War and No Peace
By Precious Rasheeda Muhammad
Dedicated to Our Children
Muslim History Detective's log, 11/17/15