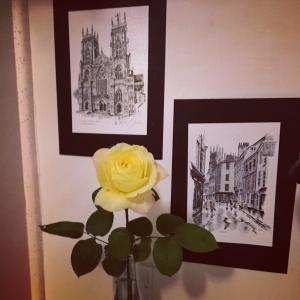 That's just a little joke. I mean, if I had seven takes to better health I'd be rich by now. So instead of that, how bout some news from Kenya.
One
The election is sort of still carrying on for another day at least. Some districts were unable to vote, for reasons I am not quite understanding, but will be able to tomorrow. There was some violence and demonstrations yesterday. And today people are slowly returning to work. So who knows what tomorrow may bring–it could be anything.
Two
Like all hospitals, this one is a maze. But unlike hospitals in colder places, there are nice breezy, open air corridors. All the windows are open and the breezes and the various sounds float in and blow the curtains and make everything cool. Glad I brought all the sweaters and socks.
Three
Did pack in such haste that I brought as many books, which I am too distracted to read, as clothes. The thing about Africa is that ordinary people dress up. You don't need a special reason to put on something better than sweats.
One thing that has always irritated me, and it did again this time, is sitting at an airport gate, ready to board a plane, and being surrounded by very slouchily dressed westerners, mingled with very elegantly dressed Africans. The westerners wear jeans or shorts, safari boots, safari scarves, and generally look like they are going on some kind of crazy, risk it all adventure to a place where they are going to be beat back the bush and kill snakes and overcome the elements. And the Africans are dressed like people ready to go into a high level business meeting, or to meet the queen, or just generally to get on with life.
Really, if you visit Africa, dress up. Don't come here in your sweat pants. It's very unlikely that you'll need to kill, or rather, run away from a wild animal. Not all of Africa is a safari trip.
Four
Except for maybe Nairobi driving. That, well, there's not a way to dress up or down for that kind of adventure.
Five
Marigold is having her eighth birthday today, across the world from me. This is the first child's birthday that I've missed–quite an accomplishment on my part if you think about it. Hope she'll forgive me, in the way that she has already forgiven me for having her younger sister, and for my many other failures. I'll have to make it up to her–hopefully sooner rather than later.
Six
Speaking of hopes, we are slowly evolving a plan to get back to the US–all three of us. Would really appreciate your prayers for that process, for stamina for my dad, which he seriously lacks, and for being on top of forms and papers and phone calls for my mom. And that once we get back doctors in the US would have insight that the doctors here have tried hard to find but haven't been able to.
Seven
The body is such a mystery. We think we have so much of it figured out, and I suppose we do comparatively. But there's So Much we still don't know. And so we go along in the dark, praying for knowledge and understanding. And on that note, go check out more takes!