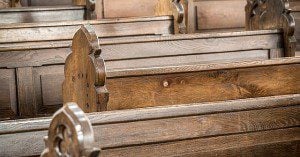 The Sundays in Lent don't really count as Lent, which is a good thing because, as you know, today is the important cultural feast of St. Patrick. In America it is a good day, as I've learned but still don't quite understand, for a parade—with drinks. Binghamton had its parade some three weeks ago. The big bands of New York City practice by doing the parades of all the smaller towns up and down New York and probably even Pennsylvania on the weekends leading up to this auspicious moment. And for us here in the sticks, who cares when the actual day is. Every day is a good day to drink too much. So believes every young person whom you see staggering back to various lodgings when you drive off to early morning church.
Going to church is so subversive any more. We get up in the quiet of our sleeping street and are creeping away by 7:40, trying not to bang the door or wake the neighbors. Sometimes there is another car on the road, but mostly it's just us, flying along because we're late. The town wakes up more slowly and does those relaxing, self-caring things that promise a happy week to come—a run, sitting around sipping a cup of coffee instead of chugging it, recovering from that Saturday night hangover, grocery shopping. For a long time I think it must have been reading the New York Times. Wasn't that their advertising campaign? The work week is unrelenting. Sunday is a good day to do all those things you never have time for.
Church gets in the way of all those things. And why would you go anyway? It is awkward and difficult. It is full of strangers doing strange things. A small, as it were, outpost of exiles.
That's what I've always loved about St. Patrick. Not the green, which is sort of garish. Nor the partying, because that looks embarrassing. Not the nostalgic fervor for that lost land whence so many Americans trace their decent. But for the haunting, tethering conclusion of St. Patrick's prayer,
Christ with me,
Christ before me,
Christ behind me,
Christ in me,
Christ beneath me,
Christ above me,
Christ on my right hand,
Christ on my left hand,
Christ where I lie,
Christ where I sit,
Christ where I arise.
The hymn, for it deserves to be sung, is in worship of the Trinity, an almost credal blessing on the mysterious wonder of God's threeness and oneness. But, as every Christian knows, as you stretch out your soul to grasp the ungraspable, you fall upon the sure and certain knowledge of Christ, of Jesus, of the one who made himself known, who came as a stranger to a strange land.
Strangers leaving home is one of the tropes of American civic memory. So many came here as exiles, refugees, desperate and yet hopeful. By sheer hard work and determination, they made themselves at home. My children, wondering what sort of decent they have cobbled together through the jumble of European heritage so many of us share, wanted to know if they descended from anyone famous or rich, and could they go back and claim a castle somewhere. 'Everyone is descended from Charlemagne I'm pretty sure,' I said. 'There's no castle for you. You are only one teaspoon-full Irish. And anyway, the Irish are at home in America, just like you'll have to be.'
But they aren't, really, because I'm not. I'm not from here. I'm not from anywhere really. My family was always saying goodbye to one set of people and going off to be strangers in strange places. You could be at home with your suitcase, with your language learning, with your quickly getting to know people you wouldn't ever see again. That was the life of the missionary child.
St. Patrick's prayer caught me when I was a teenager. I lay around one summer in the hot season in Mali, dreading going back to school, fighting off the sick feeling in the pit of my stomach about leaving the one place I liked to be with people who were not my family, but would, after six weeks or so, at least become 'familiar.' A stranger at school, and then a stranger at 'home' and then to come back to America to be a stranger 'forever.' Christ before me, you say when you step off the airplane with that same sick headache, Christ behind me.
Christians are supposed to be strangers—to be missionary strangers. The missionary goes somewhere uninvited to tell people things they don't want to hear about a God they don't want to worship. A missionary leaves behind the familiarity of home, the comfortable pleasure of family, the restful contours of a landscape that makes sense, and goes to unknown people who speak a different language and eat difficult food.
It is precisely what Jesus did when he came to earth. We didn't want, particularly, to know him, but he came anyway. He fully entered in to the most uncomfortable experience of our humanity, eating our food, speaking our language, looking out over the city of Jerusalem and weeping over its rejection of him.
When you bind yourself to the strong name of the Trinity, to Christ, you are forever going to be a stranger no matter where you live or where you're from. You don't have to go anywhere new. You don't have to learn a new language. You can go on eating whatever it is that you like best. But a sure and certain strangeness will overtake you. Christ at your right hand, in your left hand, and more terrifyingly, in your mouth will mean that you will never really be at home in this life again.
It is a strange kind of parade, that some Christians enact every Sunday. Getting up out of the hard pew and processing down the aisle—no spectators left to stand and gape, and certainly not to cheer. Everyone goes forward for that haunting, disconsolate feast. A taste of bread, a sip of wine, an ever increasing longing to be somewhere else, to be with the One who is always there.
So anyway, hope to see you in church.