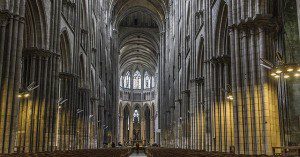 Binghamton is having a new hotel—at least, that's what appears to be taking shape on that long stretch of highway that is the property of every American town, the one that houses big box stores and parking lots, woods and nature huddling untended behind the unquenchable thirst for fast car washes, cheap clothes, and sugary coffee. Every Monday evening all this year I have had to drive down that wasteland of road and so have observed a flimsy rectangular box going up week by week, all the way from the ground clearing to this past week and the plastering of horrific bright blue, green, and yellow embellishments on its outer facade. 'My Gosh! What Is That Thing?' I think every time I drive by.
Binghamton is big on what I like to call 'Soviet Brutalism.' It's a term I discovered in a long article a while ago, which of course I didn't save. It doesn't really apply in the sense that America won that frigid conflict way back when, at least for a while. But it does apply architecturally. Go visit our main Post Office downtown on a gray afternoon. Stand across the street and wonder to yourself, 'Why?' Why are the windows mere slits? Why does it look like we all hate God? Why is its cavernous interior beige and soulless? As you wander back to your hovel, drive down Front Street which, I think, turns into something called Chenango, past the dead K-Mart with its pock-marked, undulating parking lot and air of crushing existential devastation. You can get your shoes mended in one of the pokey, badly lit slivers of store in the section of the structure that still lives on. And do your taxes.
But if you're looking for beauty, well, you might as well leave the continent and go elsewhere, France probably. I've spent the last 24 hours, along with the whole world, glued to France 24 en Direct on my phone, brushing away children and circling back to watch the spire of Notre Dame fall again and again and again. I've watched all the historical videos and looked at all the pictures. What else am I going to do? Move on? Try to put something like this in perspective? There is no perspective that accounts for the scorched ruin of a place so transcendently beautiful that it draws to itself many thousands of beauty starved pilgrims a day.
The French are mourning their 'patrimoine', their sense of who they are and the beauty they hold out to the world. Though not much, in all the listening and reading I've done over the last day and night, is said about what the building was even for. Victor Hugo is mentioned three or four breaths before the saving of relics and concentrated host. They are both important, or maybe Hugo slightly more. As if thousands of people traipse through those hallowed halls because their favorite literary work is the Hunchback of Notre Dame.
Most people, I suppose, don't think much about it. Any more than building the ugliest looking hotel on a strip in every single American town.
Well, Jesus had to go outside the city to die, outside the camp, past the rubbish heap, into the wild wasteland of desolation and despair. But we have spread the strip mall out before him, building structure upon structure across the miles, thoughtlessly running to the next thing, spending money to save it, pushing away the gnawing existential bitterness with yet more breaking news.
Come Lord Jesus. Save us from the ugliness of death.