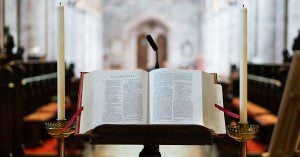 I happened, even in the busiest of weeks, to come across a preacher who made the following rather surprising declaration in a sermon: "I'll tell you what the Bible says. Now, do I know what it means? I probably don't." He carried on from thence regaling the assembled gathering with anecdotes and explanations about what he thought it meant—which is, don't you know, the essential job of the preacher—with similar prevarications sprinkled throughout.
It is, of course, an impossible task for the ordinary Christian, who is probably not a great reader, to face down a book as enormous and strange as the Bible. This is why most of us forget about it on the average morning. Life is busy and the internet is right there. In those few moments before the day takes off and everything in the world presses in, shaking you up and down, jostling you into the anxieties and troubles of the week, what the text says, and what it means, falls down the list of important considerations for success and happiness.
This is a good reason to go to church. Because if you don't have time to worry it out, there should be someone standing in a pulpit—or on a stage I guess—who has taken a good portion of the week to figure it out. What does it say exactly? And what on earth does it mean? Sometimes those two questions are easily answered. When Mary sits weeping near the tomb on resurrection morning, and the "gardener" asks her what's wrong, and then she, through her veil of grief, recognizes him as both the Lord, and alive in a body, the ordinary reader understands that what the text says is that Jesus rose from the dead, and that what it means is that that's pretty great for everyone.
Even in the lections today, for the most part, what is there on the page makes a lot of sense…until you come to John of course. Isaiah stands in the temple and sees a vision of God, and coming apart at the seams a coal is placed on his lips to cleanse him. The psalm is all about praising the Lord and giving him the glory and honor that he is owed. The bit in Revelation is an echo of what happened to Isaiah, only in this case the vision is jewel encrusted and grander even, if that were possible. So you could read any of these this morning and know what they said, basically, and even a little of what they meant, though it would take a lifetime of returning to them over and over, and all the other passages surrounding them, to really get the full weight of their glory, to find their reflections in all the other texts everywhere else. That's why you're supposed to read and meditate on the Bible every day, and hear at least one sermon about it on Sunday.
And then there's Jesus in John's gospel, of course, with his usual circling round a subject several times, while the disciples gape at him in uncomprehending discomfort. They can hear what he is saying, but, in deep spiritual communion with our afore mentioned preacher, do they know what he means? Probably not. Which is why the Holy Spirit will come to help them.
The task for the preacher, bent over a stack of books all week, troubling out the Greek and Hebrew, making sure about context and authorial intent, researching ancient assumptions and habits, taking all the words apart grammatically and then carefully stringing them all back together again, is to know, certainly and truly, both what it says and what it means. If that one doesn't know what it says, and then doesn't know what it means—
and here is an ocean in which to dip the homiletical toe, because there is what it means in an objective sense (which fell under the category of what it says), but then there is also what it means in the subjective spiritual life of the congregation to whom it is preached, what does it mean for them? Are they beset by sloth? By lust? By anger? By selfishness? By impatience? Do they lack love? Are they discouraged? Is there notorious sin? Are they eaten up with gossip? Have they been unwise with money? Are they idolaters?—
then the pulpit ought to remain empty for the morning and everyone should just keep scrolling through twitter.
The preacher must study and know—for sure—in so far as is humanly possible, what it says and what it means. Of course this is a terrifying task. It should be. Isaiah felt the filth of his own mouth and his own heart as he stood, facing a thrice holy God who wanted him to talk, to say what was pressed upon him by the Holy Spirit to say. John, seeing the same throne, so many millennia later, hearing the same hymn, writes it plainly, there it is on the page, and yet the vision must have consumed him.
If you don't know, don't guess. Study a little harder until you do know. Because it's not your book. It doesn't belong to you and it isn't about you. It is about a God who holds the human creature in the catastrophic place between holiness and love, who 'probably' ought to destroy the human creature for his rebellious and filthy evil, and yet who comes down off of the throne and stands in the place of that weak, ridiculous creature, taking on to himself the full weight, the full consequences of that creature's failure to obey, and worse yet, refusal to worship the Creator, the Source, the fountainhead of goodness. It is no mean task, and so there is the Helper, the Comforter, to assist and guide both the preacher and the congregation. And there is the stack of books so that the preacher, ascending the steps of the pulpit, may trust the truth of the text. Both must cling on for dear life, must open the ears, must listen and attend.
Because knowing what the Bible says and what it means is the way that we know who God is and who we are. These are the words of life. If we go away from them, we have nothing. We won't know anything about why we are here and what's going to happen. We will make it up as we go along, interposing ourselves between the text and its meaning, rather than obediently learning what it says and what it means.
And also because we will each of us see that throne, finally, with our own eyes, and the one who sits on it now, about whom the angels cry Holy, Holy, Holy. He sits there while we sit here, sipping his blood, biting down on his body, anxious about the future, waiting for everything to be ok. He sits there because he himself was that coal, that perfect cleansing that opened the mouth for the praise of his glory. He sits there, and if you go to him now, if you collapse before his mercy today, when you finally do see him with your own eyes it will not undo you, you will not come apart at the seams, you will open your mouth to join in the song.
All you preachers this morning, good luck. You have one job, don't blow it.