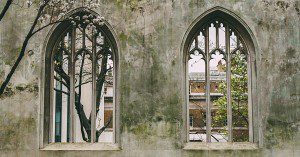 Two interesting pieces out today—if by interesting one is allowed to mean discouraging and tragic. First, here is a church that is arranging to do a sermon series on wrestling, because you have to keep the crowds coming in somehow. Challies writes:
As I watch the video announcing the series, I can't help but feel some pity for the countless thousands of pastors who have been convinced by this model. James Montgomery Boice once warned "what you win them with is what you win them to" and the attractional model bears this out: If you draw people with stunts like Wrastlin', you've got to keep them with other similar or bigger stunts. I feel sorry for the pastor who knows that to keep his congregation, he has to keep coming up with bigger and more shocking ideas. He knows that as soon as the fun stops or the place down the street offers something better, the seats will empty, the budget will decline, the church will collapse. It must be exhausting. I feel pity for the small-church pastor who has to compete with this attractional model but with only a fraction of the budget. A megachurch like Young's has the means, the administrative ability, the design department, and the advertising budget necessary to create an event that will make a huge splash. The average local church of 200 or 300 people can only look on with envy. What can they do to compete? If inviting professional wrestlers looks desperate, the small church equivalent can only look cobbled-together and pathetic.
So that's one end of the spectrum—crazy and tragic and ridiculous. The other end is laid out here—the compiled 2018 Parochial reports for the Episcopal church show an incredible decline. Here are just some of the highlights:
Children's baptisms in domestic dioceses declined from 20,069 in 2017 to 18,873 in 2018 (6%). Marriages dropped from 7,687 to 6,878 (11%). Burials declined from 27,355 to 26,377 (4%). Child baptisms only outnumbered burials in two of the nine provinces. One of those (Province IX) is entirely overseas dioceses; the other (Province II) includes three overseas dioceses (Europe, Haiti, Virgin Islands).
And
Across the Potomac River, the historic Christ Church in Old Town Alexandria, Virginia, has struggled with departures after church officials announced plans to remove plaques commemorating historic church members President George Washington and General Robert E. Lee. In the past decade, Christ Church has dropped from approximately 700 Sunday attendees down to 400, while losing a quarter million dollars from it's annual plate-and-pledge income. Membership has dropped from more than 2,500 down to approximately 1,500.
And this tragic note
Shrinking dioceses have little incentive to juncture with neighbors: doing so would effectively forfeit an eight person deputation to General Convention, which is the same size deputation as larger dioceses like Texas (22,350 attendees) receive.
Which is to say, one gimmick (wrestling) may work for a while, but others aren't quite as effective:
Welcome banners proclaiming messages of indiscriminate affirmation paired with freshly installed labyrinths don't appear to be slowing the ongoing Episcopal Church decline trend.
I've just finished reading Modern Kinship: A Queer Guide to Christian Marriage, for which I'm working up a proper review, and I must say, at a very personal level, that I came away heartbroken. The authors of the book don't go to an Episcopal church, nor an Ed Young bring on the clowns church. They go to an open and affirming church stocked with small groups and children's Sunday school options. They are paving the way for the normal and the boring. Leave the gimmicks aside and know that God loves you.
Unhappily, for all these kinds of churches, and many that can't be pointed to as crazy, but are not very thoughtful or worried about the deep truths discovered by studying theology, doctrine, and the bible, that love is not about seeing something essential about God who, in his holiness, is alien to our desires and inclinations. Rather, it is the kind of love where God comes down and tells us he likes us lots and everything is lovely. They write in the book
Our pastor at Pearl Church in Portland likes to point out that the world salvation shares a root with the world salve. That, he reminds us often, is our true call as Christians: we are to be salves for the wounds of the injured. If the company of fellow believers feels instead like salt, don't be afraid to seek salve-ation elsewhere, even if it's among nonbelievers.
Whereas, Luke writes
He [Jesus] went on his way through towns and villages, teaching and journeying toward Jerusalem. And someone said to him, "Lord, will those who are saved be few? And he said to them, "Strive to enter through the narrow door. For many, I tell you, will seek to enter and will not be able. When once the master of the house has risen and shut the door, and you begin to stand outside and to knock at the door, saying, 'Lord, open to us,' then he will answer you, 'I do not know where you come from.' Then you will begin to say, 'We ate and drank in your presence, and you taught in our streets.' But he will say, ' I tell you, I do not know where you come from. Depart from me, all you workers of evil!' In that place there will be weeping and gnashing of teeth, when you see Abraham and Isaac and Jacob and all the prophets of the kingdom of God but you yourselves cast out." Luke 13:22-28
The horror of this moment is that the church itself, more and more, is closing the gate and throwing away the key. Even if you wanted to go in, good luck finding out how in the one place meant to show it to you.