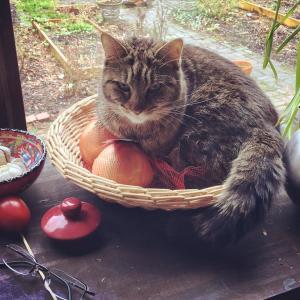 I wasn't supposed to blog this morning. I'm supposed to be roiling through Nehemiah, Esther, and Job. But my mind is fried, so what better time to throw something up on the internet! It's Tuesday…is it Tuesday? I'll just make a random listicle.
A
As I said yesterday, our poor dear cat Frances died and we buried her, and then the next day, the miracle cat took a quiet moment to go outside without telling anyone. We've been wandering up and down for two long terrible days calling, obsessively checking the neighborhood app, and even (I know, this is how bad it's been) praying. This morning my dad thought he had better go and have a look around outside and there she was, next to the car, skittish and stressed, but not running away from him. He sat on the cold ground for ten minutes and coaxed her and she finally came to him. He brought her in and she had a long drink from the sink. She likes to have the water run down, spray off the top of her head into the basin where she licks it up. I guess we are naming her Gloria, with possible second names of Catemnestra, Fatty McCatFace, and Bill. As soon as our vet opens back up I'm getting her chipped.
3
Seriously, the celebrity meat thing is so weird. I don't mean to bring it up two days in a row but my gosh. This is the line that is so insane:
"You're going to get some people out there that will do it," he said. "The question is, 'Should we object to that? Should we ban people from synthesizing human flesh into something consumable?'"
YEAH, yeah, we should ban it. We can ban all kinds of things, turns out—like murder, and blackmail, and not wearing a seatbelt. Yes, we can ban this. My gosh. I know at some point I'm gonna have to explain why, but right now, I'm still just so shocked I can't properly order my thoughts.
#
Also, the murder hornets. I'm not interested in roasting and eating murder hornets. Also, if we can make the entire world shut down because of coronavirus, we can probably do something about these awful creatures. Someone who is working getting a vaccine can stop doing that for just a second and figure out how to get rid of whatever even kind of bug this is. I know this isn't the apocalypse—I remind myself every single morning that it's not. But for real, the people who are trying to make human "meat" in a lab, need to stop doing that and figure out how to save the regular bee population. Enough already.
R
I love that Alyssa Milano is the moral compass of our time. I mean, I get that everyone is ticked off that Trump and Kavanaugh still exist as people (although politically, it makes sense, because I guess Republicans just got fed up and decided to try to win at the Democrat's game) but I guess I did sort of think that it was great that women could come forward and be believed, even if the outcome wasn't what many desired. I think the solution to #metoo hypocrisy is more celebrity meat with a dash of murder hornets.
7,342
If I work really hard, I could probably finish my stupid book in about two weeks—the IF being a huge terrible one filled with celebrity meat, missing cats, general melting down, murder hornets, the fact that I have a lot of seeds still to plant, and other odds and ends. Boy, I feel like 365 Sarcastic Devotionals for Angry and Worn Out People is as relevant as ever. Order your copy today!