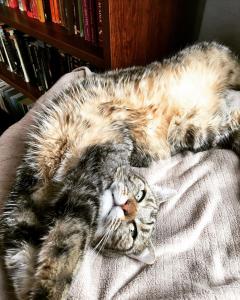 It is a bitterly gray and rainy and windy day here in Bing. To console ourselves for this year anniversary of covid, we did up an excessively long podcast with exhaustive–or is it exhausting?–commentary on the Dear Gay Anglican letter that continues to roil and fret Anglicans around the world. I'm sure that Peitier Valk is enjoying his time in the spotlight, and how he is making the whole world dance to his tune, but this isn't our first rodeo and so we answer him point by point by point by…oh, you get the idea. Hope it makes your Monday all you could possibly wish for.
Here is the letter, preserved by Anglican Ink.
Here is something about celibacy.
This is fun.
So is this.
I still haven't gotten to this, and maybe I will, but in the meantime, there it is.
Here is a pretty nice house, and if you scroll down, a playhouse to die for.
I accidentally made this, without the broccoli, without measuring anything–basically just the remains of a slightly overcooked Aldi frozen pepperoni pizza cut up and covered with an egg-milk mixture and baked at 400 for an hour and it was weirdly delicious. I mean, I didn't even taste it, but my children all did, they ate it all, so that must mean something.
And here is an excellent sermon and a helpful class.
And now I must go do some things.