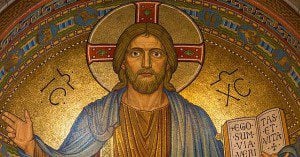 Jesus excited to see what happens to him in the Book of Longings.
Sorry to have fallen off the podcast routine! We are not at home this week and blithely thought we would be able to record wherever we were and upload it, but that turned out not to be true. We are too technologically challenged to figure it out. That also means the sermon and everything will be along later. Sorry to have ruined everything for the people who require a very delicately balanced routine to be happy.
As for me, I am discombobulated because, in the first place, I flew on an airplane for the first time in over a year, and found the whole thing shocking (more on that in a moment), and in the second place, I am trying to read that Sue Monk Kidd Book of Longings novel and am finding it so bad I've finally been able to start laughing. If you haven't heard of it, basically it's a first-person narrated effort with lines like "I heard wind scratching the sky," and "Her teeth sharpened in her mouth," and "Steadying myself on one foot, I waited for the day blindness to leave before finally dragging my voice from its hovel." In the chapter I just read Ana, the main character, has met Jesus in a market in Sepphoris selling yarn or something–and fallen in love, I guess. Truly, I won't be able to get through this without giving constant updates. Also, I really feel that if this person can write a novel so badly, surely I can too and that I should carve out some time to really try. I'm sure I would be able to produce such deathless prose as:
Occupied with these anxious thoughts of Mother, Father, and Judas, I overloaded my pen, which dripped into the bowl, leaving a black dewdrop of ink in the bottom. I stared at it horror-struck. Carefully, I dabbed the ink with a wiping rag, which left an ugly gray splotch. I'd only made it worse. I closed my eyes to calm myself. Finally, drawing my concentration back to my prayer, I wrote the last few words with the fullness of my mind.
Truly, this is the novel for such a time as this and I take great comfort that it is Glennon Doyle's favorite thing–of course it is. In between–in order to dull the pain–I'm listening to Phineas Redux. Thank goodness for old books. It is the only way to get a break from the world's madness.
So anyway, it was pretty exciting to fly after such a long interval of not doing it for so long. In the first place, it was surprising to see so many people all at one time all in one place that's not Walmart. Rushing along through a busy airport in the old way, muscling past the meandering and the relaxed–only everyone in a mask–was frankly thrilling. Also, there are so many interesting masks out there. How well a person coordinates the mask with the outfit increases the possibilities of fashion judgment, which is one of the best reasons to fly.
On the other hand, I think I discovered more truly how necessary is the lower half of the face. Seeing only the eyes, it's possible to imagine what someone must look like, but when that person pulls down the mask to take an awkward drink of coffee, what I imagined was always completely wrong.
Finally, I was irritated to hear the constant announcements that everyone, including children over the age of two, not three but two, needed to be masked. That seems to me to be a bit excessive, especially on a long flight. Not surprisingly, there were not many children. I saw maybe five the whole day. On the other hand, I think I endured my trial without getting a cold, which heretofore has always been my lot whenever I do get on a plane.
And now I must rush along to the next thing. Hopefully I'll be back tomorrow!