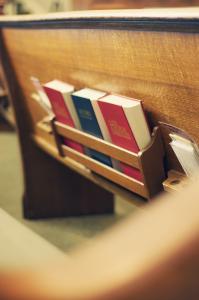 I'm over at Stand Firm this morning.
I had three different posts started for this morning—the lections are so wonderful, one could go in so many different directions—but then I woke up to another tempest on Twitter. The Twittersphere moves so frustratingly fast that having started to write about Rachel Hollis, and then sort of pivoting to Josh Duggar, this morning I found that everyone is angry with Desiring God and so I am again at sea. This is why it is useless for me to try to write anything before Sunday, which means I need to quit morning church and go find a congregation that worships in the afternoon (JK).
So anyway, in one swell weekend, Rachel Hollis has been canceled, Josh Duggar has been arrested, and Desiring God has published a post encouraging husbands to emulate Christ by being prophet, priest, and king in their own homes.* Meanwhile, Jesus is trying to comfort his disciples on the night before he died, because the lectionary organizers arranged for that to be the gospel text for this morning. But it's really the psalm that caught my attention because it seems to me to be exactly the sort of tweak one needs when one is spinning around in all the directions. The first line might be hard for you if you are feeling crushed to earth as I am:**
Shout for joy to God, all the earth; sing the glory of his name; give to him glorious praise!
Say to God, "How awesome are your deeds! So great is your power that your enemies come cringing to you.
All the earth worships you and sings praises to you; they sing praises to your name.
Except for Twitter, obviously. On that platform it is a lot of shouting into the void, but not with any kind of joy. And even when I am not anywhere near the internet, but am silently going from room to room trying to clean up all the dust and mayhem, the inside of my head is screaming with frustration. And so are all the people in every corner of the world, crying out woe and misery as death and trouble sweep from one side of the globe to the other. But that is not the command, not just to scream in rage and frustration. Shout rather for joy because God is God, because he is strong, because his enemies will be crushed and will not be able to rise up and destroy his good work.
Come and see what God has done; he is awesome in his deeds toward the children of man.
He turned the sea into dry land; they passed through the river on foot. There did we rejoice in him, who rules by his might forever, whose eyes keep watch on the nations—let not the rebellious exalt themselves.
The mighty and good work of God is not to create a utopia for the children of man. He isn't going to make everyone get along and be good and build some peaceful city where the garbage collection happens regularly and there is no more racism or misogyny. He isn't making it easier to use social media or to shop without getting covid. He isn't going to help us each be the change we want to see in the world, nor even to stop all men from lust. Come and see the work that God has done, because it is a confounding and strange work. It is a glorious one, though to understand it without his help is impossible. This is the task of the Psalmist…read the rest here!
Photo by Geoff Chang on Unsplash