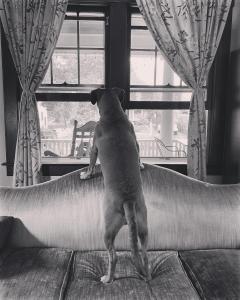 How Bunter the dog spent Porchfest.
It is a gray and breezy day here in the Bing, to celebrate we've done a short brisk podcast about Cynical Theories, which I finally finished, and our thoughts about wokism coming into the church. We are only interrupted one or two times, and we comment on the Tower of Babel, Children Going On The Bus, and probably a few other things that I have already forgotten. I'm sure it will be whatever it is.
Unhappily for me, I am still short on links, and that is because I have almost completely cured myself of reading the internet. Besides Cynical Theories, I've also been reading another Ian Rankin book, have almost finished The Two Towers, have started The House of Brede, The Way We Live Now, and enjoyed another fascinating chapter of The Rise and Triumph of the Modern Self. I'm also rereading The Religious Potential of the Child because it deserves it and so do I.
This is cool though.
And this is strange and interesting.
This is a fascinating conversation.
Here is a twitter thread.
This is a too clean house with a really nice garden.
My tomatoes aren't ripe yet but I hope someday to do something like this.
A fantastic sermon is forthcoming and in the meantime, here is a helpful class.
Sorry that's all but I must go do a lot of things. Have a great day!