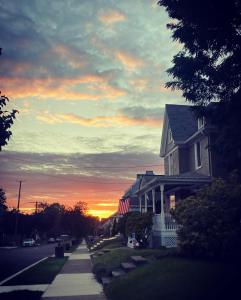 It is gray and gently raining here in upstate NY. The leaves have hardly begun to transform themselves into their gemlike hues, and probably won't, from what I hear, because of how wet it's been. Apparently everything will go brown in the next few weeks and just blow away, which seems fitting for the kind of mood the world currently seems to possess. In acknowledgment of this fact we've done a shortish podcast about how dismal and bleak is the embrace of the self, how the Sopranos were prophetic, how Dr. Fauci doesn't have the power to cancel Christmas, and how God could solve a lot of our problems if we asked him. We end off by reading out our favorite memes of the week, one each. It's all you could possibly expect of someone with a violent head cold.
Here is the long interesting thing about The Sopranos.
Here is that person I blogged about last week.
This is wonderful.
This is marvelous.
So is this.
I liked this a lot.
Here is that Royal Wedding.
This is sensible.
Whereas this is insane.
I probably need to make this for myself.
If you married into the Russian aristocracy maybe you could live here.
And here is an excellent sermon and a helpful class.
And now, if you'll excuse me, I'm going to lie back and recover from the efforts of doing these links. Have a nice day!