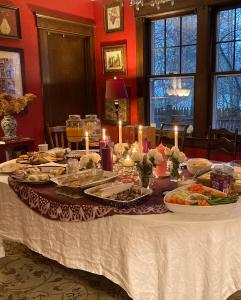 It is cold and gray here in Bing, as befits the beginning of the Advent season. To celebrate, we've done an almost too long podcast (technical trouble this morning–better link to follow) recapping our Thanksgiving Dinner, our Advent Party, and what Matt has been calling "Christmas" which is that Kristin Kobes Du Mez played her theological hand that she does not, as no one at all is surprised to find, affirm orthodox Christian belief on the matter of sexuality and all that kind of thing. We talk about the blog post I wrote about yesterday, and then go on with the interview we began fisking last week. I'm pretty sure it's all you've come to expect, so that must be something.
Here is my blog from yesterday.
And here is Du Mez's blog.
And let's see, I think I have one or two links. This is fascinating.
This is crazy.
This is horrifying.
This is totally wonderful.
This is so necessary and brilliant.
This caused a hue and cry but I thought it was really calm and well reasoned.
I need to only eat this for a month to recover from all the festivities.
And here is a fantastic sermon and a helpful class.
Have a nice day!