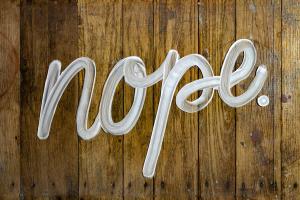 Never mind…still can't upload pictures. This was supposed to be a stormy sea but oh well.
I know I keep saying I'm super busy (AND I AM) but it's possible I also have too much time on my hands because I did just take a moment away from the mouse catastrophe to read about what Twitter says is another trend. At this point, I don't know if these things even are trends, in the classical sense, or if they are entirely made up just for clicks…or maybe I answered my own question. It's probably that that is what a trend is–something made up for clicks that I obediently blog about because I too am very online. Anyway, this one is called "Coastal Grandmother." Glamour has all the details:
Being a coastal grandmother means wearing loose, breathable fabrics and doing strength training by shifting a full glass of Sauvignon Blanc from hand to hand. It means shelling peas on a chaise longue, or getting up at six to drink coffee with local cream in the still, cool promise of the morning. Coastal grandmother is not about conforming to male heterosexual expectations of female beauty. It is about being able to spend north of $70 on a single unscented pillar candle. Or, at least, cosplaying as someone who has money to spend on simple, good things. It is understated, wealthy-person dress up.
The "trend" was brought into being by someone named Lex Nicoleta who is not really old enough to be a grandmother, but who is on TikTok which is all that matters:
 She tells Glamour that the coastal grandmother aesthetic is not an identity restricted to those born on a sloop or near a picturesque lighthouse. "You can be a coastal grandmother whether or not you live by the coast, and whether or not you're a grandmother," she explains. She, a millennial living far from the salt air in inland California, is neither. And men can be coastal grandfathers. (Nicoleta points to Stanley Tucci as an example.) Coastal grandmother is not exclusive or elitist, she argues. It's a style that attracts people of "all different ages, genders, races." Imagine a little wooden gate on a stone pathway that leads to a seaside cottage. Now imagine the gate flung wide open. "It's not like, 'This wouldn't apply to someone like you.' It's very, 'Come one, come all, and be a part of it.'"
I really wanted to get on TikTok but my children forbade me, which is very mean of them. That is why I am always wandering around Twitter in the bored, desultory way I always do. Where was I? Oh yes, cosplaying granny. If you actually read the article you might think to yourself that you can't afford this "lifestyle" but that's not true:
Allegedly, a trust fund is not a prerequisite to join the lifestyle. "I'll get comments like, 'I want to be a coastal grandmother, but I'm on a budget,' and that's completely doable," Nicoleta says. "It's little things, like pick up some fresh flowers or throw on my coastal grandmother playlist and make dinner with your farmer's market finds." The traditional coastal grandmother is a person of unlimited means, but that's the fantasy. Getting the aesthetic can mean just playing pretend a life of easy wealth.
What a decadent and foolish time to be alive. So anyway, that whole "article" reminded me of this tweet:
The average American believes they are smarter than the average American, according to a study by the National Journal. 55% of people polled said they thought they were smarter than the average American, while about 35% thought they were only just as smart as everyone else.

— World of Statistics (@stats_feed) April 24, 2022
All this is funny, of course, but tragic. Superlatively tragic because the young are left to model their lives on a generation of selfish, self-focused older women who chucked it all to live by the beach and buy 70-dollar candles instead of pouring out themselves for their actual grandchildren who have now to go to TikTok to find meaning for their lives. The Psalm for this morning is 139, and I'll just leave it here for you as a chaser. Have a nice day!
 O Lord, you have searched me and known me!
 You know when I sit down and when I rise up;
    you discern my thoughts from afar.
 You search out my path and my lying down
    and are acquainted with all my ways.
 Even before a word is on my tongue,
    behold, O Lord, you know it altogether.
 You hem me in, behind and before,
    and lay your hand upon me.
 Such knowledge is too wonderful for me;
    it is high; I cannot attain it.
 Where shall I go from your Spirit?
    Or where shall I flee from your presence?
 If I ascend to heaven, you are there!
    If I make my bed in Sheol, you are there!
 If I take the wings of the morning
    and dwell in the uttermost parts of the sea,
 even there your hand shall lead me,
    and your right hand shall hold me.
 If I say, "Surely the darkness shall cover me,
    and the light about me be night,"
 even the darkness is not dark to you;
    the night is bright as the day,
    for darkness is as light with you.
 For you formed my inward parts;
    you knitted me together in my mother's womb.
 I praise you, for I am fearfully and wonderfully made.
Wonderful are your works;
    my soul knows it very well.
 My frame was not hidden from you,
when I was being made in secret,
    intricately woven in the depths of the earth.
 Your eyes saw my unformed substance;
in your book were written, every one of them,
    the days that were formed for me,
    when as yet there was none of them.
 How precious to me are your thoughts, O God!
    How vast is the sum of them!
 If I would count them, they are more than the sand.
    I awake, and I am still with you.
 Oh that you would slay the wicked, O God!
    O men of blood, depart from me!
 They speak against you with malicious intent;
    your enemies take your name in vain.
 Do I not hate those who hate you, O Lord?
    And do I not loathe those who rise up against you?
 I hate them with complete hatred;
    I count them my enemies.
 Search me, O God, and know my heart!
    Try me and know my thoughts!
 And see if there be any grievous way in me,
    and lead me in the way everlasting!