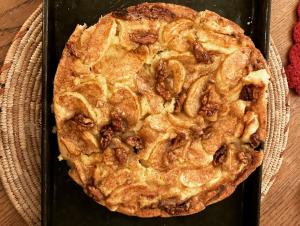 It is a crisp, gray day here in the Northeast, and Matt's voice returned enough that we were able to record a podcast. We talk about International Daughters Day, Tolkien, Jane Austen, the Enlightenment, Trump and Biden, what kind of government would be good, and also are interrupted by children and dogs. We conclude with a solemn reading from the Passion Bible. It's probably not our best effort because we were wandering around in search of a topic, but it's exactly what you have come to expect. I hope it makes your life better, if only to serve as a warning to others.
I don't have a lot of links. I've been over at Stand Firm more. And the others have been blogging as well–here is one, and another.
Here is an amazing dog.
And a surprising house that I hope I would never have to live in.
And something delicious.
And an excellent sermon and a helpful class.
And that's all. Sorry to be so light! I haven't had time to read anything at all. Have a lovely week though, and check back at SF for the *almost* daily blog.