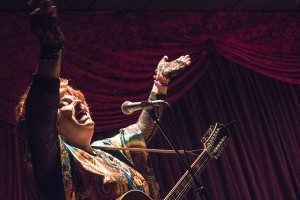 Finding music for progressive youth ministry is a daunting task. Many traditional hymns and "contemporary" praise songs are filled with images that simply don't fit theologically progressive contexts. While some churches and even youth ministries are blessed with resident musicians who can create new music that is both theologically compatible and of good quality, most progressive youth ministries must somehow piece together a canon of music from traditional, contemporary, and even pop sources—perhaps changing lyrics now and then—that will work in their setting.
Bryan Sirchio was one of our music leaders at PYM15 and has written a very helpful book called The 6 Marks of Progressive Christian Worship Music. He suggests the following as characteristics of progressive worship music:
Praise, justice, and the fullness of human experience
Inclusive language
Progressive theology
An emphasis on both the individual and the community
Emotional authenticity
Fresh images, ideas, and language
How do you pull together music for progressive youth ministry? Do you have favorite artists or resources? Please share away in the comments section below—we need to help each other with this.
I think we finally hit our stride at PYM16 with the incomparable Rev. Yolanda and bluesy Grammy-winning songwriter Phil Madeira. Both of them shared powerful music drawn from their faith journeys. Check out these videos from PYM16 and be sure to support Rev. Yolanda's unique ministry and Phil's "hymns for the rest of us."