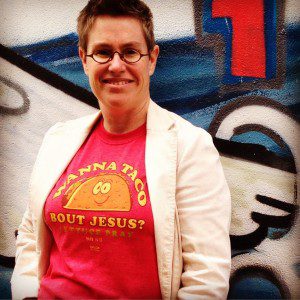 In the weeks since we announced that PYM17 would take place at Montreat Conference Center (March 8-10, 2017), North Carolina passed the controversial law HB2. Many PYMers are distressed by this law and others like it. Montreat has released a statement in response to HB2: "All are welcome here."
In this post, Lara Crutsinger-Perry outlines why laws like this are so dangerous and calls progressive Christians to action. Lara is a Member in Discernment in the Pacific Northwest Conference of the United Church of Christ and currently serves in Olympia Washington. She lives with her wife, daughters, and a host of critters on their urban farm. She loves Netflix, tacos, and good flea markets.
Less than two months ago we met for the Progressive Youth Ministry Conference at the Cathedral of Hope in Dallas. In that sacred place we celebrated the Spirit of God moving among us—gay, straight, bisexual, transgender, genderqueer and beyond. So when the news broke that North Carolina (home of Montreat, our conference site for 2017) passed a new anti-LGBT law, I felt like I had been punched in the gut. Passed in a quick one-day special session held last week, there are so many things wrong with HB2 that it has quickly been labeled the most trans- and homophobic state law in the nation.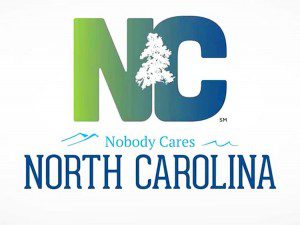 And as quick as the news hit my FB feed so did this spoof of Gov. McCory's Nothing Compares to NC campaign. It is a video by Funny or Die and seeks to use humor to shame the state of NC.
But HB2 isn't funny. It is the reality in a growing number of states led by conservative governors and instigated by evangelical Christians. This law and others (like the one pending in Mississippi) allow discrimination against the LGBTQ community on the basis of "religious freedom." As a butch lesbian, minister, mother, wife, and professional social worker, I find it dispiriting that in 2016 we are creating laws that limit rights and devalue people at the core of their humanity. We are allowing laws to be passed that are clearly retribution for marriage equality and, at their core, are condoning mistreatment of people who are different.
These laws have nothing to do with freedom of religion. They give public facilities a pass on equal rights. And the courts will once again have to remind us that separate is never equal.  At its foundation are Christians who are distorting the Gospel (once again). The teachings of Jesus command believers to love one another, give preference to the oppressed, and call for compassion toward strangers. It makes me sick to my stomach that some would, in the name of Jesus, ask others to go back into the closet, back into the dark places of self denial, and to stay out of our bathrooms.
I believe God created us male, female, transgender, intersex, asexual, and genderqueer.  I believe the commandment of Jesus is to love—not to judge, not to presume, not to discriminate, not to restrict, not to deny—but to love, to celebrate, to comfort, to feed, and to clothe.
And I believe it's time for progressive Christians to speak loudly and clearly, to pay and to engage in local, state, and national civic action. It is time for us to stand up as members of and advocates for the LGBTQI+ community. To do nothing is to ignore the Gospel. It is time we differentiate ourselves from the religious right that has hijacked Jesus. It is time for progressive Christians to stand together across denominations and faiths to express our disapproval of religious freedom laws.
And it may even be time to boycott the great state of North Carolina.